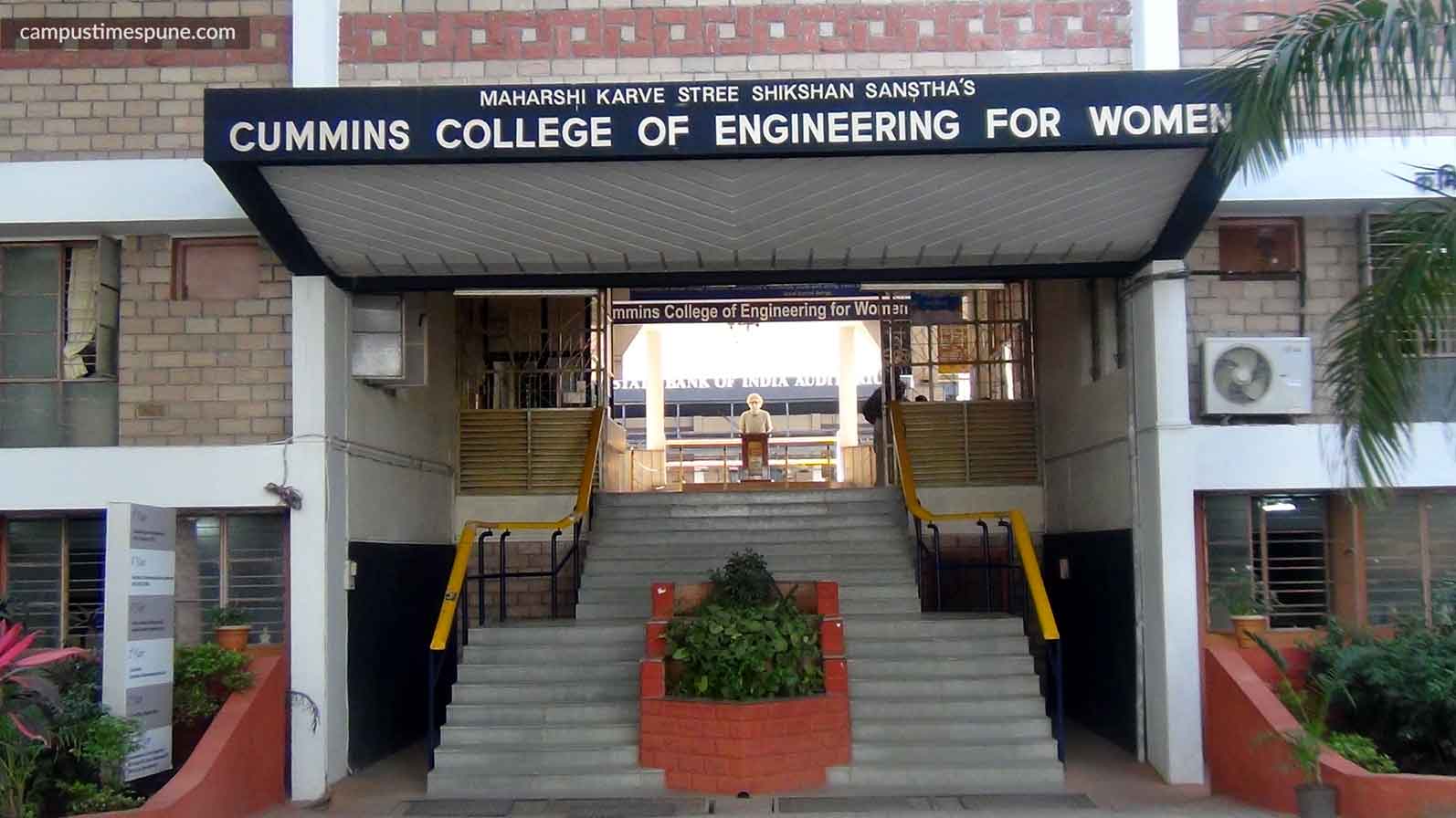 Cummins College of Engineering for Women was established in 1991 by Maharshi Karve Stree Shikshan Sanstha (MKSSS) Pune who are quite renowned in the city for their works in upliftment of women by educating them.
Popularity Index
How famous is Cummins in Pune?
Cummins College is very popular especially among the orthodox-minded parents who enroll their daughters in a women's college hoping that they wouldn't 'go astray'. (giggle)
On a serious note though Cummins college is pretty famous among the students in Pune… well female students.
Location
Where is Cummins college located?
How to reach Cummins college?
Address: Karvenagar, Pune, Maharashtra 411052
35 mins from Pune Station
Karvenagar Bus Top at sniffing distance.
Accessibility is never a problem for Cummins College, thanks to numerous buses that go to and fro via Karvenagar.
Infrastructure
How big is the Cummins campus?
The campus houses another 8 to 10 sister institutes like the architecture and the management college. Labs, library and classrooms are well-furnished and spacious. The campus spans an area of approximately 1.5 lakh sq ft. Also civil department is said to start up in this college and a few changes in the locations of classrooms is said to take place. (Why are we telling you this?…cause we can)
Crowd
Is it easy to get along with people here?
The crowd is good and supposed to be well-disciplined and cooperative. Despite of Cummins being a girls' college, it has won innumerous events which shows that girls can participate and win (and not only gossip!).
Extra Curricular
Anything else to do apart from studies?
Innovation is known to be the biggest event Cummins students host. Its consistently been improving itself since 2000 and now is a national event. The Mechanical Department of Cummins is surveyed as the best department in the college and hosts TRIZ- in association with SAE India Western Zone, since 2011. Pentacle is another popular Inter-collegiate sports event. Gandhar is the college cultural fest which gives the students to showcase a theme-based art onstage. Last but not the least, Cummins' Entrpreneurship Cell – YUKTA
Placements
Recruitment at Cummins College
Cummins has been very lucky with most of the students managing to bag an internship with KPIT Cummins. They literally own the bragging rights now after collaborating with KPIT! Placements have been even better with major companies like Eaton, John Deere, ThoughtWorks, Deloitte etc. The avergae salary a placed student will get is around 3.5-4 lakhs per year.
Faculty
Something to know about the teachers at Cummins
The IT, Instrumentation and Comp faculty are said to be very good and cooperative. The senior faculty of EnTC are good but the same cannot be said for the junior faculty of the department. For IT, during the absence of faculty, many a times the ME students come over and conduct lectures.
Attendance
Is Cummins strict about attendance?
Attendance was not so strict here before. But this is slowly changing as the college is rumored to be applying to become an autonomous. (A little heads up for the freshers.)
Fee Structure
Is studying in Cummins pocket-friendly?
The fees for Cummins COE ranges betweeen 1.12 to 1.15 lakhs/annum. It is surely a big investment. Make sure you weigh the points wisely.
Go Women Education & Women Empowerment! (No no, we're not RaGa's fans)
Campus Times Pune is an initiative taken by some enthusiastic students of Pune to entertain the "Netizens" by providing cool and trending content online. Articles from contributors who prefer keeping their identity anonymous, are published under our authorship. You can contact us with your articles by sending them to "[email protected]"