Today I woke up a little late,and due to the late night "copy pasting job" (a mild word engineers use for write up completion) my body is aching and I really don't feel like going to college. But I have to…. I grab hold of my "Men In Blue" Uniform and hurry to the college. The worries of Watchman Uncle Slamming the shutter closed for being late and principal standing there for giving us another final warning does pace me up!
I sigh as my helpless eyes glance over the "Forever Under Construction" road tunnel. To my surprise, I see it has been inaugurated and ready to use. "Thank God! It did before I completed BE", I moan. Before entering into our Holy College we have to wash our feet from the back waters of "River Ganga" which flows through the college stretching from the girls hostel to the workshop before disappearing into the drainage and appearing again under the bridge where it washes our feet and prepares us for a spiritual journey that awaits us!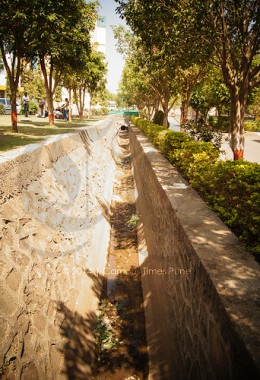 I walk past the entrance and smile as the memories of these people asking everyone for Identity cards during the NBA days (even if we are in full uniform) splashes my memory. I am lucky today, watchman uncle is still just standing half shutter drawn but he is letting students in. I smile again on the sight of a teacher leaving her vehicle near the departmental entrance, punching her fingerprint in the attendance monitor and leaving again to park her vehicle.
I finally enter the lab, get the usual hammerings for coming late, not completing my journal, not filing the index etc. etc. Spend the two hours checking e-mails and other non productive stuff (thanks to the firewall I cannot update my Facebook status here) The whole day seems to be waste, or rather I am making it that way, I wonder.
Just after the practicals in the small break, I meet my Gang. Who instantly sense my depression and sadness…
"Saale muh toh aisa banaya hai ki tu meri maiyyat pe aya hai! "
This one sentence and some load from the head seems to lighten. Then we exchange hugs and high fives, laugh over trendy jokes. And something somewhere changes, I realise the next lecture would be taken by my favourite sir and it is sure to be a good one.(Yes there are a few really good lecturers whose lectures even people interest people like me !!!). I see the TnP volunteers arranging the lab for yet another placement drive. This year's placements were really were really good, one thing college is really known for is placements and our Rawandale Sir, so the College is not that bad after all.
I can now observe my sudden drift of attitude, from an all gloomy day now sunshine has arrived, and lit up my day again! Was it due to my friends and the warmth of our relations? Well I remember reading when Hitler had captured millions of Jews and put them into the concentration camps (Well the comparison between those camps and college unintended) the ones who survived for the longest, were the ones who were the strongest or the fittest, they were the ones with a purpose and wanted to spend more of their lives with their loved ones. Engineering, Knowledge are noble pursuits but it is poetry and love for what we live for!! I can recall the line from dead poets' society,
"However complicated, disciplined, strict, monotonous institutions and their cultures are, they cannot penetrate or overshadow the happiness and satisfaction derived from fulfilling relations! Long Live Brotherhood, Long Live Friendship, Long Live Love!!!!"
Please leave your comments below as we are new and need your support as well as feedback. Come again to find out more!
Campus Times Pune is an initiative taken by some enthusiastic students of Pune to entertain the "Netizens" by providing cool and trending content online. Articles from contributors who prefer keeping their identity anonymous, are published under our authorship. You can contact us with your articles by sending them to "[email protected]"