Cummins College is situated inside a small cocoon of the green Karve Nagar. It is secluded, but nonetheless, it has its own hangout places to offer. After all, the second thing that student hunt for in a good college is the hangout places nearby, followed by the college credentials of course. (Some might disagree)
So other than the female crowd that attracts people to Karve Nagar, here is a list of the top 10 hangout places in the town.
Crispy N Crunchy
Lane No. 1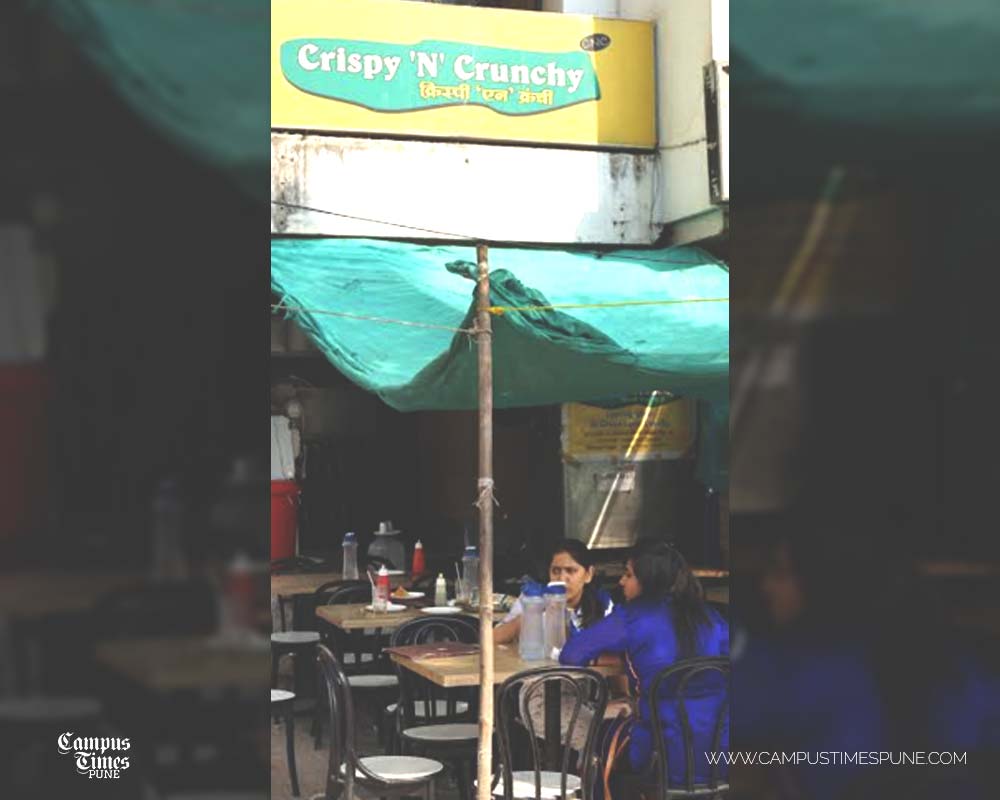 This has to be on the top of all the Cumminites' list, if 'Cumminite' is accepted as a word. A small 6 table restaurant with the most amazing wraps and Cheese Chilli toasts you could ever ask for after 4 hours of incessant lectures. But beware, this place is highly crowded and you might have to wait for about half an hour if you don't get a table, especially in the 12-1 timings. The food joint closes at 2, so I suggest you satisfy your hunger before that.
Durga Café
(Lane no 1, next to Crispy N Crunchy)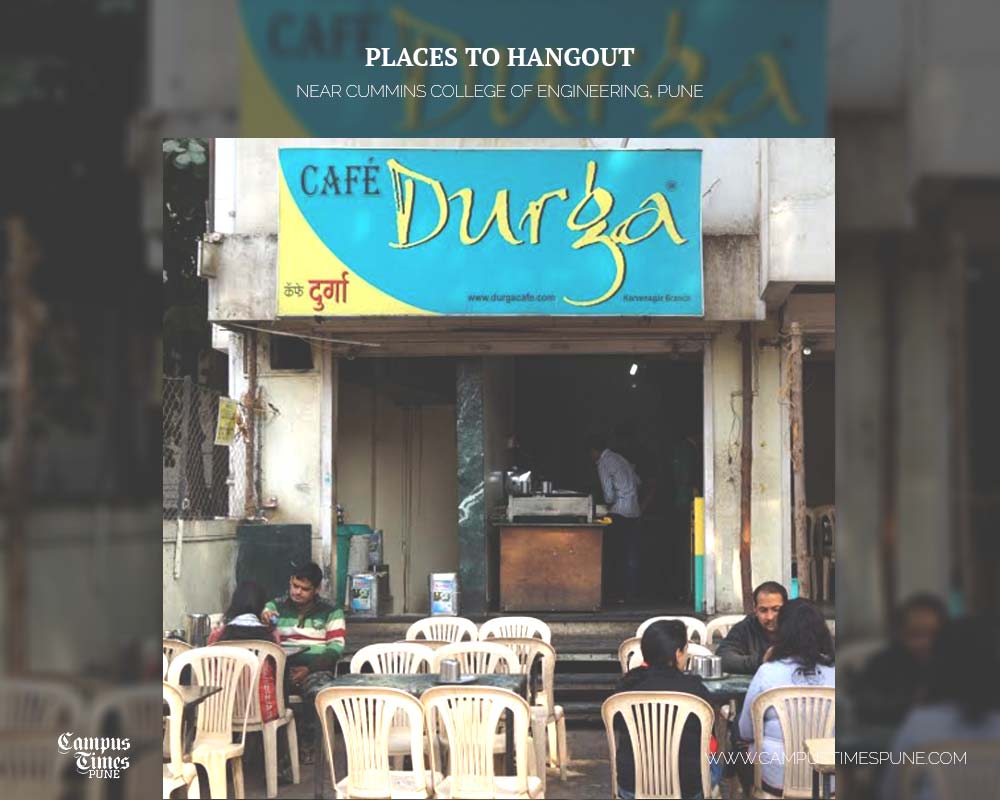 This food joint chain is without doubt the place everyone goes to after searching a lot for decent food. Durga cafes are situated in every nook of Pune, so you can trust the food is going to good no matter where you go. Durga is famous for its cold coffee. But other dish that you should definitely try in one of the branches is the Misal Pav.
Just Eat
(Lane no 1, next to Crispy N Crunchy)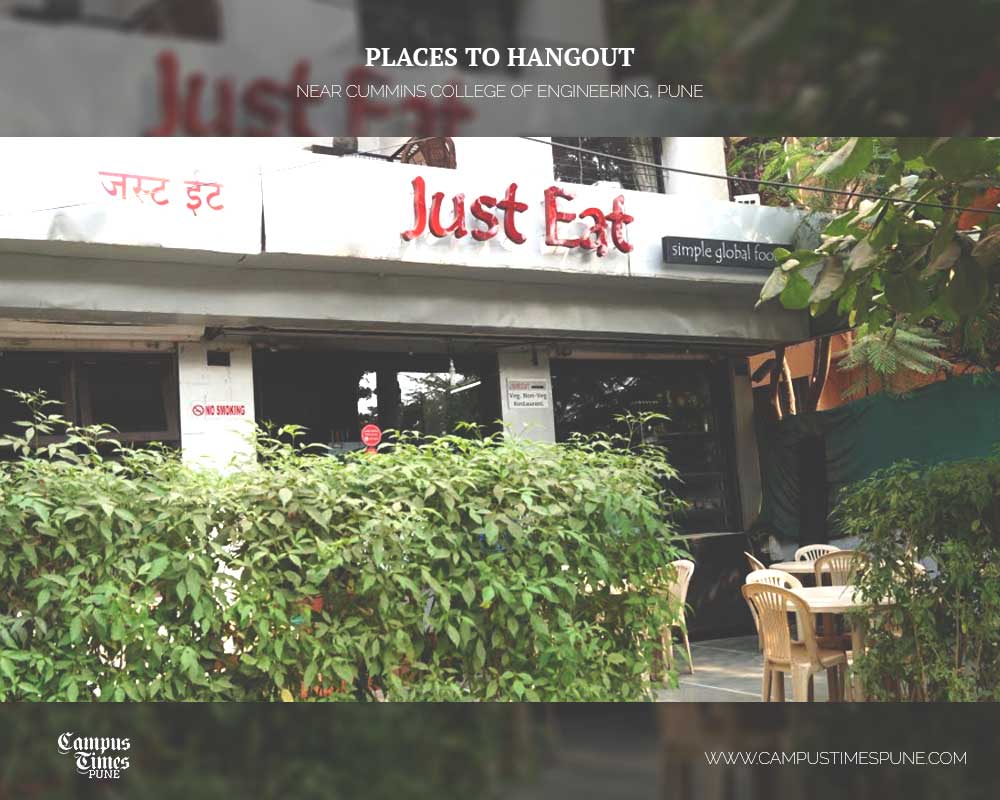 This is the high end place you come to if you've scored extremely good in your recent tests. The word "Just eat" mainly comes after the dialogue
"Yaar, aaj kahi aur jaate hai".
A small, but elegant restaurant right beside Crispy N Crunchy, Just Eat offers the most heavenly Chocolate ice-cream. And while you're there, don't forget to try the pasta and Chinese.
Rudra Bar & Restaurant
(Lane no 1, Opposite Durga Cafe)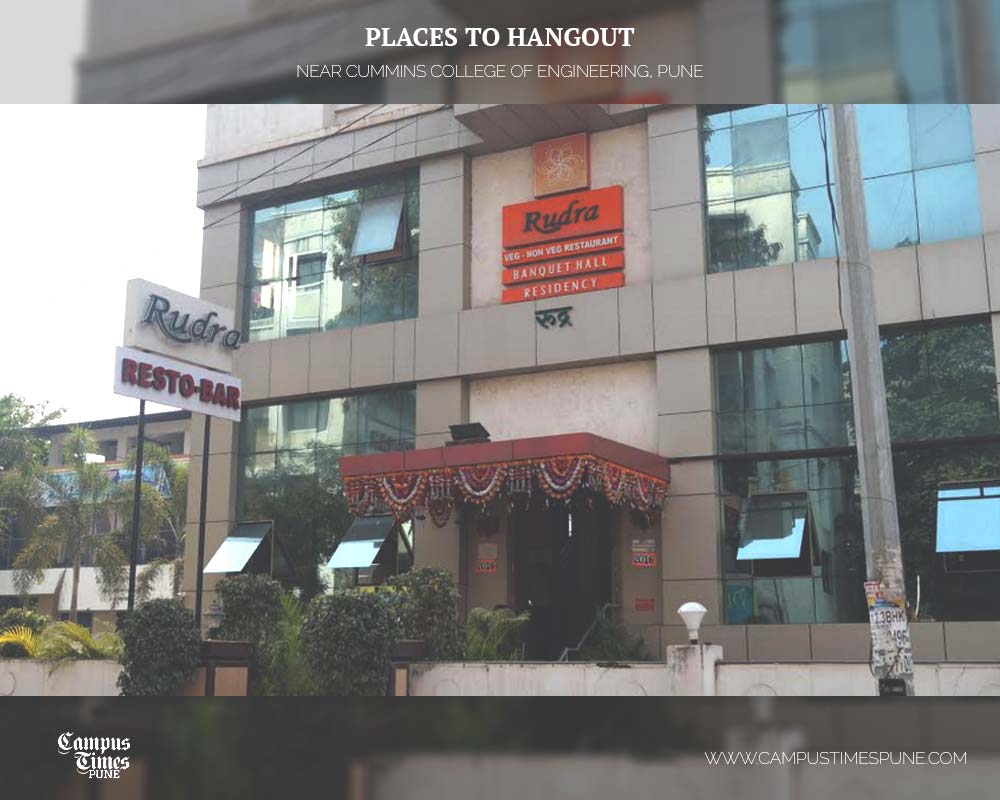 Maybe it's not the appropriate place for you if you're below 21. But if you aren't, this place offers some of the best Biryani in the area. A variety of dishes to choose from, Rudra is known for its sophistication, great service and affordable drinks. All in all, an average place for a good afternoon lunch.
Sampada Bakery
(Near Baya Karve Hostel)
Cake n Cafe
(Beside Durga Cafe)
Jitu Ki Chai
(Near Mahalaxmi Hostel, Cummins foursquare)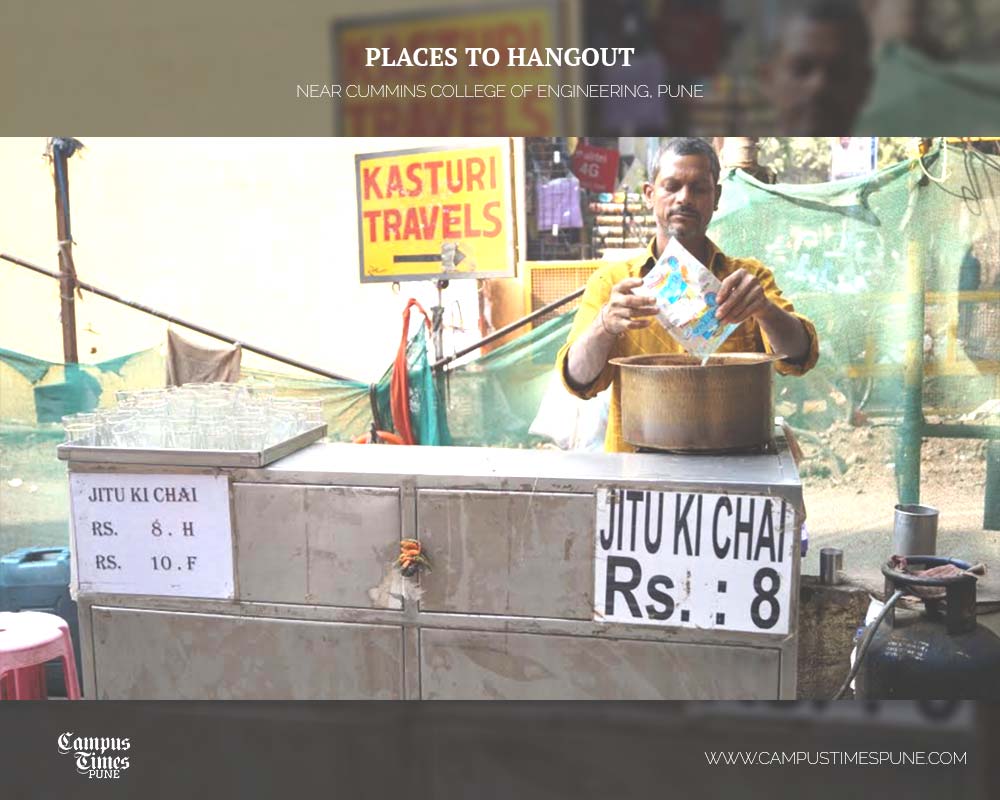 Yes, you heard it right. Jitu ki Chai is famous for only one thing-heavenly tea. And it is stormed by people in the evening who occupy the curbs of the nearby shops in hope to gulp down their tea faster that day. The place has no construction, surrounded by a green net which divides the small verandah with the road. With only 8 rupees in hand, you can get a small cup of tea. Jitu opens early in the afternoon, and suddenly everyone there becomes a Britisher.
Katakirrr Misal
(Lane No. 10)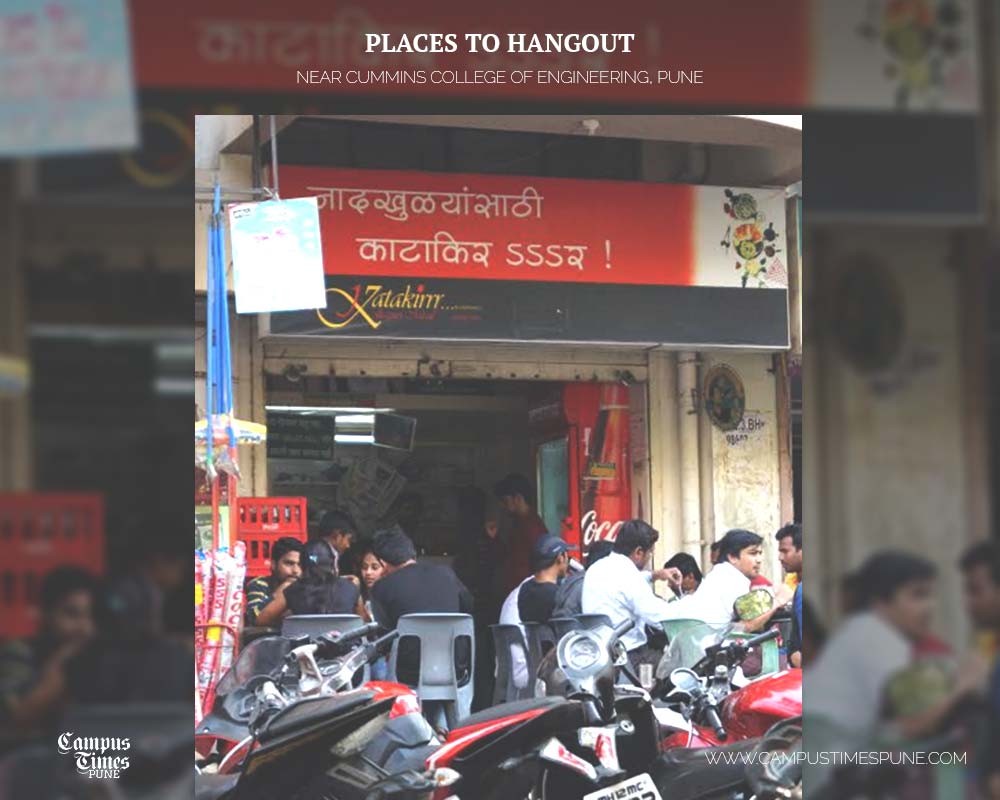 As you have guessed, this place is famous for its Misal. The address might not come to you in the first go, but you go beyond Cummins towards BNCA, you'll find the spot. And make sure you carry a handkerchief with you, with all the spicy misal, your forehead's bound to sweat.
Nawabi - The Kabab Place
(Lane No. 10)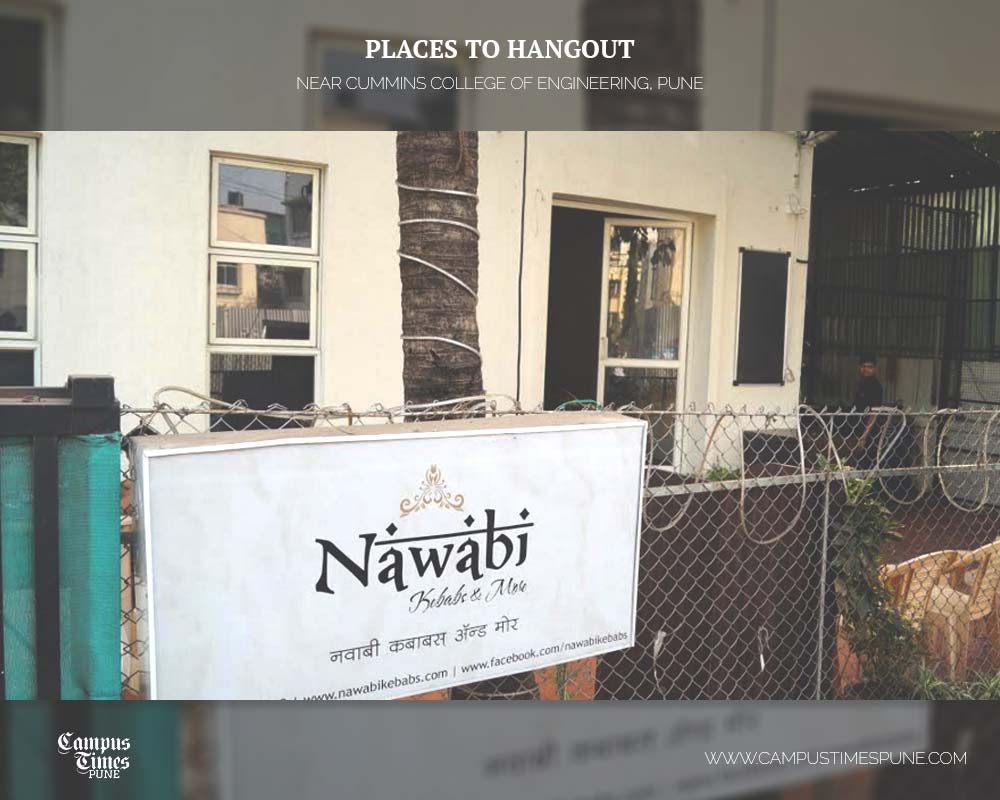 You'll have to really walk for this one. The place is mostly abandoned, but the food is worth trying. Lousy service, so better pack a lot of time before you enter here. Do not expect to be served fast, they really make you wait for the kebabs. The murga mussallams are delicious and so are the paneer dishes.
These were the 10 hangout places that you should definitely check out if you get into Cummins!
Got any suggestions to add? Comment below! And yes, don't forget to share!
Shweta Mustare. A girl living in Pune, India, waiting for life to give the big break. Blogger, Thinker, sometimes funny, always a weirdo.