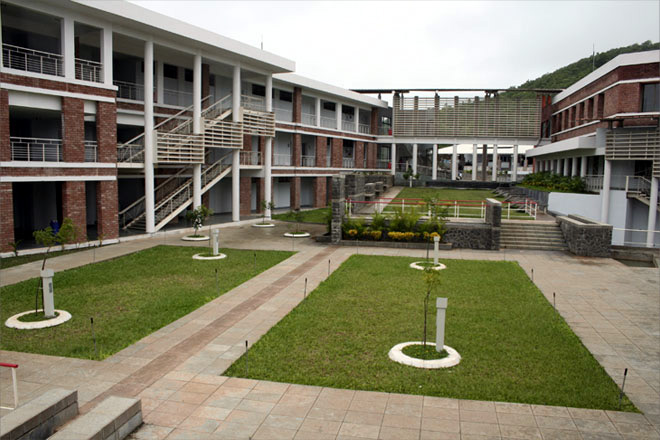 Symbiosis Institute of Technology, a constituent of Symbiosis International University was established in the year, 2008 and currently offers B. Tech programs in Civil Engineering, Computer Science and Engineering, Electronics & Telecommunication Engineering, Information Technology and Mechanical Engineering.
Popularity Index
How famous is SIT in Pune?
Symbiosis Institute of Technology on its own is not that renowned. But Symbiosis as a brand has been quite trustworthy in the educational sector. So considering the brand value of Symbiosis, SIT scores huge in popularity index.
Location
Where is SIT College located?
How to reach SIT?
Address: Near Lupin Research Park, Gram: Lavale, Mulshi, Maharashtra 412115
20 mins from Balewadi Bus Stand
30 mins from Aundh
Infrastructure
How big is the SIT campus?
SIT infrastructure is part of the huge Symbiosis campus that houses other sister institutes other than SIT and to be honest the campus looks very beautiful with the mixture of greenery and architecture. The hostel here is 3-person per room type and is quite spacious and well-maintained.
Crowd
Can I spend my 4 years here?
Due to the extortionate amount of fees that is levied here, the major part of crowd comprises of students who's families are filthy rich. But you'll start having fun after you blend in with the folks there.
Extra Curricular
What else is there apart from studies?
There are two fests that are organized in SIT every year. One is Reverb, which is a techno-cultural event. This event is one of the biggest college events in the city with participants coming in from various colleges like BVP, Cummins, FC, etc. The other event is called Pro Athletis which is a sports event. The campus is to host Annual Media Management Conclave 2015 as the year is its Silver Jubilee year.
Placements
Will I get a job?
Will I get placed?
This college being relatively new in the educational sector of Pune is not that fortunate when it comes to placements. 50-55% of students manage to land jobs in companies like Infosys and Synechron. The average salary package ranges from 3.4-3.6 lacs per annum.
Faculty
Something to know about the teachers at SIT
The quality of faculty varies from branch to branch. The quality of CS and IT faculties are mediocre while the faculties of Mechanical, E&TC and civil engineering branches are regarded highly among the students.
Attendance
Is the college strict about attendance?
SIT is ultra-strict about the attendance. Unlike other colleges they have even stricter rules that you gotta have 75% attendance individually in every theory lectures and practicals! And if you fail to abide by the attendance criteria you will be debarred from giving the exams.
Fee Structure
Is studying in SIT pocket-friendly?
Wow! I love this section.
Ok so here's the THING:
The fees in Symbiosis Institute of Technology soars upto 2.5 lacs every year! Do I need to say more on this? I guess not!
If you got deep pockets, then you should be fine. There have been complaints that the facilities are not upto the mark when compared with the fees.
Campus Times Pune is an initiative taken by some enthusiastic students of Pune to entertain the "Netizens" by providing cool and trending content online. Articles from contributors who prefer keeping their identity anonymous, are published under our authorship. You can contact us with your articles by sending them to "[email protected]"