Five seconds left on the clock, your team's victory depends on this basket that you have to shoot and the crowd is quiet in anticipation. You shoot, the victory bugle and ecstatic look on your face says it all. Off course it is a "hug every single member of your team moment" now!
This pretty much sums up the best matches of any sports person. Our game is our passion and the adrenaline our addiction, so for all you stalwart supports of sports, champions in your fields, PACE 2017 is here!!
An annual national level sports fest organized by Army Institute of Technology, this year PACE is being held from 9-11 Feb '17. So if you are up for the challenge, register soon! The prize money has only become more promising this year, the best of coupons, desperately needed by us college students you get it all here.
DON'T MISS – Inside Out College Reviews >> AIT Pune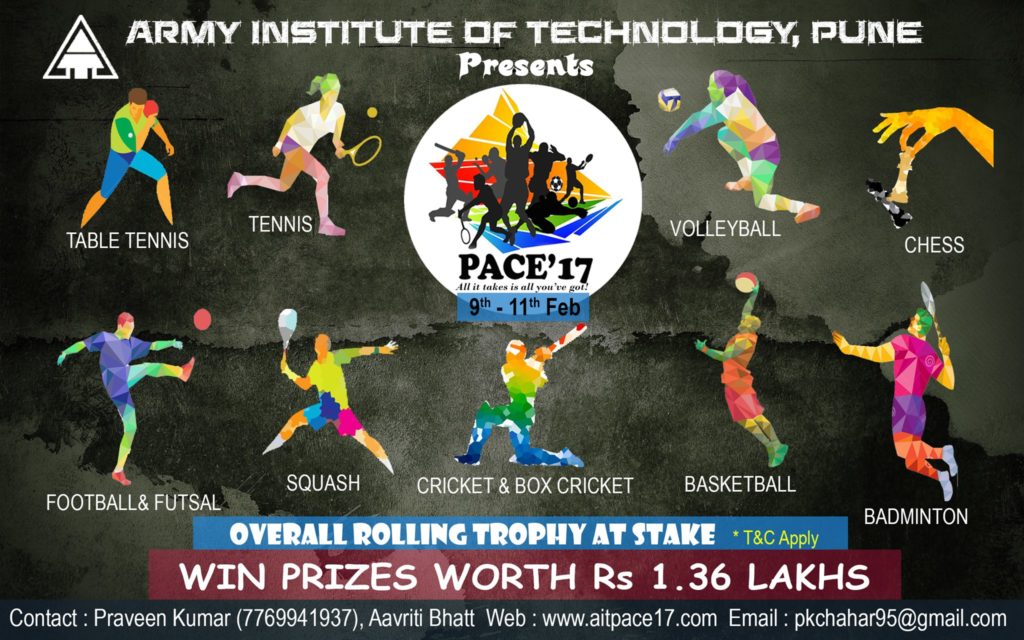 Army Institute of Technology has shown an amazing performance in the year 2016-17. It has won various positions at the district level competitions in 8 sports including
Basketball (girls & boys)
Badminton (girls)
Cricket (boys)
Lawn tennis (boys and girls)
Table Tennis (girls)
Shooting (girls)
Squash (girls)
Football (boys)
They have also represented the Savitribai Phule Pune University in 4 sports at the national level competition. Having more than 10 national level, 20 district level players in AIT, the standards for sports have all the more raised this year.
PACE 2017 Important Links
We're looking for writers from AIT Pune.
One of the founding members of Campus Times Pune. Passionate about photography. A big fan of stand up comedy and anything that doesn't involve Sajid Khan or Honey Singh. He has a new found love for cutting chai and also some John Mayer music. In his free time, he likes to goof around with a little bit of web designing and watch Arnub Goswami debate with himself.