NBN Sinhgad School of Engineering was established in 2011-2012 and belongs to the big collection of engineering colleges that are collectively called as Sinhgad Institutes. It is located in Ambegoan, Pune.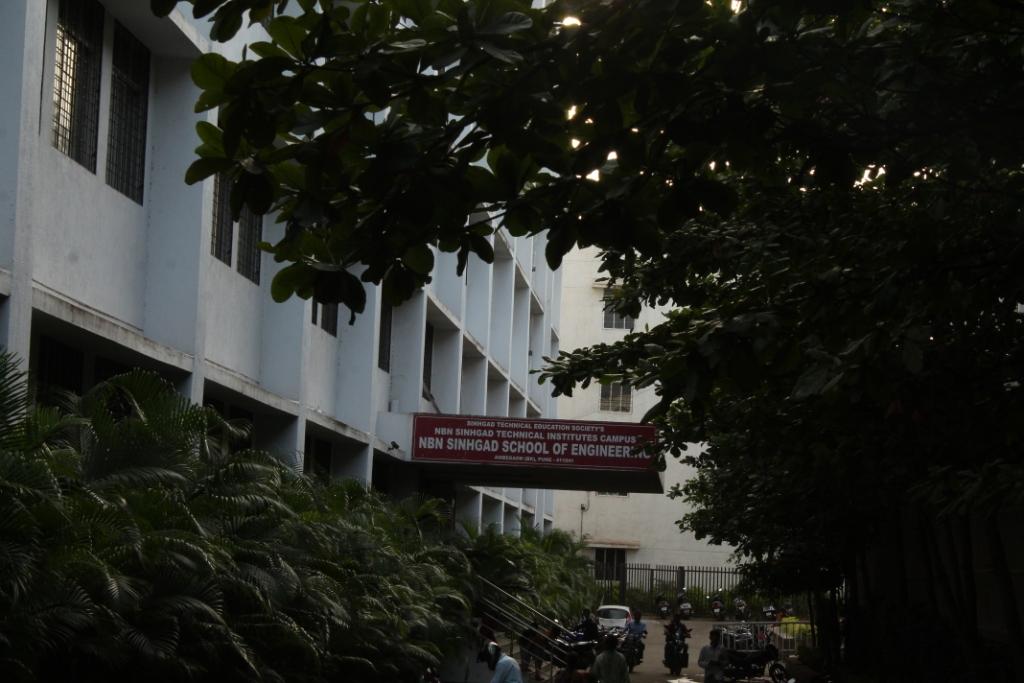 So here we are presenting to you 13 things you would better wanna know before you enroll yourself to this college!
This is to bring a kind note to all our readers that none of the points given below are intended towards hurting anyone's sentiments whatsoever. The views expressed below are gathered from multiple sources from within the respective institute and are not made up by our team in any way. The current article has been compiled by Vedant Pophale.
Almost invisible (to the ears also)
The building welcomes us with open hands and a closed gate, which is again barricaded with parked vehicles. The board is subtly covered with tree leaves. ALWAYS.
The newest college is next to the oldest. So it's pretty unheard of. Most of the students don't even know the full form of NBN (FYI, It's Nivrutti Baba Navale).
Hostel students do get a pretty advantage of this.
The night is dark and full of terrors! *wink*
No Canteen...wait, you got to be kidding!
The first thing that comes to mind when I hear college, is canteen. And sadly, we have none.
But to even that up, the most generous bakers in Pune (you guessed it right!) opened an outlet just outside our college. In addition to NPB, we also have local food stores with a wide choice of menu but weirdly everything tastes the same. Kidding! (or am I?)
It also has a Photocopy center for those who eat only books.
No Practicals for first year students
I don't know if this counts as good news or bad. But I felt pretty bad when they snatched our most fun 2 hours of college.
But as every bad side has a good one, we can sleep continuously for 2 hours now!
A lift to reach the 6th floor instead of half a billion stairs
We have all the departments situated in 6 parts of one building. We have to take 38 stairs on each floor. (Yes, I have counted!)
But worry not, we've got an amazing elevator to lift you and your spirit up (okay, maybe not the latter one).
So there is no envying of 1st floor Mechanical guys from 6th floor IT guys.
Strict Principal (Read Doloros Umbridge)
Our Principal is no Boman Irani from…well any college related movie (Ever wonder about that?) except for 3 idiots. And we can all relate to him (I guess Engineering College Principals have their own union). So obviously, there is no sudden dancing in the class or outside the class or in the dorms, or anywhere. (Wow Bollywood, you ruined college for us.)
Be it late/defaulters/low marks (Blasphemy!) and wrath be upon you! Only way to avoid all this is being in Slytherin, oh well! Sometimes we have to attend extra lectures AFTER college (gasp!)
Oh and no extra holidays, or fun.
They help us in our assignments, they make learning easy, they have a soft spot for students.
NOPE. Not that kinda helpful.
But they do help us in online exams. Be a help to the teacher and he/she will return the favor. Valar Morghulis, Valar Dohaeris
They are a great help in learning too, they would stay an extra hour just because you have a query!
WE HAVE NO CRICKET TEAM.
There! I said it.
The sports events are usually combined, so the older and bigger colleges get the cream and all we end up is with 'Paani wali chai'.
We have our own trilingual magazine that operates in English, Hindi and Marathi.
Each year it selects a theme and all the students are welcome to write an article/poem/jokes in it. It does help getting the creative side of a boring engineer out.
Again, if you're good with the teachers, you can bunk a little more than an average student.
But as the Wrath of the Princi nears at the end of a year, no teacher can help you with your attendance.
Nope, not even your H.O.D.
Open for all, even the 'Ganpati-Ka-Chanda-Dedo' guys
Once you cross the fleet of vehicles on the main gate, there is no stopping. Anyone and everyone can come in.
From beggars to handicaps asking for help, to the bechare students promoting their college events and once, kids from a near by society came asking for chanda for their Ganpati Mandal.
Bucket-load of assignments
"You don't have practicals, so here are thousands of pages of assignments, due tomorrow!"
The 'Submission' period is known to everyone but we might be setting a record of 'Most pages wasted' because the assignments we give in are huuuuge and annoyingly unnecessary, even though most of them end up as bhel ki pudiya.
Sinhgad Education Society is well known for its events and that's the only reason we are glad to be a part of it.
Be it technical events, sports events, cultural events, events-that-have-no relation-to-any-of-these events. Everything is here and we are in it!
From Concerts of international celebrities to the Bollywood celebrities as judge. And we get to see them all!
Sinhgad is a biiiiig family
A wise man once said "Family don't end in blood, it doesn't start there either". 
Sinhgad is a way too big family. Bigger than the Gandhis or Weasleys.
The talent we have and the flaws we have, Sinhgad accepts us with the same warm smile. (Unlike our parents)
However the teachers, peons, HODs be, they always care about you, make you feel at home…BUT NOT THAT DAMN PRINCIPAL! *scoffs*
That was all for the NBN Sinhgad School of Engineering. If you think we missed out on some points, please enlighten us with your comment! That would be highly appreciated! 🙂
We're looking for Writers from NBN Sinhagad Pune!
The following two tabs change content below.
Campus Times Pune is an initiative taken by some enthusiastic students of Pune to entertain the "Netizens" by providing cool and trending content online. Articles from contributors who prefer keeping their identity anonymous, are published under our authorship. You can contact us with your articles by sending them to "
[email protected]
"
Latest posts by Campus Times Team (see all)