Indians celebrate Teachers' Day on 5th of September every year. This is considered special as a day to appreciate Teachers and Gurus they have had in their lives. Though the dates of celebration varies from country to county across the globe, there are some characteristics those are found common in teachers everywhere. Lets have a look at the types of teachers, all students have encountered once in their educational life..
1. That One Teacher, Who looks like a student
These teachers look no different from yourself or your friends. They blend in with students very well most of the times…so next time when you're about to say something that your really not supposed to..have a look around you.
2. That One Teacher, Who Spits a Lot
These teachers are more like the "In your face" types..who speak in (uncomfortably) close proximity, launching at you stuff from their mouth which can be toned down by medically terming them as "watery fluid, secreted into the mouth by the salivary glands"
3. That One Teacher, Who is Too Damn Old
These teachers look like they have reached their age to sit at home and spend time with crossword or Sudoku in the daily morning papers.
Stuff like, "Tere umar ke bacche dekh le … kahan pahuch gaye hai…. Aur tu dekh nalayak !!!" will be heard very commonly from them.
And you keep thinking, "Aapke umar ke log bhi kahan pahuch gaye hai…. Aap kab jaoge?"
4. That One Teacher, Who is a Big Time Tharki
These teachers..mostly male professors (sorry for being sexist..but you know it's true boys) have some serious issues and need to keep their hormones in control. These teachers also find themselves in the headlines of local papers for all the wrong reasons quite often.
5. That One Teacher Who Leaves you Jaw Dropped and Drooling.
Attendance for these teachers are maximum. Guys wouldn't bunk their lectures for the worst of emergencies. And the same goes with girls in case of a male professor. I'm sure we all relate pretty well to this now, don't we?
6. That One Teacher, Who Really Doesn't Need a Mic
These teachers have the tendency to make their lectures heard all over campus. On the bright side..you won't miss the lecture even if you're bunking out in the campus really.
7. That One Teacher, Who Redefines the English Language Altogether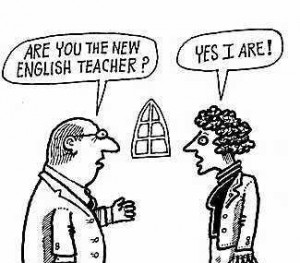 Too much exposure to these teachers can have adverse effect on whatever little grammar you can recollect from your schooling days. Beware!!
And yea R.I.P English…
8. That One Teacher, Who Always Looks Constipated
These teachers look like they have had too many bad mornings with no trips to their place of "morning business" *ahem* 
You get confused whether to hate them for being annoying or pity them for their life problems..
9. That One Teacher, Who is a Pure Two-faced Evil
These teachers will be one of the nicest people you will ever meet initially, but "Semester end mein apni ma-bhen ek kar deta/deti hai" 
You cannot deny you haven't once thought of his/her murder plan in your mind throughout your college days.
10. That One Teacher, Who is Everyone's Favorite
These teachers have brought about almost all the integral changes in you or have left some mark on you that has been critical in making you the person you are today. Never along your life you will ever forget these teachers, who have pretty much turned your life around for you.
MUST READ: How my Teacher Removed the Biggest Backlog from my Life!
Campus Times Pune is an initiative taken by some enthusiastic students of Pune to entertain the "Netizens" by providing cool and trending content online. Articles from contributors who prefer keeping their identity anonymous, are published under our authorship. You can contact us with your articles by sending them to "[email protected]"