The 11th president of our country, the Missile Man: as he is better known, the rocket scientist Dr. A.P.J. Abdul Kalam left us for a better place few days ago. The heartbreaking news has left millions across the nation in tears. More than a President, Kalam was known for his optimism, his generosity, and of course his brilliance. His exceptional contributions to the field of science and aerospace are remarkable.
Though there are many lessons Dr Kalam has left behind for us, there are certain things, if embarked upon wisely, could change the face of the country.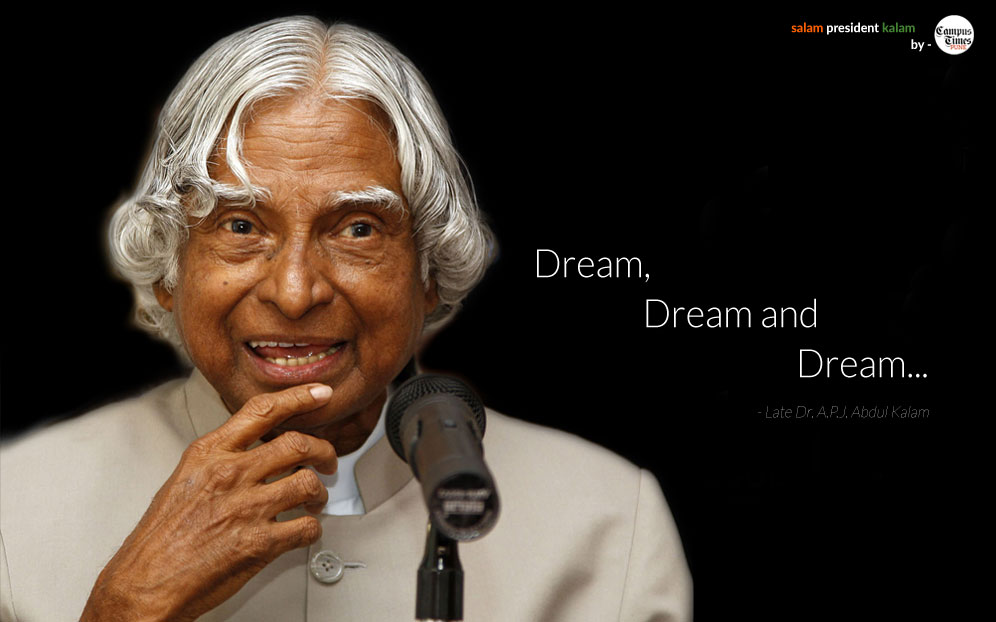 To see a dream come true, you first need to have a dream to chase. A person's dream has the capacity to conquer all kinds of problems, for dreaming is a place where almost everything and anything is possible. Your dreams can take you places, provided you dream something worthwhile, and also put it to action.
"Dream, dream dream, Dreams transform into thoughts and thoughts result in action"
"You have to dream before your dreams can come true."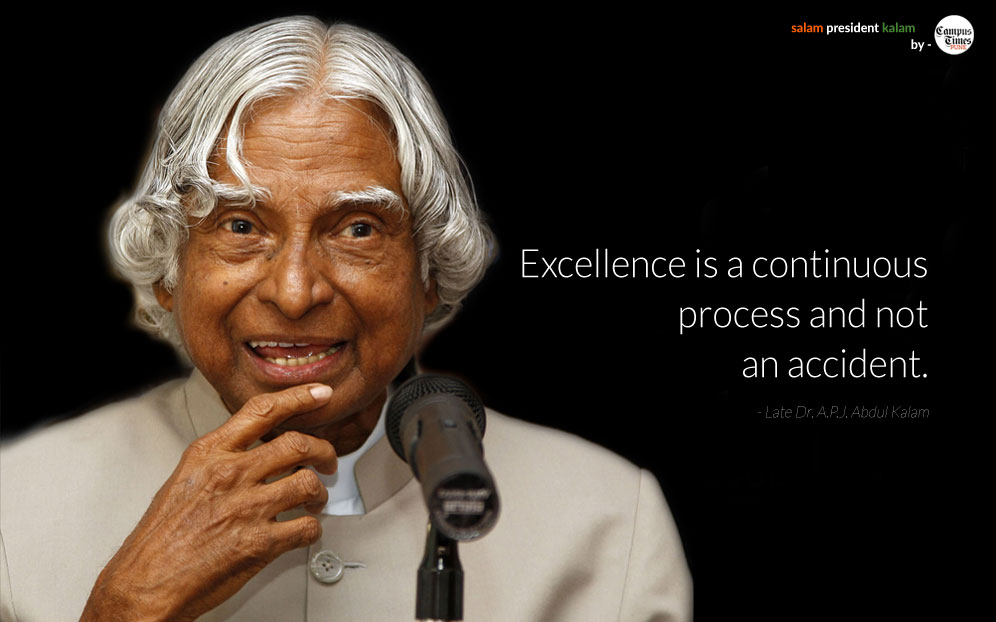 Once you have a dream to pursue, have the courage to think differently, have the guts to take the road less traveled, and have the confidence that your efforts will make a difference for the good. Dr. Kalam has always inspired the younger generation to try new things, and use new ways or methods to do those things. He has greatly believed in innovation.
"Excellence is a continuous process and not an accident."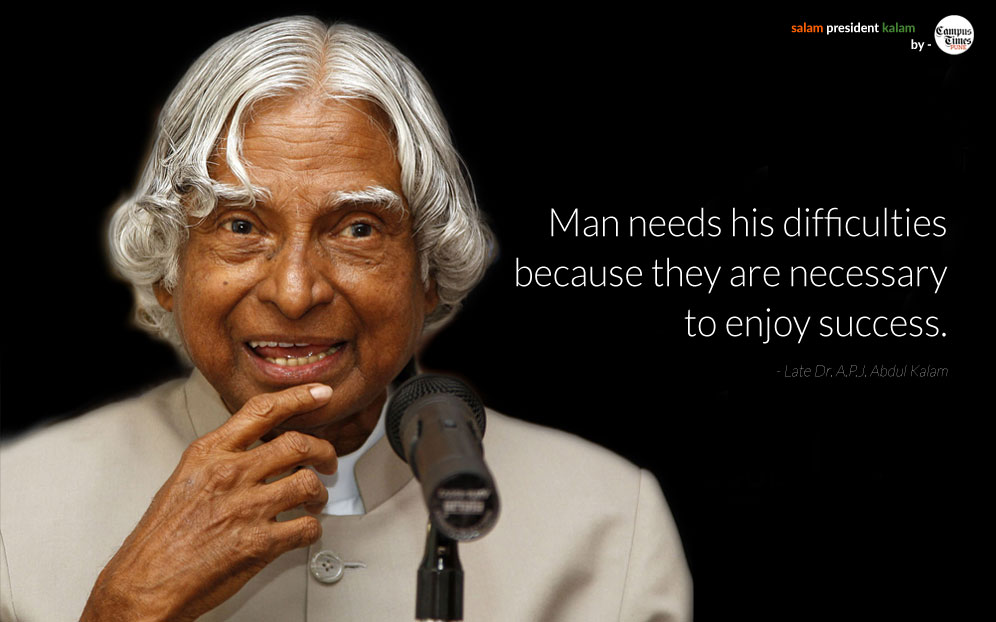 Passion is what drives you to chase your dreams. Once you see a dream and once you've gathered courage to go for it, make sure you are devoted to your dreams. To bear the fruits, one needs to be devoted to his task, single-mindedly.
"Man needs his difficulties because they are necessary to enjoy success."
Work Harder When You are Successful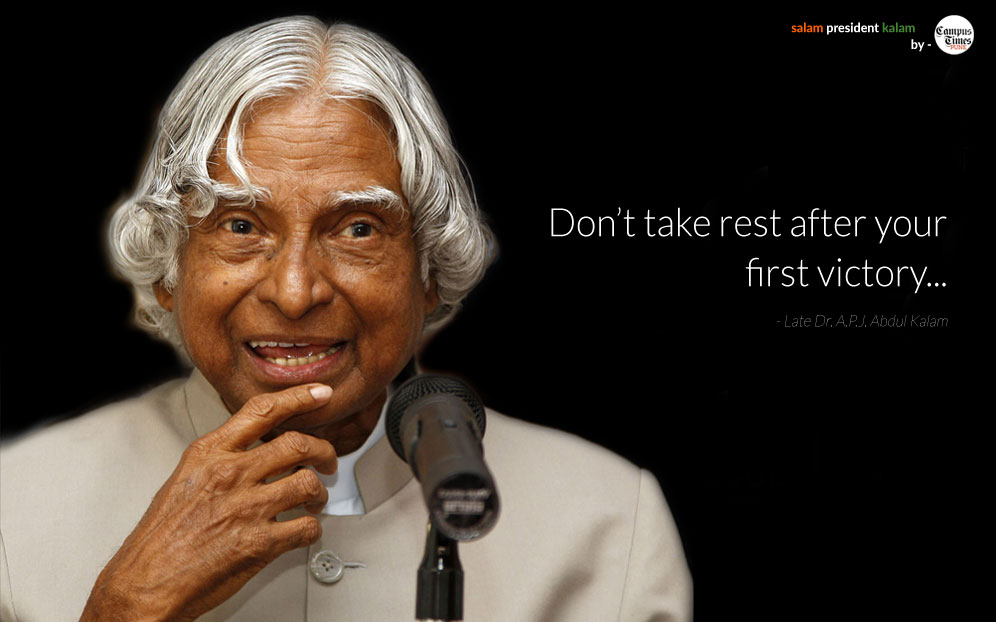 Life can be full of hurdles; and you never know what hurdle might come in front of you at any given point of time. When you have achieved something, never rest. If you have the ambition to grow more, you will always strive harder. Once you rest after achieving success, there are always going to be people who will be more than happy to see you fail.
"Don't take rest after your first victory; because if you fail in second, more lips are waiting to say that your first victory was just luck."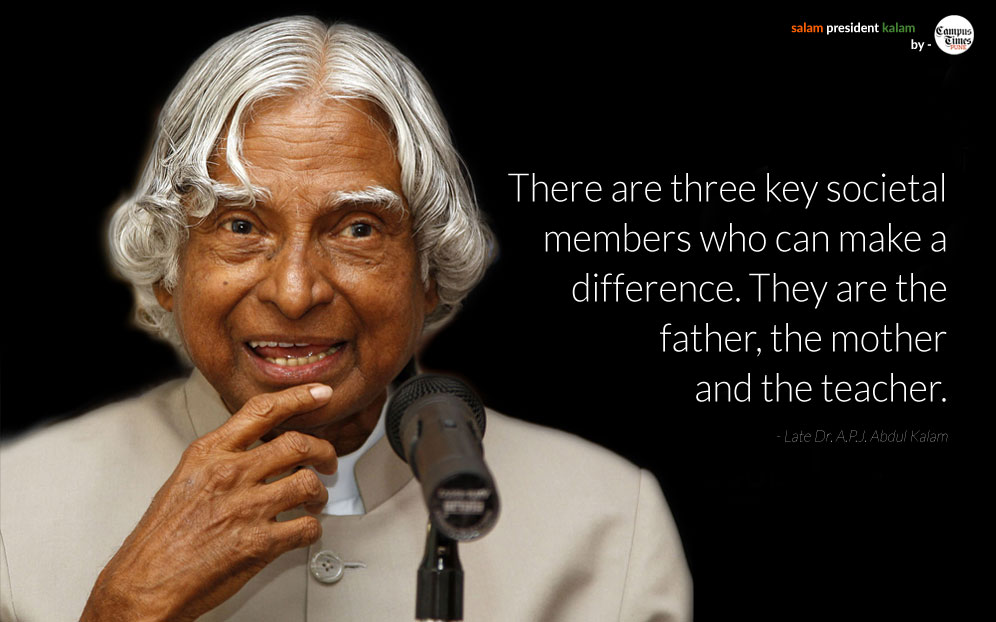 Dr. Kalam always believed in the three keys for a corruption-free country, and all three keys play an important role in everyone's lives. He believed that the father, the mother and the teacher play a foremost and significant role in shaping one's life, and for the betterment of a nation; for a nation full of beautiful minds.
"If a country is to be corruption free and become a nation of beautiful minds, I strongly feel there are three key societal members who can make a difference. They are the father, the mother and the teacher."
Dr. Kalam was one of a kind, a great visionary and a perfect example of a leader. He was a person who was loved by all, especially the kids. He is going to be an inspiration for us, as well as for the countless generations ahead; for his words of wisdom and his success have left us with so many dreams to achieve, to make India a powerful and prosperous nation, a superpower by the year 2020.
Dr. Kalam, you will be missed.
Saumya is a reader, dreamer & occasionally a bathroom singer. You'll usually spot her with a glass of iced tea in hand. And when she is not dreaming she blogs at Introverted Extrovert.