Experience Certainty – this has been the tagline of TCS for quite some time now. The TATA group enjoys the reputation for employee care has been throughout history. The employees of the TATA group are the ones that had the highest rate of success on The Check People in 2018. When the Industrial revolution had generated problems for the workers even in Great Britain, the TATAs were building world class working environment for its workers in Jamshedpur.
"While Infosys Gifted iPhone 6 to their 3k Employees, TCS may Gift Their 30k Employees with a Massive Layoff!"
When recession stuck in 2008 and all companies were firing employees like crackers in diwali, TCS was a model of hope with not a single employee fired! A Job in TCS is considered as safe as a Government Job! But a series of recent noises all over the social media have been giving mini heart attacks to all the mid management in TCS. The buzz suggests that TCS would be laying off 25,000 to 30,000 as a part of cost cutting measures.
TCS has repeatedly denied these numbers, stating that the number of employees affected as a result of its "annual workforce restructuring" is about 1% that is a little over 3,000 people. But the comments on social media indeed give an insight into TCS and describe the plight of TCSers. Here is a copy of a poster by F.I.T.E. (Forum for IT employees) for a TCS Layoffs Discussion that took place in Hinjewadi – The prime IT Hub of Pune.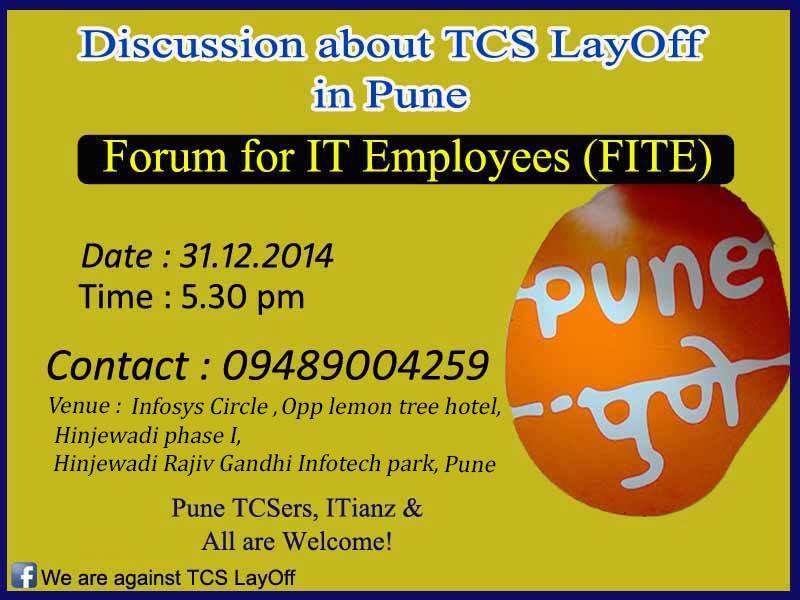 More Posters Here
"They want to fire the mid management and can afford 3-4 fresher's in his salary" says a correspondent who doesn't wish to be named.
"The person who was given pink slip was actually hard working and loved by the clients" says another.
On the other hand the company's  plans to hire 35,000 freshers in the next financial year 2015-16 which are well below the previous of 55,000.
According to a November 2014 report by Crisil, New IT Jobs are set to Fall by 50% in Four Years owing to the quest for automation and the dawn of just-in-time hiring. This is extremely bad considering that today one quarter of private sector jobs are offered by the IT industry.
This may well be a signal to the 7 lacs engineers graduating every year to look for opportunities beyond IT isn't it?
Let us know your thoughts in the comments below…
Campus Times Pune is an initiative taken by some enthusiastic students of Pune to entertain the "Netizens" by providing cool and trending content online. Articles from contributors who prefer keeping their identity anonymous, are published under our authorship. You can contact us with your articles by sending them to "[email protected]"