Hello folks, I hope everyone is doing great wherever they are. My name is Abhishek Gaikwad and currently I am pursuing my Masters in Computer Science at California State University Fullerton. I had completed my bachelors in ENTC from PCCOE. My 4 year duration at PCCOE, was equivalent to a roller coaster ride at the Six flags magic mountains.
Though finally I graduated from the Guantanamo of Pune, I got admits from 7 out of 8 Universities in USA, got my Visa approved, packed my luggage and here I am at the land of opportunities and the land of brave USA!. When for the first time I arrived at my campus, I was awestruck with the infrastructure, the degree of sensible discipline and the campus atmosphere, which all students residing at any corner of the globe will thrive for.
"Here every one greets everybody in a gentle way. Even an anonymous person will greet you 'hello' or exchange a smile to greet you.
Thus I would like to share some fun facts about the differences in campus life I experienced while I was at PCCOE and my current Alma matter Cal State Fullerton.
I Got Rid of my White & Blue Striped Uniform!
Yes if you are at PCCOE the white and blue uniform is like an idiosyncrasy posed by our college. You have to dawn it daily except Wednesday where you can wear clothes of your will. Whereas at Cal state it's almost a fashion parade at the Campus daily.
READ ALSO – PCCOE's Obsession with the Blue-White Striped Uniform
You will see students wear all kinds of clothes of their choice from shorts (a visual treat for boys) to ragged jeans with various hairstyles that may not have been invented on or behind screen. Everyone looks as if they have just arrived from a movie set or studio at Beverley hills nearby.

Source
A common scene on campus is also that, you will see a lot of students plying from one end to other on skateboards. That's a signature trademark that you are on campus at a university in California.
PCCOE was a college with mere 3 buildings, a ground (where in Taliban style girls were not allowed to play), a lawn (not meant to sit) and the diploma building. Here this campus is the second biggest in the state of California. I bet you guys, we get drained of energy if we challenge ourselves to take a round once round the campus. There are 20 different buildings for 20 and more majors ranging from humanities, arts, history, geology, engineering, business, health centre and the list continues.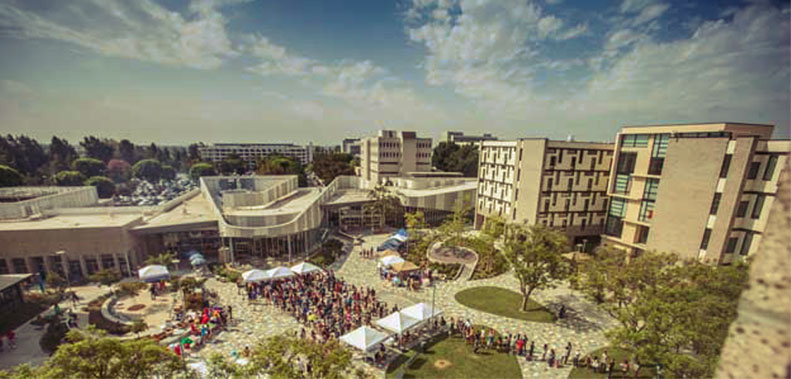 Besides this there are 10 blocks for on campus housing for students. There are also a few recreational structures like the gym, recreational centre, a soccer field, a athletics field, a baseball field and 2 other fields just to practice your stuff.
RELATED – California State University Campus Virtual Tour
(Here even the girls are allowed on field. Infact there is a separate women's team for each sport the campus represents. Not only girls and boys, but also transgender and paraplegic men/women have separate teams).
It not only consists of buildings but also wide stretches of lawns marked by orange, fig, and persimmons trees. And you have the liberty to sit, eat, and dance and whatever you want to do. Also cleanliness is seen all over. The Ganesh Taloa Sewer at pccoe has been replaced by fountains all over the campus here.
The canteen and the mess are the only two places in PCCOE where you get food. It only comes up to the missal pav and Vada pav that are edible at the canteen.
At Cal State though you may never get starved. There are 15 different food joints operating on campus. Few of them are Panda express that serves authentic Chinese stuff, Baja fresh where you get salads and sandwiches, Jamba juice centre for the variety of juices and many more. Besides this there are 6 different locations of Star Bucks on campus to refresh you. Also there are vending machines for snacks, coke, Ice Creams etc. Also a massive food court called gastronome, serving 40 different cuisines every day.
At PCCOE professors had ample time to screw your life if you went out of their control zone. Here its quite different. A professor out here is quite professional. You may find most of your professors Doctorates who may have published a heap of research articles and printed few books of their own. They are bothered more about what they teach in the class. Thus one gets top quality knowledge in his or her field (With a quality American Accent and English). Outside the class they get engrossed again in their research or project (If lucky you may even get industry experts as professors). Thus you can solve your queries and discuss stuff related to your academics only in the office hours designated, with a prior appointment.
READ ALSO – 10 Types of Teachers you will find in an Average Indian College/School
The professors sometimes are so busy, that a student who had excelled in their subjects, in past are appointed as graders, to grade assignments and midterms or final examinations of a class. Thus no professor is keen to interfere in one's life. Also attendance is not an issue if the professor doesn't grade one for attendance (Attendance is most of the time taken only on the first day of a semester). The student just has to hardly attend a hour or at max three hour lecture per day. The rest of the time you have the liberty to do whatever you want.
At PCCOE discipline was just enforced but no one actually applied it. That resulted in a chaotic communication gap between the students and professors. Professors used to announce the worthless unit test schedule a day or if lucky 2 days prior to schedule. Besides this assignments were copied by the entire class and submitted a day before submissions. Also the practical time table for a semester are announced a week before the schedule. This messed up the routine of students.
But in USA discipline is the motto, imbibed in almost every citizen living here. On the first day of the class the professor will hand out a course structure. It consists of dates of assignment submission and tests in advance. It also states what stuff will be covered on what date. Also the University provides you a separate online portal and a personal campus id, to keep track of your class progress, events occurring on campus and a one on one web chat with your professor (of course with a prior appointment). Also the classes start on time and break on time. Thus with such facilities one cant grumble about missed deadlines. As a deadline indeed means a deadline. Even plagiarism or copy paste works are dealt seriously, applying the Plagiarism Checker for students. It may leave a student on probation if the plagiarism ritual is practiced. Thus your work has to be genuine and original, with references involved.
Student Union and associations
I never heard of the word student union or association while at PCCOE (Except departmental org. like ETSA, MESA,CESA Etc). Here a student union not only means to represent students on campus but to also take care of them while at campus. Thus you will find facilities such as a hy tech gym, cardio training, arranged dance and martial arts sessions, bowling alleys, XBOX and Play-station arenas, Snooker tables, laser tags, swimming pools ,Jacuzzi etc. on campus maintained by the student union. Also there is a weekly movie screening at the university amphitheater free of cost for students.
Besides the union there are numerous associations and fraternities on campus. There are also Greek Life fraternities like alpha chi omega, beta omega pi etc. Associations can be regional or campus associations like the International student association, Indian Student Association, Middle east student association, Dance student association, Electrical student association etc. These associations carry out various events on and off campus. Thus events take place all year long from a rock concert to a rap battle to keep you entertained and engrossed along with your academics, while at campus.
Friendly American culture
While at PCCOE, when I arrived on campus I was greeted by my friends with slang friendly crap banter. While none of the staff or professors greeted the students and vice versa. Here every one greets everybody in a gentle way. Even an anonymous person will greet you 'hello' or exchange a smile to greet you. While at work or in class they will greet you with words, 'how are you doing' or 'how's your day been so far' etc. This generates a positive atmosphere at your workplace.
80% of the administrative work force, at all departments in the university consists of students studying on campus. Thus while studying one can earn up to $ 8-16 an hour. The work done can vary from assisting a professor in his research to working at the dorms, or to be a tech support at the college IT center. Thus while studying a student can take care of his or her daily expenses too.
Library- The Place to be!
Library at PCCOE is a mere room; with confined set of books. In conjunction to it you have a reading room with a rude clerical staff. Here we have a six floored library! Besides books and reading desks the library has ample of stuff. It has private discussion rooms where you can use them to prepare for a presentation with your group. Paper publications from various journals, law papers defining American law structure etc.
Also there is a video library where you can access video lectures and series related to your study major with dedicated computers to view your selected archive. There are MAC's all over the place for your own reference study. The librarians too are educated and respected by all. They hold doctorate and equivalent degrees in the field of library studies and will definitely guide you in your search at the library. The library also provides a facility of tutoring, where a tutor will help a candidate to excel in his field of study. If the library doesn't have or can't provide you a book of your choice they will order it from a different university and provide it to you within 3 days. There is a time limit of 365 days to keep a book and one can rent 260! books at a time.
The IT department at the library will provide you free IT assistance. Besides it's the place where you get your free softwares like Microsoft 365, Antivirus etc. Even the students can rent a laptop or a tablet free of cost from the IT centre for their stay on campus, if they demonstrate the need for a particular class.
PCCOE Vigilance on campus was dealt by the force of irritating watchmen who considered themselves as guardians of PCCOE.
READ ALSO – Irritating Watchmen of PCCOE (3rd Point)
At Cal state we have the Campus Cops to take care of vigilance. These cops are serious guys on campus. No one ever messes with them. Emergency stations and alarms are placed all over the campus. If during an emergency one activates them the cops come in action. These badasses are ex –military officers, retired cops or a part of the ROTC (Military Induction Campus Training Program) that can tackle all situations from an active campus shootout scenario to campus riots. They have their own cars and cabs to take a vigilance round on campus. So campus is in much safer hands.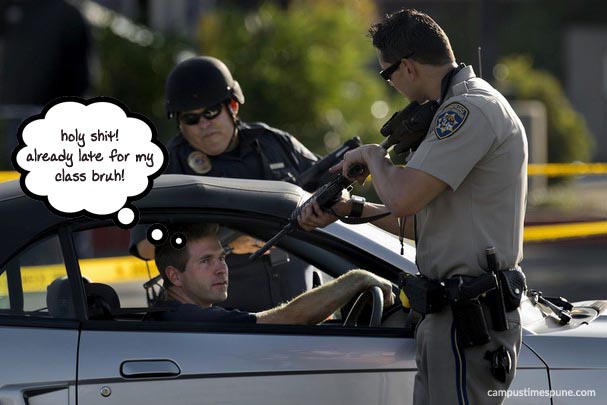 America has given me the freedom to learn whatever I want. It's the student here who decides what he/she wants to learn and be. I had the liberty to set my own graduate plan, by selecting 10 subjects from, a variety of 150 subjects and more in my major. Also if you are not satisfied with a subject enrolled one can drop that subject after attending initial sessions or swap it with a new one. Also if one is unaware of what subjects to enroll a graduate adviser helps you out in your selection as per your interest. I also had the liberty to change my department from electrical to Computer science in a matter of just a week before my classes, by just demonstrating my interest in the field of Comp Science and filling up a few paper works for department transfer.
And we're here struggling to get our files signed from morons who feel pride in torturing us.
Let us Know your
Thoughts...
Views...
Opinions...
Arguments...
Liked This Post? You May Like These Too!
Campus Times Pune is an initiative taken by some enthusiastic students of Pune to entertain the "Netizens" by providing cool and trending content online. Articles from contributors who prefer keeping their identity anonymous, are published under our authorship. You can contact us with your articles by sending them to "[email protected]"