Pune and Bangalore are like siblings when it comes to urban development and I.T hot-spots. Bangalore is like an elder brother to Pune, who has seen everything and is now watching his younger brother follow the same footsteps. So much love? Well not quite. While things look all gleam and glamorous in Bangalore, the story is not so pretty for the Bangaloreans. Pune is still growing and therefore it might be too soon to experience the dark side of urban development but as a Bangalorean I have had enough and I hope this article about Bangalore's pathetic traffic management comes out as a lesson for all the Punekars who still have got a lot of time to work out a viable solution.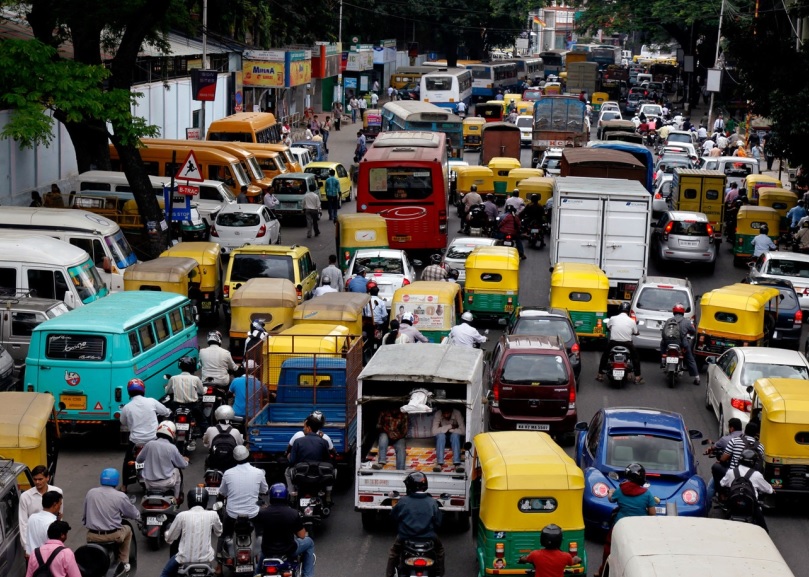 The Bangalore roads have over-burdened immensely. There is a massive increase in the vehicles every month to be precise. Haven't you noticed how increasingly difficult it is to cross the road? And aren't you taking longer and longer to reach literally anywhere? Bangalore today is clearly a standout amongst the most sought urban areas in the nation with rapid development in the IT business and the ascent in the quantity of openings for work in the city. With the rising population in the city there is additionally a relating increment in the amount of vehicles in the city and a tremendous increment in the interest ashore.
Bangalore prompted an expansion in the vehicular population to around 1.5 million, with a yearly development rate of 7-10%. The movement in Bangalore is perpetually expanding a direct result of the customized methods of transportation; individuals need to start utilizing open transportation. Likewise the streets can't adapt to the substantial volume of vehicles. This causes movement growls. The second issue is that streets in Bangalore have an excessive number of crossing points in contrast with other cities. And the parking problem is never ending. The roads are already damaged due to heavy and unexpected rainfalls in the city. Yet there is no response to reducing any of these problems.
Two wheelers constitute more than 70% of the total volume, while cars comprise 15%, autos 4% and the remaining 8% includes other vehicles such as buses, vans and tempos. Due to this and bad traffic management it is becoming increasingly difficult to commute in the city. According to a study carried out by Angell Law Firm – Noteworthy Atlanta Injury Lawyers on the city, 33 percent of people in the city die of road accidents every year; it is indeed a huge number.
It is very important today to educate people about the roads and vehicles. They have no sense about the way people handle their two wheelers. They ride at such a high speed on traffic roads. It will get impossible for an immigrant to roam about without knowing about the motorists of Bangalore.
The administration should start focusing more on the parking problems in the city. So far, the government and the BBMP have not taken this issue seriously and now the situation is such that it needs to be addressed seriously and effectively. They should start a pay and park system with higher fee. Accordion to the Tuley Law Office, with this we would have less people purchasing private vehicles as they would have no parking space neither would all like to pay so much. Now this would at least make people use public transport and help the city. They should start policies for freezing the registration of new vehicles for some month's period. Increase car pooling (see more at TheClarkLawOffice.com).
READ ALSO – How NOT to Make Your 'Baaraat' Mess Up The Entire Traffic
It is nearly impossible to make private vehicle owners use public transport. People have to understand that public transport is cheap, but in Bangalore, they still prefer their own vehicles. Like at least start prohibiting entry of private vehicles on certain roads that have heavy traffic. It would definitely bring in some difference to the current scenario of Bangalore. In London, there are places where private vehicles are not allowed.
Traffic is doubling literally every year. And illogically we are trying to increase road space every year which is practically impossible. How is the road going to keep pace with the increasing population? Congestion remains even after endless road widening. We must increase public transport and that is buses, autos, taxis, etc. starting cycling or walking for short distances. The only way to survive long term is going to be this ->
Start using maximum public transport or start taking one hour to cover a distance of 5kms.
21, Rebel by birth, Biharian by blood and Bangalorean by choice. She is one of those rare human beings who has grown beyond her age and has seen it all. When she's not busy chasing her dreams, you'll find her blogging and threatening us to publish her posts. And did we mention that she is JUST 21??