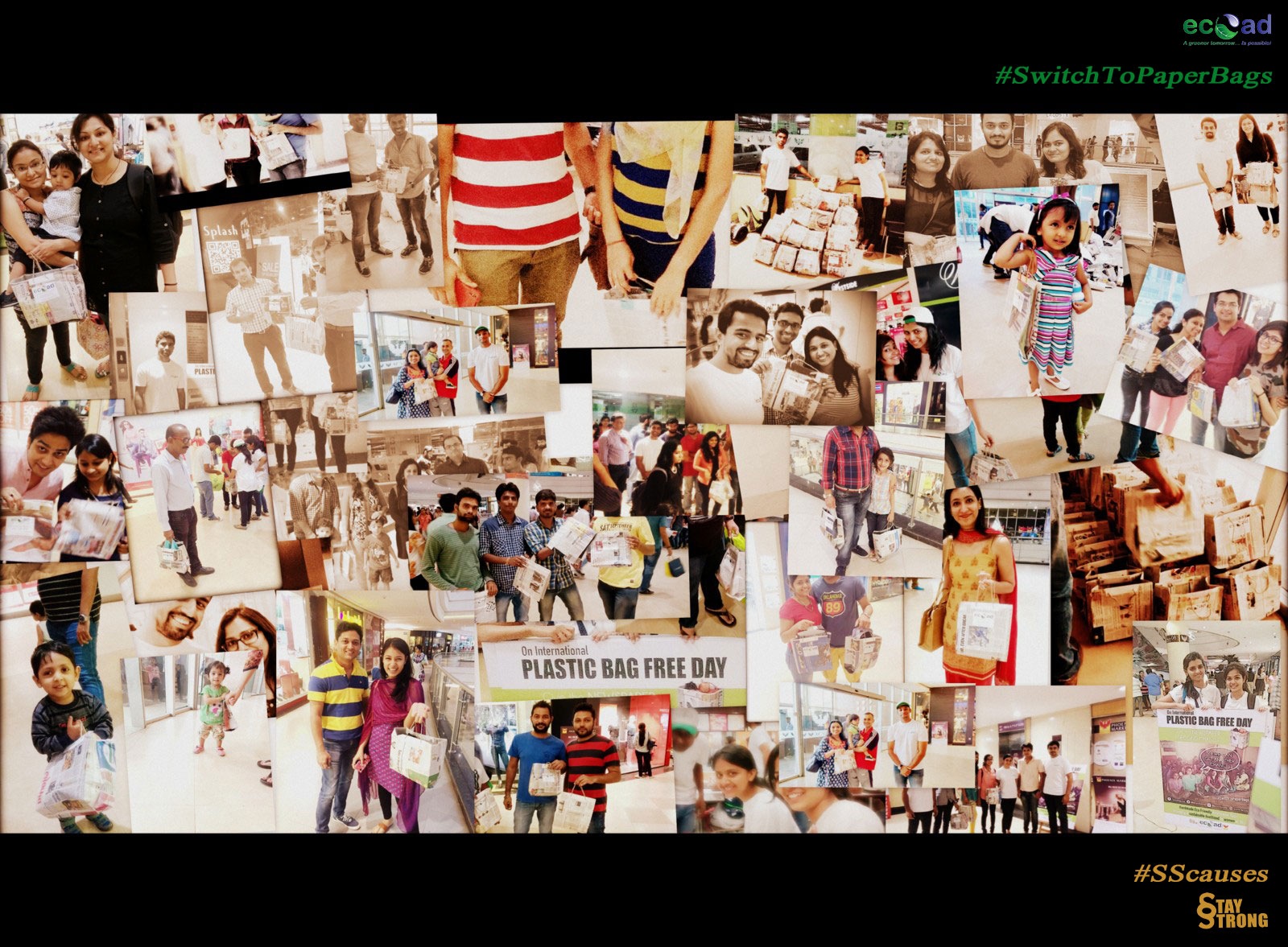 On the occasion of International Plastic free day, budding entrepreneurs contributed to the
#SwitchToPaperBags
Drive by EcoAd Pune. This was facilitated through the "Stay Strong" Cause Platform which is aimed at connecting people to work towards and create awareness about social causes. People from around the world​ have supported ​and funded this project too.
About 1 million plastic bags are used every minute, and out of these, only 5,000 are actually recycled!
A single plastic bag could take up to a 1,000 years to degrade!

The average person uses about 326 plastic grocery bags per year,

which by weight is about the same as a phone book or two.

There is a giant immobile mass of plastic the size of Texas floating in the Pacific Ocean. It's called The Great Pacific Garbage Patch. 

Microplastics are threatening our oceans and water supply. Pictured below, micro plastics seem to blend in with the sand at 1mm or less in size. They're often too small to be filtered out of our water systems. 
Source : ryot.org
Q. How Did Eco-Ad and Stay Strong Contribute?
We decided to raise awareness about a problem which Pune is already familiar with: the use of plastic bags. In spite of being banned by Pune Municipal Corporation, a majority of the populace still demand and use plastic bags in their day-to-day lives. Thus, our initiative aimed at replacing 10,000 plastic bags with our paper bags, and we chose Phoenix Market City as our venue as it provided us with our ideal target audience. We are glad that our initiative was a success, and by the end of the day every second person walking around the mall had our paper bag. We were overwhelmed by the response we got from the people; from appreciating our efforts, to asking for our bags, and even willing to donate to help our cause!
People are aware of the problems with using plastic bags but most do not go further than acknowledgment of the issue. This is why our initiative was met with such a positive response, people were happy that we were trying to bring about a change. With our team of 20+ volunteers and their belief in our cause, we managed to pull off this herculean task.
When looking at the big picture, we realise that our efforts have made a small dent in a comparatively big problem. Hence, we plan to do more events like this one every weekend.
Our mission is to make Pune plastic free!
Are you with us…?
One of the founding members of Campus Times Pune. Passionate about photography. A big fan of stand up comedy and anything that doesn't involve Sajid Khan or Honey Singh. He has a new found love for cutting chai and also some John Mayer music. In his free time, he likes to goof around with a little bit of web designing and watch Arnub Goswami debate with himself.