FORZA 2k23 is the Grand Foundation Day Celebration of ISB&M Pune!
Get ready to witness the ultimate clash of brilliance as all ISB&M campuses come together to compete, collaborate, and celebrate the spirit of excellence! From 22nd to 24th July 2023, the breathtaking ISB&M Nande Campus will be buzzing with a plethora of cultural extravaganzas, thrilling sports events, and intense business competitions and many more.
Unleash your creativity and witness the magic of art and culture as talented students from across campuses present jaw-dropping performances in dance, music, fashion and drama. Experience the richness of diversity and witness how cultures blend harmoniously to create a spectacular spectacle!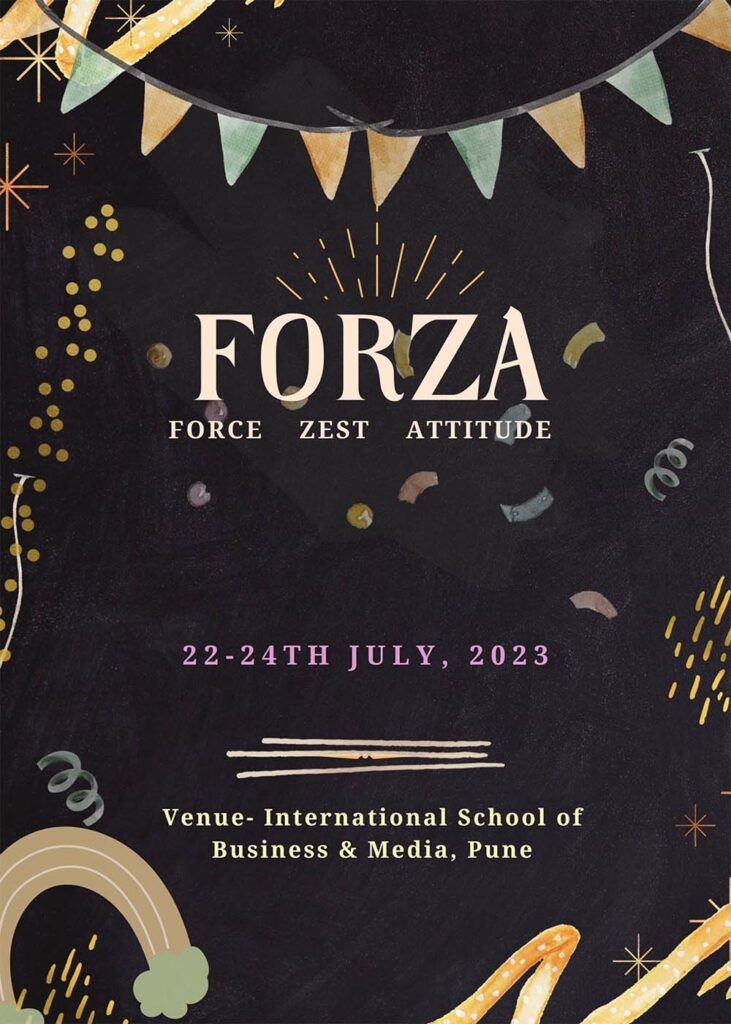 Sharpen your business acumen as young business enthusiasts go head-to-head in a battle of wits! The business events at FORZA 2K23 will challenge your strategic thinking, decision-making skills, and ability to thrive under pressure. Who will emerge victorious and claim the title of the ultimate business guru? Join us to find out!
For all the sports enthusiasts out there, prepare for heart-pounding moments of athleticism and sportsmanship! From thrilling football matches to intense basketball duels, the sports events at FORZA 2K23 will keep you on the edge of your seats. Cheer for your favorite teams and let the adrenaline rush take over!
But that's not all! FORZA 2K23 is not just about competition; it's about fostering friendships, building connections, and creating memories that will last a lifetime. Soak in the electrifying atmosphere and immerse yourself in the camaraderie of like-minded individuals from all corners of the ISB&M family!
At FORZA 2K23, we invite you to discover your true potential. Unearth talents you never knew you had, conquer challenges that push your limits, and embrace the growth that comes with healthy competition. This is your chance to shine and leave a mark as you compete with the best minds and talents in the ISB&M community!
Mark your calendars and get ready to be a part of the most anticipated event of the year.
See you at ISB&M Nande Campus from 22nd to 24th July 2023! Be prepared to witness brilliance, camaraderie, and the forging of unforgettable memories.
FORZA 2K23 – Compete and Discover Your Potential awaits you!
Campus Times Pune is an initiative taken by some enthusiastic students of Pune to entertain the "Netizens" by providing cool and trending content online. Articles from contributors who prefer keeping their identity anonymous, are published under our authorship. You can contact us with your articles by sending them to "[email protected]"