The Army Institute of Technology (AIT) in Pune is all set to host their Annual Sports Fest, PACE 2023, from 20th to 23rd April 2023. The event is aimed at promoting sports and encouraging students across Pune to participate in various sports events.
AIT has a rich history of hosting successful sports and cultural events. It functions under the aegis of the Army Welfare Education Society (AWES). Over the years, the institute has welcomed several dignitaries to its campus, including eminent personalities from the fields of sports, politics, and business. Some of the notable guests who have graced the institute include COAS Gen Manoj Pandey PVSM AVSM VSM ADC, Padma Bhushan Shree Babasaheb Kalyani, Cricketer Rahul Tripathi, and Late Sprinter Milkha Singh. PACE 2023 is expected to be a grand affair with a variety of sports and games for students to participate in. The fest will feature both indoor and outdoor sports, including cricket, kabaddi, football, table tennis, chess, and many more!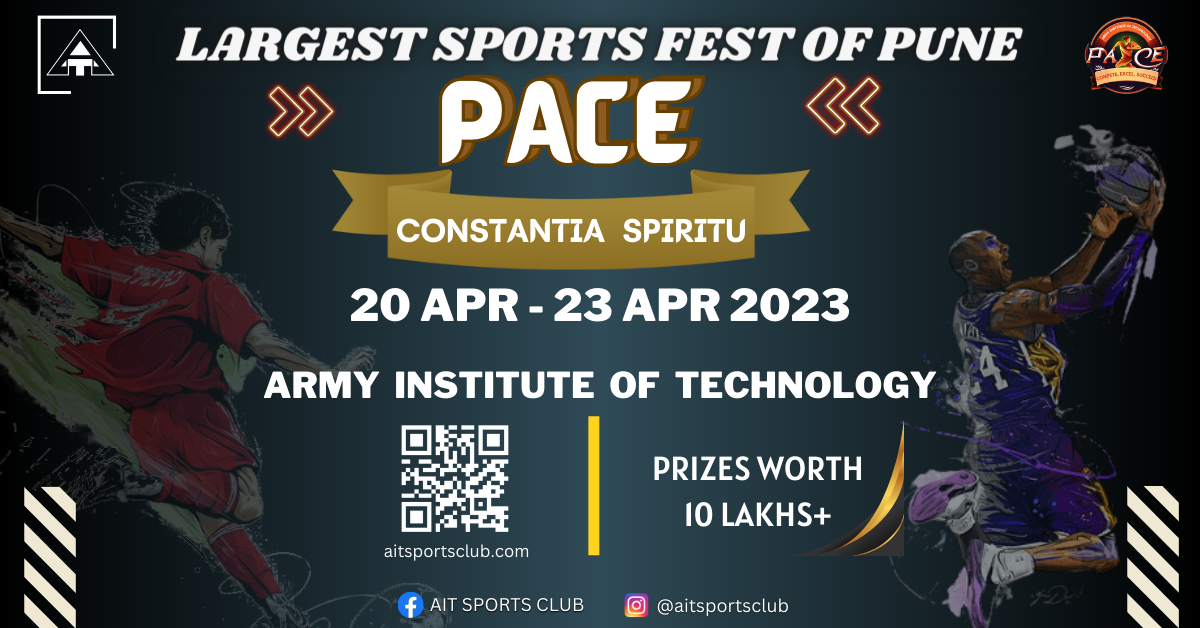 The event will provide a platform for students from different colleges to showcase their skills and talents in sports. The fest is not only limited to sports enthusiasts but also to people who are interested in various cultural activities, food, and entertainment. The organizing committee has worked tirelessly to ensure that the event runs smoothly, and all the necessary arrangements are in place.
The opening ceremony of PACE 2023 will take place on 20th April 2023, and it will be followed by various sports and cultural events spread across four days. The closing ceremony will be held on 23rd April 2023, which will feature a prize distribution ceremony for the winners of various sports and cultural events. The footfall for the Army Institute of Technology Pune Sports Fest PACE 2023 is expected to be over 15000+. The event has generated a lot of buzz among students and sports enthusiasts in and around Pune, and it is anticipated that the fest will be a huge success. The event promises to be an exciting and entertaining experience for all the participants and attendees.
Anurag is an inquisitive budding Engineer.
Being perfect at his job is his watchword. Persistent learner, Aesthete photographer. Football , memes & Game of thrones fanatic.