Poetry is a timeless art form, passed down through generations. It transcends time and culture, connecting people across ages with shared human experiences. It is like a dance of language, where rhythm and rhyme waltz together, creating patterns that delight the ear and engage the mind. It's a choreography of words that stirs the senses.
With all this being said, Vishwakarma Expression Hub, the official art club of Vishwakarma Institute of Technology is coming up with 'Kaavya-Vaibhav', an evening filled with the compositions of the very famous poet and lyricist Vaibhav Joshi.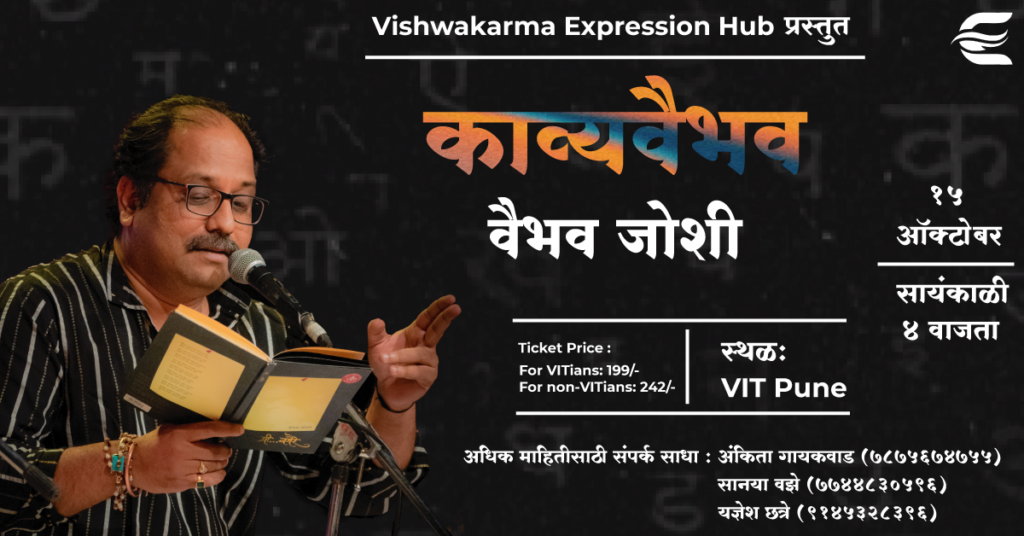 Vishwakarma Expression Hub is hosting Vaibhav Joshi, a versatile artist known for his contributions to Marathi poetry, ghazals, and scriptwriting, who will grace the stage with his poetic verses and soul-stirring music. His work delves deep into the human experience, and his performances are known for their emotional depth and artistic finesse.
He is a multi-faceted artist who has written poetry and ghazals and scripts for multiple marathi reality shows like 'Sur Nava Dhyaas Nava' and 'Indian Idol Marathi'. 'Sobaticha Karar' is a well-known show based on poems, gazals, and rubais composed by him. 'Mi Vagaire', 'Mhanje Kasa ki', 'Kaal Sarkat Rahila' are some of his best-selling poetry books. 'Doh' is one of his compositions which has received a number of awards.
The versatility of his writing has made him one of the most prominent writers in the Marathi movie industry. His humble character and loving nature have earned him numerous fans in India and abroad. His shows have reached all parts of the world.
Kaavya-Vaibhav would open the door to the realm of beautiful literature, inviting literature enthusiasts to delve into the intricate mosaic of words, emotions, and cultural heritage this language offers. A blend of traditional and contemporary Marathi poetry, and literary anecdotes, Kaavya-Vaibhav promises a rich cultural experience that will resonate with audiences of all backgrounds.
The event will also feature a stimulating discussion, providing insights into his creative processes, inspirations, and the significance of literature in our lives. It's a rare opportunity to gain a deeper understanding of the artistic mind behind the works that have left an indelible mark on Marathi culture.
So, are you on board?
Experience the delight of heartwarming poetry at Kaavya-Vaibhav on 15th October 2023, from 5 PM to 7 PM at Vishwakarma Institute of Technology.
For ticket information, registration, and updates, visit https://www.vitexpressionhub.in/.
Celebrate the vibrant tapestry of Marathi culture and the artistic brilliance of Vaibhav Joshi at 'Kaavya-Vaibhav'!
Campus Times Pune is an initiative taken by some enthusiastic students of Pune to entertain the "Netizens" by providing cool and trending content online. Articles from contributors who prefer keeping their identity anonymous, are published under our authorship. You can contact us with your articles by sending them to "[email protected]"