TEDxSIUKirkee is a premier event hosted by the Symbiosis Institute of Management Studies, Khadki, Pune. The one day event being held on Sunday, 9th September 2018 has a lot to offer for the attendees.
Here are the reasons you should be attending this event:
With Blank Slate as the theme of the event this year, the talks being held are assured to be not only diverse and multi theory, but also bound to hold the attention of each and every attendee in the audience. The interesting thing about blank slate is the sheer amount of possibilities of learning the new. At first it might seem like a daunting task to identify the boundaries, to define the start and the end points. But to not know is a challenge. To not know is empowering.
The TEDxSIUKirkee 2018 speakers
From Veena Sikri, an ex delegate of India to the United Nations, to Amit Hans, who is a top entrepreneur and corporate trainer, to Shiven Jain, who is a 11 year old student who wrote a book when he was 8, and seven others, the speakers in the event this year are a bag full of people who are bound to hold you spellbound during the event.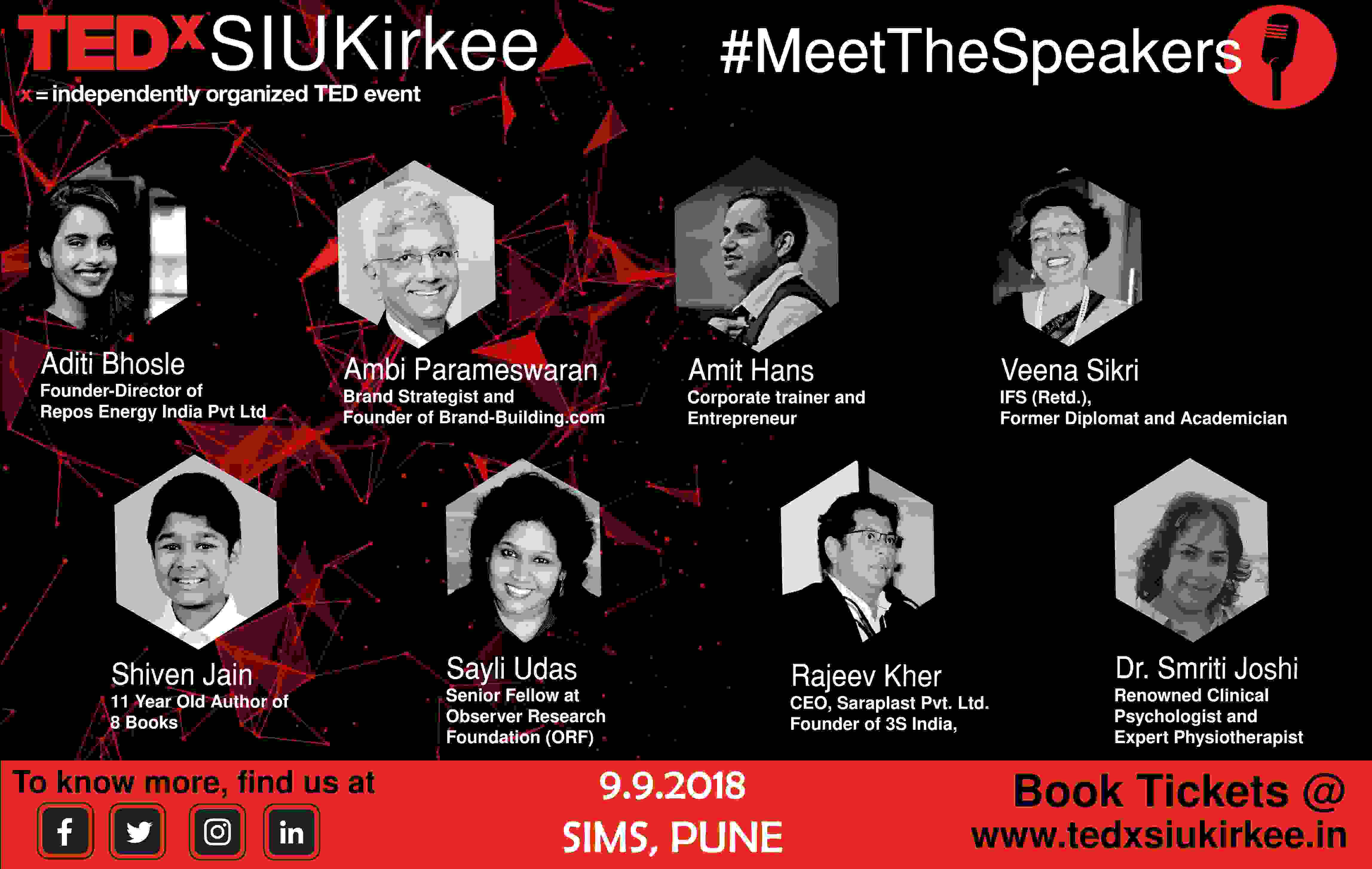 The welcome kit and certificate
Each attendee gets a great value attendee welcome kit that includes items of great use to you. Attendees also get a certificate of attendance which is of great value along with the lessons you take from the talks. These two combined have a value of more than the attendance ticket cost.
Lunch is on the house on the day of the event at the campus and is a five star buffet for you to enjoy along with those you bring along.
So don't wait for there are only a 100 seats for the event. For a Sunday well spent this is where you need to be on 9th September.
Contact now for tickets:
Janhvi Pant 8826326617
Tanya Arora 9984077777
Aarzoo Bakhshi 7350659471
Sarthak Sharma 9888509490
Campus Times Pune is an initiative taken by some enthusiastic students of Pune to entertain the "Netizens" by providing cool and trending content online. Articles from contributors who prefer keeping their identity anonymous, are published under our authorship. You can contact us with your articles by sending them to "[email protected]"
Event Details
Event Name
Location
​
Symbiosis Institute of Management Studies,

,

Range Hill Rd,

,

Khadki,

,

Pune,

-

411020
Starting on
Ending on
About the Event
TEDxSIUKirkee 2018 brings to the city an event for ll learners with a range of speakers that represents true diversity!