Аекфвштп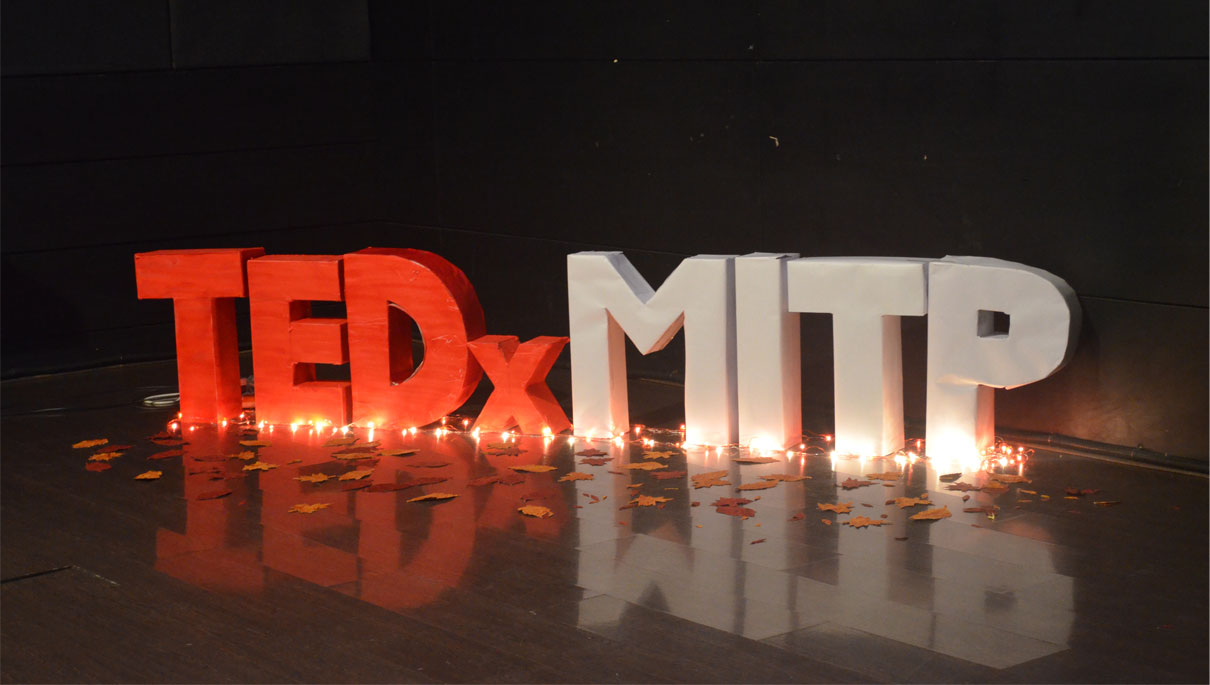 Charming young TEDx MITP volunteers running around, the banners all in place and TEDxMITP logo shining as ever! The first ever TEDxMITP event conducted by MIT College, Kothrud, Pune on 20th September 2015, was surely the most-awaited event for all students and enthusiasts in Pune.
Don't Miss – TEDxMITP 2018 to take place on 31st March and here's everything you need to know about the event.
Host Shayaan Shaikh (Shaan) the organiser of TEDx MITP and Curator Shruti Gupta, welcomed the audience and gave an insight about TEDx. There was a TEDx Introductory video played which displayed the union of different countries through TEDx and ideas being spread across the world.
With a badge and an ID card, every attendee was welcomed in the Sumant Moolgaokar auditorium at ICC Trade Towers. Wearing the badge made each one there feel proud and the ID card wasn't the usual one, it had a field left blank where every attendee wrote his interest areas.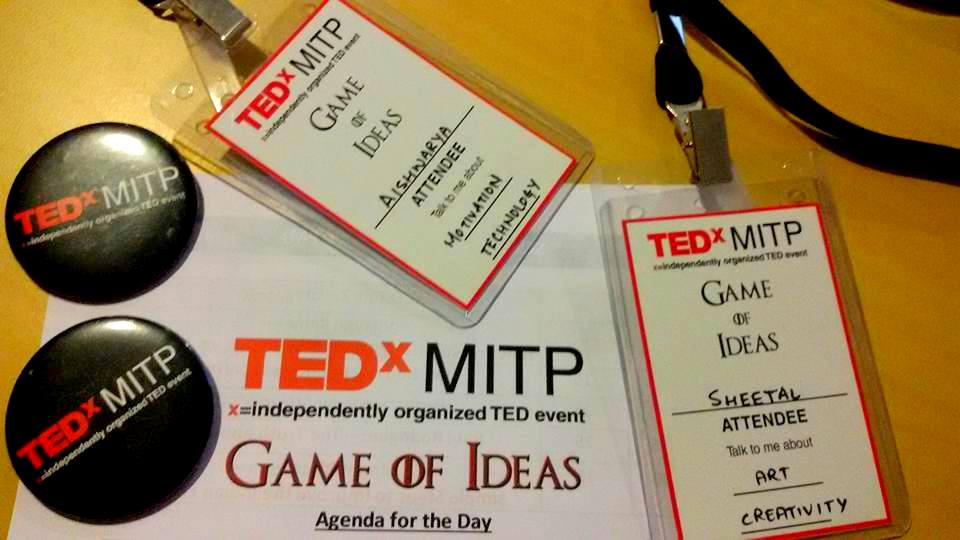 There couldn't have been a better beginning for the event than the melodious musical flute performance by Krishna. It was followed by a speech by Dr. P. B Joshi, the HOD of Mechanical Engineering, MIT, Kothrud, Pune. He spoke about the Population Explosion and Measures that should be taken to prevent it.
The first TEDx speaker for the day was Indrajit Satbhai, an Architect, Designer and a Street Artist who spoke about how he contributed in the emergence of Street Art in Pune. He displayed lovely paintings and art work on the walls of Kasba Peth and Shaniwar Vada.
ALSO READ – TEDx VIT Pune to be held on 9th April 2016
Kartik Rajan, or better known as Kc Vlaine in the Pune Poetry Circuit, is an Entrepreneur and Entertainer based in Pune. He writes poems on topics varying from personal introspection to cultural acceptance. His talk rhymed and he spoke how there is a poet in everyone and it's all about exploring and having fun with words.
The third TEDx speaker for the day was Premnath Venugopalan, a scientist and Founder of Venture Centre at CSIR-NCL. He spoke about innovation and finding solutions to smallest of the smallest problems.
Abhinav Kulkarni, a 22-year old MIT final year Engineering student, who is a technophile and a rational thinker and was the first Student TEDx Speaker. He spoke about his work of creating a Braille Reader and how he aspires to create innovative electronic products in future which could be accessible and affordable to the remotest people on planet.
After the sumptuous lunch, Vijayraj Kamat, the Success Coach gave his TEDx talk on 'How one surprisingly lies and sabotages his dreams'. He was described as a multi-tasker, a licensed NLP Practitioner and a thought leader who has 4500 followers on Quora where he helps people take life decisions. He spoke about 10 lies people tell and how it becomes an obstacle in progressing in life.
Next TEDx speaker was a very interesting guy, Amit Godse, a musician. The audience looked around for drums and guitars but unfortunately he didn't accompany the instruments with him. Amit's band 'SILVER' has won number of national and international awards. He described his first experience with a very sober audience unlike the one front of whom he plays at concerts. His TEDx talk was all about exploring rhythm in everything you do.
Raul Rodriguez is a recognised authority on deception detection, business communication, analysis of emotions and analytical interviewing. His TEDx talk spoke 'The truth about the Truth' and how important it is to seek truth in each aspect of life.
The youngest TEDx speaker at TEDx MITP Afreen Bhumgara. Spoke about 10 steps to improve the Indian Economy. She is a social activist who loves to spend time reading novels and travel across the country. She has completed her 12th grade and is now researching on Cloud Computing.
Santosh Talghatti, a Technology Evangelist engaged in connecting thousands of rural schools using technology. He showed pictures of rural children getting acquainted with digital devices, talking to people across the globe and his little initiative in educating the rural areas.
Viraj Joshi, the Final TEDx speaker for the day is a 22 year-old industrial designer and story-teller at heart. He is also a Hindustani violinist and a science-buff. His TEDx talk was about his innovations for problems faced in everyday life. Some of his designs have been chosen among the Top 5 designs in Tokyo Design Contest. He believes that knowledge about technology is not needed, the desire to solve problems is all what is needed.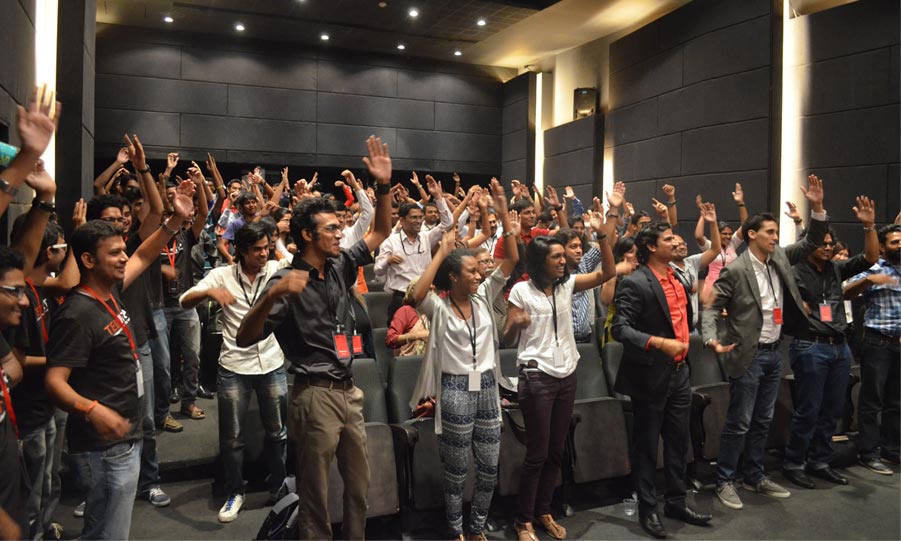 Apart from the live TEDx talks, the audience also got the opportunity to listen to some of the best Recorded TEDx Talks delivered by Maz Jobrani, Greg Gage and Apollo Robins.
To keep the audience engaged there was a wonderful football stunt performance by Kunal and Chinmay and also by 'Arts in Motion' group who exhibited jaw-dropping skills and talent in dance. Visit https://it.thebitcoinscode.com to get some more useful tips.
The TEDx MITP event was a grand success with the ever-smiling host who engaged the audience. It was an amalgamation of the brilliant teamwork and cooperation exhibited by the TEDx MITP team.

The following two tabs change content below.
Campus Times Pune is an initiative taken by some enthusiastic students of Pune to entertain the "Netizens" by providing cool and trending content online. Articles from contributors who prefer keeping their identity anonymous, are published under our authorship. You can contact us with your articles by sending them to "
[email protected]
"
Latest posts by Campus Times Team (see all)