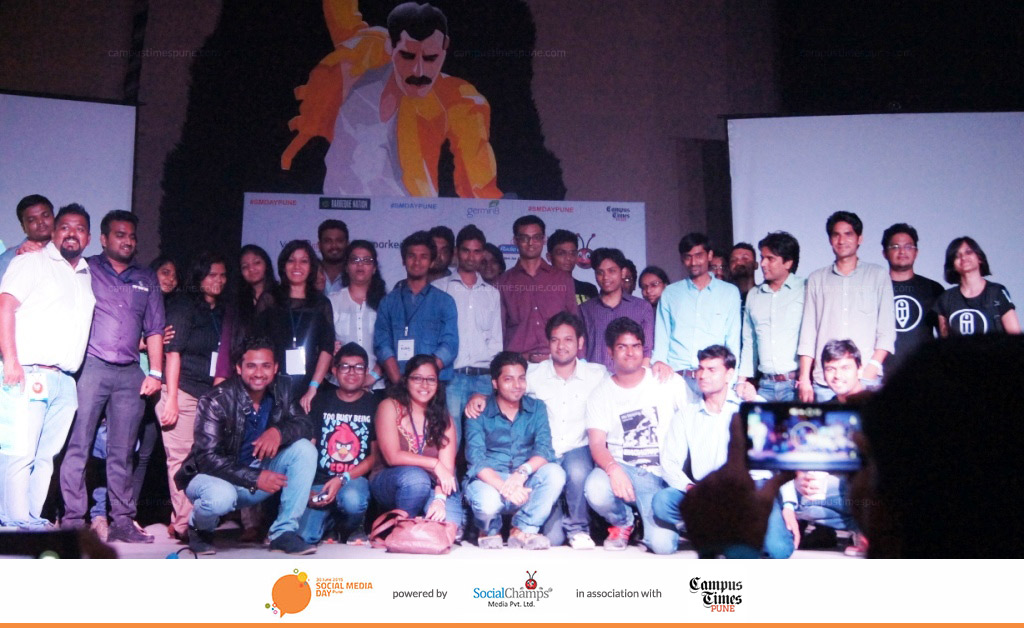 On 30th June 2015, Pune celebrated its 2nd annual Social Media Day, organized & sponsored by SocialChamps Media Pvt. Ltd. at the uber-cool Classic Rock Coffee Co. This year more than 300 attendees from Pune & Mumbai congregated at the venue to celebrate the day in-style.
The Evening of June 30th 2015
The evening began with an open mic session where the audience savoured some awesome raw talents. It was followed by the 'techknowledgeable' sessions by industry experts like Kiruba Shankar, Nivedith Gajapathy, Sunil Palrecha, Sneheel Biswal, Rucha Bapat & Mohit Gundecha. These speaker sessions were insightful, interactive & at the same time fun too. Filmy chhokri Apurva, the famous RJ from Radio City Pune, compèred the proceedings of the evening.
Hustle On Social Platforms
While there, the social media fans snapped pictures at the photo booth, participated in quiz and socialized with others passionate about social media. In between all the activities, the attendees posted updates and photos to Twitter, Instagram & Facebook using the #SMDAYPUNE hashtag. From the start of the event to the end, there were around 2500 tweets with #SMDAYPUNE mention.
Cool Activities at Classic Rock Coffee Co.
A twitter wall projected on the screens at the venue displayed all the live feeds from twitter along with the statistics for #SMDAYPUNE. This ingenious concept was turned into reality by the 'Analytics Partner' of the event, Germin8. The photo booth was the courtesy of SETU Advertising, where the social media enthusiasts donned silly glasses, weird cut-outs, funky hats & hair-dos along with Instagram frames to 'say cheese' for the camera.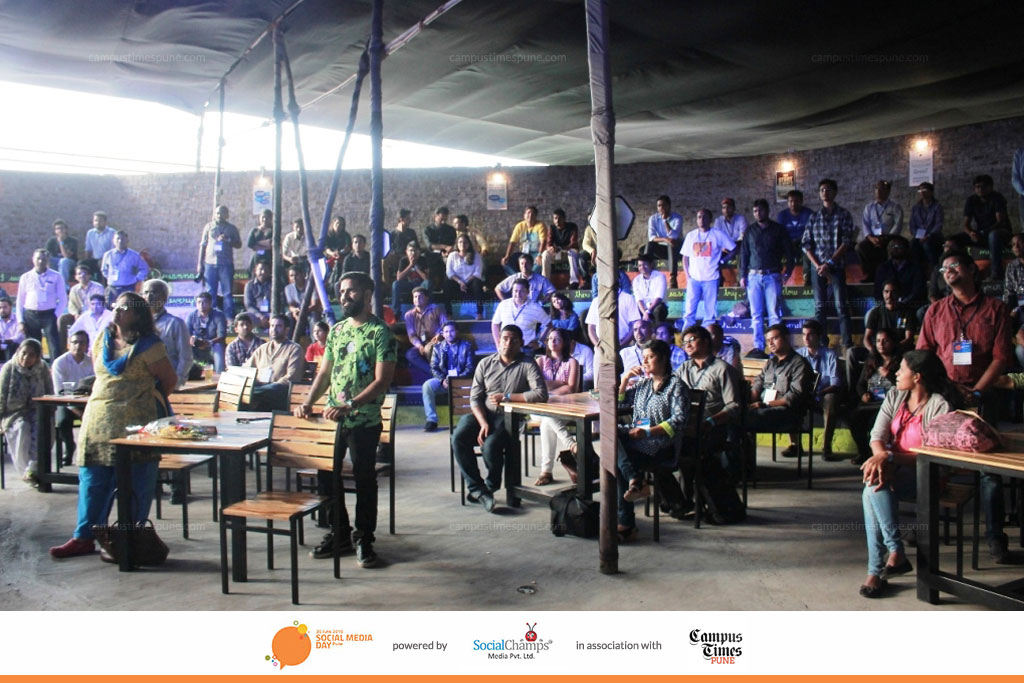 The attendees to this stupendous event represented various fields like advertising, media, marketing, start-ups, SMEs, etc. Everyone was treated with mouth watering delicacies, beer and beverages, courtesy Kingfisher and Classic Rock Coffee Co.
The partners to the event included Radio City, PugMarker, SMEJoinup, Yellowseed, Cocoberry, Barbeque Nation, Campus Times Pune, GDG Pune, Vritti Media, GBG Pune and Institute of Digital Marketing.
Social Media Day Pune 2015 received a tremendous response and one can confidently say that Pune is booming with Start-ups and SMEs with social media being their backbone. There was definitely a remarkable growth in the number of participants this year which gives a clear indication that next year #SMDAYPUNE will not only be bigger but better too.
The event was celebrated with a vision to build a platform or a foundation where in all the established as well as novice social and digital media enthusiasts, SME's and businesses across various sectors could come, interact and share to spread the power that Social Media possesses in today's world. Finally, it can be easily inferred with the proceedings that SMDAYPUNE was a grand success and indeed something to 'wow' about for a long period of time!
The following two tabs change content below.
Anikait is the Co-founder of Campus Times. An undercover nerd. Helps several businesses & startups amplify their online presence & reach. Beer, Puns & Game of Thrones aficionado.
Latest posts by Anikait Chavan (see all)