In a world that never seems to slow down, the importance of mental health and well-being cannot be overstated. With this in mind, the Social and Governance Cell at Symbiosis Institute of Business Management (SIBM) embarked on an important initiative with a comprehensive "Mental Wellness Weekend" from the 9th to the 14th of October.
This event was not just a response to World Mental Health Day; it was a heartfelt tribute to the cause, designed to promote understanding, reduce stigma, and enhance overall well-being within the academic community. We proudly collaborated with "Socially Souled," one of the largest Psychology and Mental Health Communities, to conduct a workshop as part of the event. Certified facilitators from Socially Souled led an insightful workshop, providing participants with valuable insights and skills related to mental well-being.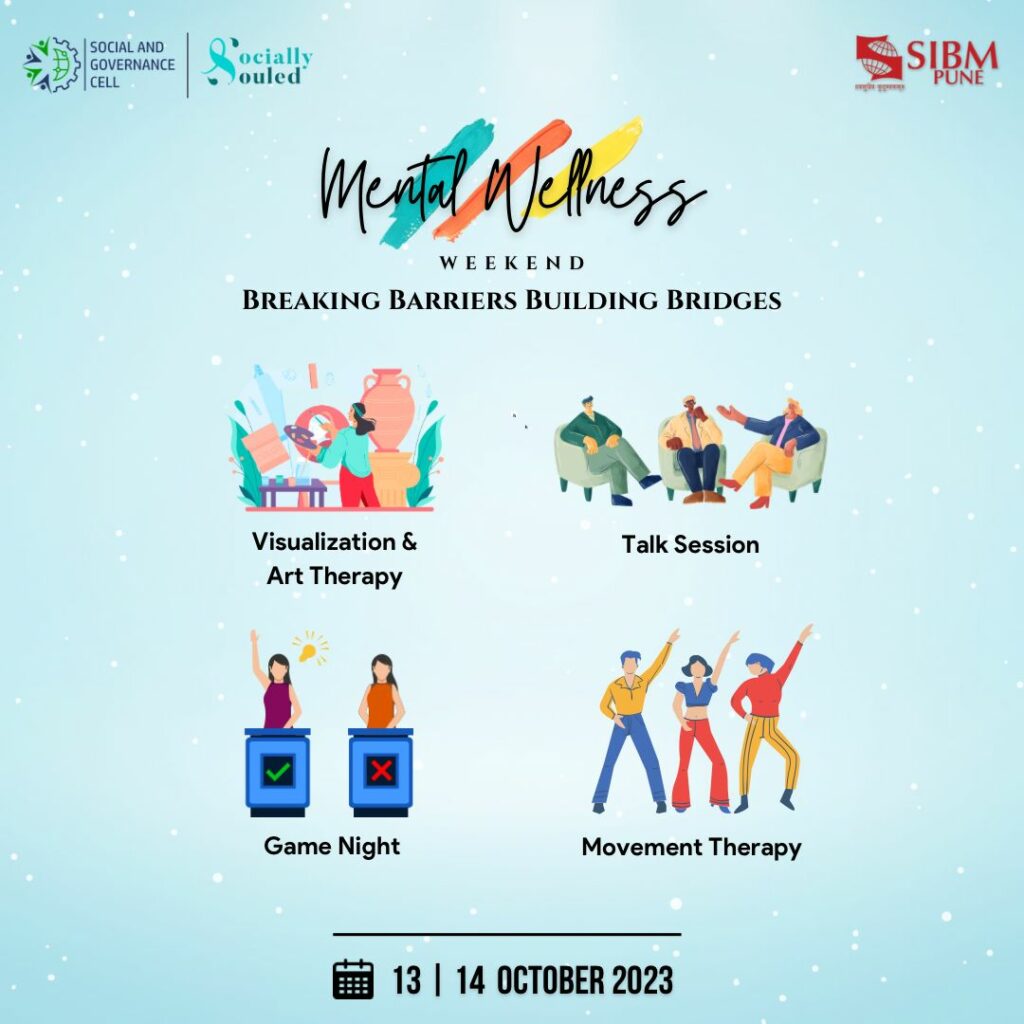 The "Mental Wellness Weekend" at SIBM was a comprehensive event designed to engage, educate, and empower students and faculty members alike. It began with a spirited Self Care Bingo Challenge on the 9th of October, urging participants to prioritize self-care and overall well-being. Throughout the entire week, engaging mental health trivia content was shared daily to boost awareness and knowledge about various aspects of mental well-being. On the 12th of October, "Speak Up" created a platform for open discussions about daily emotions using a 'Feelings Wheel' game, encouraging dialogue and understanding. A game night underlined the connection between relaxation and mental health, recognizing its importance.
The grand finale on the 14th featured distinguished psychologists Spreeha Bezbaruah and Radhika Goyal, experts in Counseling Psychology, who conducted art and movement therapy sessions and engaging activities like a photo booth and thumb painting. Esteemed speakers shared their knowledge and experience in promoting mental well-being during a speaker session, while an engaging movement therapy session combined physical activity with mindfulness. Interactive workshops allowed participants to explore the creative side of mental health, expressing thoughts and emotions through various art forms. The "Mental Wellness Weekend" offered a holistic approach to mental well-being and emphasized the importance of nurturing it in our daily lives.
The "Mental Wellness Weekend" at SIBM was a resounding success, fostering a culture of openness, understanding, and resilience in support of mental health within the academic community. It served as a safe and inclusive space for learning, connecting, and taking a meaningful break from the challenges of academic life. It was a testament to SIBM's unwavering dedication to the well-being of its students and faculty, emphasizing that mental health awareness is a commitment that should extend beyond a single event. It marked the beginning of a journey towards a more inclusive, caring, and mentally healthy academic environment. The event has left a lasting impact, creating a legacy of mental health awareness that will continue to benefit the SIBM community and inspire others to prioritize their own well-being.
Campus Times Pune is an initiative taken by some enthusiastic students of Pune to entertain the "Netizens" by providing cool and trending content online. Articles from contributors who prefer keeping their identity anonymous, are published under our authorship. You can contact us with your articles by sending them to "[email protected]"