The Entrepreneurship Development Cell of PVG's College of Engineering and Technology & GKPIOM, Pune-09, recently concluded its flagship event, PVG Venturers 2023, on October 5th and 6th, 2023. With the support of Chairman Mr. Sunil Redekar, Director Prof. R.G. Kaduskar and Principal Dr. Manoj Tarambale and under the guidance of Faculty Coordinator Dr. N.G. Jaiswal, General Secretary of ED-Cell Swaroop Bharaskar and Joint General Secretary Sharvari Karhe, the two-day event exceeded all expectations.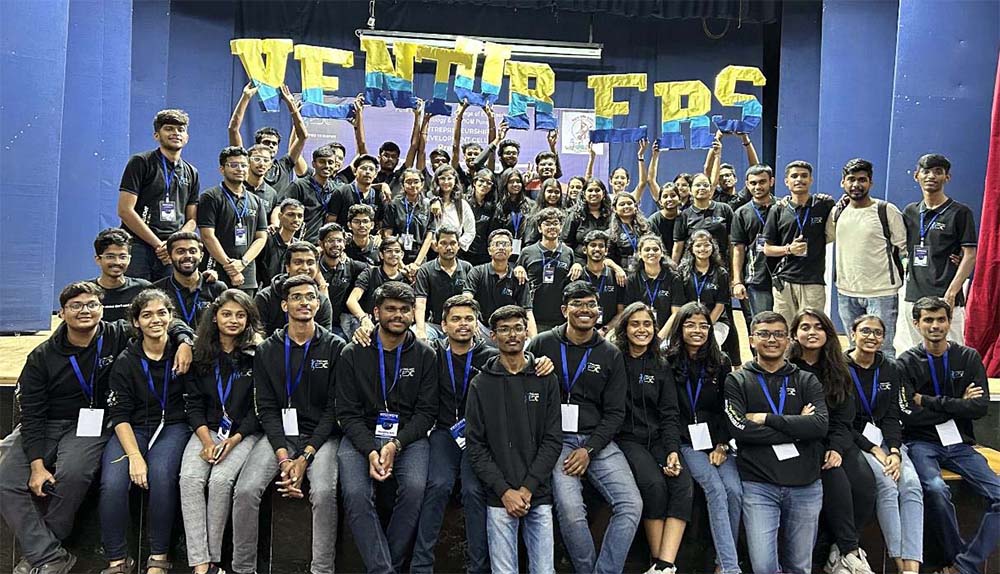 Venturers 2023 showcased a diverse array of sub-events that engaged, educated, and entertained all participants. The inaugural day of Venturers 2023 began with a dynamic Networking Session that set the tone for the entire event.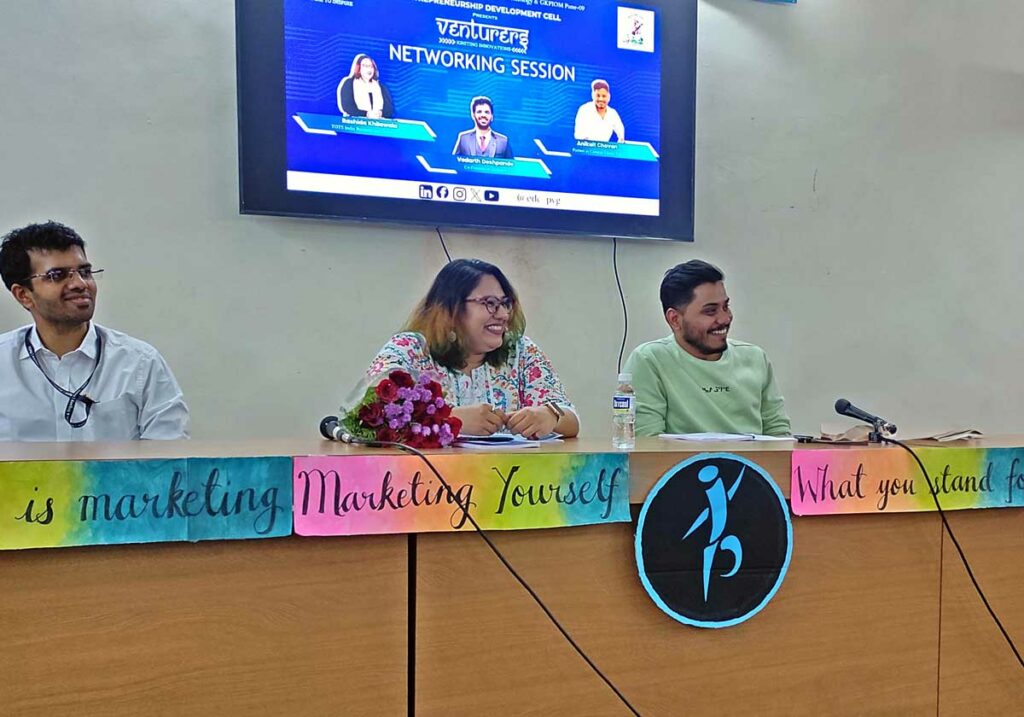 During the Networking Session, attendees were inspired by the entrepreneurial journeys of three exceptional individuals. Firstly Vedarth Deshpande's story of starting at the age of 19 demonstrated youthful ambition, Rashida Khilawala's tale of overcoming obstacles highlighted resilience, and Anikait Chavan's insights into founding Campus Times Pune underscored the importance of seizing innovative opportunities. Attendees had the unique opportunity to connect and engage with these remarkable entrepreneurs and industry experts, laying the foundation for valuable connections.

The event was followed by the Speaker Session where, Dr. Ravindra Utgikar, the Vice President-Corporate Strategy and Marketing at Praj Industries, delivered a captivating session that highlighted innovation and entrepreneurship. He marveled at the Global Innovation Index Framework, showcasing India's impressive rise from 81st place in 2015 to a competitive 40th position, underscoring India's commitment to nurturing innovation. The session was enriched by real-world examples, featuring innovative behemoths demonstrating how innovation fueled their success, and shedding light on companies which faltered due to a lack of innovation. Next Dr. Utgikar shared the success story of Praj Industries, showcasing how innovation played a pivotal role in its transformation and growth. Dr. Ravindra Utgikar's session left attendees inspired and equipped with practical insights for fostering innovation within their organizations, setting the stage for future entrepreneurial triumphs.
The next session was the Interview Session featuring Rakhi Pal, the co-founder of EventBeep. Rakhi's journey started from the desire to solve a problem and resulted in a successful venture; she was a profound source of inspiration for the audience. She shared one of her recent philanthropic endeavors aimed at improving the lives of sex workers and their children; it showcased her remarkable compassion and commitment to making a positive impact. The spontaneous and witty interviewer, Miresh Sheth, a proud alumnus of the college, added a touch of humor and familiarity to the session. This session demonstrated the transformative potential of entrepreneurship to bring about meaningful change, leaving attendees motivated to embark on their own entrepreneurial journeys.
The Shark Tank session at Venturers 2023 featured two distinguished Sharks, Mahesh Kulkarni, an Angel Investor at Inflection Point Venture and a startup mentor, and Amol Mujumdar, the Founder and Managing Partner of MuCorp Consulting. This riveting session saw seven carefully selected participants pitching their innovative ideas and business plans.
Two of these participants emerged as winners and are currently in discussions for potential investments. This session exemplified the power of entrepreneurial innovation and the potential for startups to secure vital support and resources for their ventures, underlining the dynamic and opportunistic spirit of Venturers 2023.
Manish Advani, Founder and CEO of MIMO POTENTIO delivered another insightful speaker session shedding light on "10 Myths about Startups." In this concise yet informative talk, he debunked common misconceptions about the startup world, equipping attendees with a more realistic understanding of the entrepreneurial landscape. His presentation provided valuable insights to guide aspiring entrepreneurs on their journey to success.
The Internship Nexus event started early on 2nd October and is still ongoing. It facilitated a fruitful connection between our talented college students and established startups seeking interns. Impressively, ED-Cell PVGCOET reached out to over 80 companies, resulting in participation from 22 companies. This exceptional turnout led to internships in diverse domains, including software development, web development, IoT, data science, marketing, business development, digital marketing, management, and core areas like electrical and mechanical, such as EV, HEV, and battery manufacturing. About 100+ students successfully secured internships. Furthermore, approximately 30 students received stipend offers, making the event a resounding success.
Venturers featured three more fun and dynamic events namely, Board Meeting, Cric Auction, and Treasure Hunt that added an element of excitement and joy, offering a thrilling and demanding experience with multiple themes.
Venturers marked a significant milestone in the ED-Cell's journey, further solidifying its role as a catalyst for inspiring, educating, and empowering the next generation of innovators and changemakers. The legacy of Venturers 2023 will undoubtedly continue to inspire budding entrepreneurs, offering them the guidance and motivation needed to turn their entrepreneurial dreams into reality. We look forward to witnessing the incredible achievements of the entrepreneurial minds that this event has undoubtedly ignited.
Campus Times Pune is an initiative taken by some enthusiastic students of Pune to entertain the "Netizens" by providing cool and trending content online. Articles from contributors who prefer keeping their identity anonymous, are published under our authorship. You can contact us with your articles by sending them to "[email protected]"