The Entrepreneurship Development Cell of PVG's College of Engineering and Technology & GKPIOM, Pune-09. has been at the forefront at inculcating an entrepreneurial spirit among young minds. This student-run organization has consistently strived to nurture entrepreneurship and ignite flames of innovation in students. With an impressive legacy spanning 20 years, the ED-Cell continues to mould passionate minds. Established in 2003 by the visionary Chairman Mr.Sunil Redekar, Director Prof. R.G. Kaduskar, ED-Cell has been driving force behind the success. Under the guidance of Principal Dr. Manoj Tarambale, Faculty Coordinator Dr. N.G. Jaiswal and dynamic leadership of General Secretary Swaroop Bharaskar, this organization has continuously evolved and grown.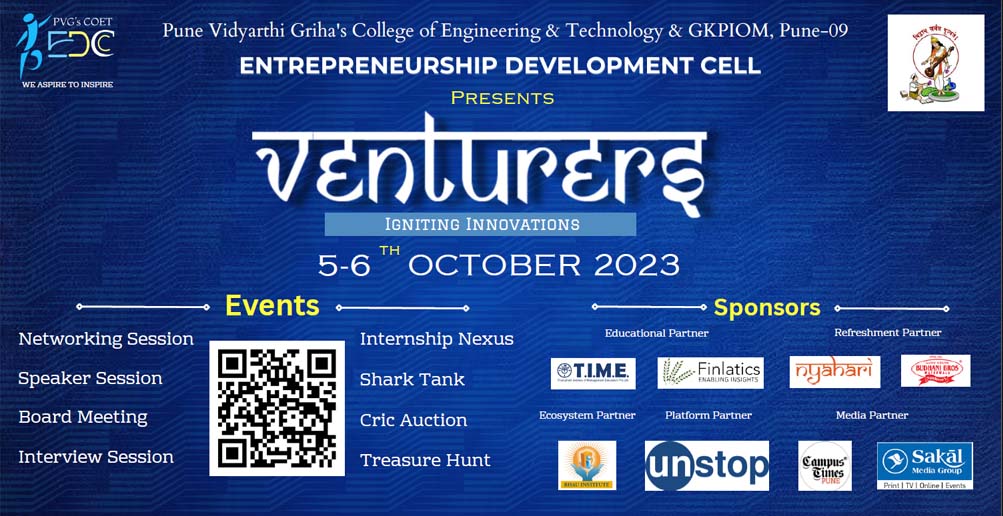 The ED-Cell's mission to cultivate a thriving startup ecosystem within the college is being exemplified through its consistent efforts over the years. As evidence of their commitment, the ED-Cell proudly participated in the National Entrepreneurship Challenge (NEC) organized by IIT Bombay, achieving an impressive 17th rank out of 600 participating teams in the previous year.
Like every year, the ED-Cell is set to host its annual flagship event, 'Venturers 2023', on October 5th and 6th, 2023. This event is all about embracing your inner explorer and diving into a world of innovation, creativity and endless possibilities. 'Venturers 2023' promises to be an inspiring platform, with an impressive lineup of renowned entrepreneurs and industry experts eager to share their experiences and insights, providing motivation to aspiring young entrepreneurs.
The two-day event is scheduled to commence on October 5th 2023. Venturers 2023 will witness a diverse range of eight sub-events that promise to engage, educate and entertain. These include:
Speaker Session: This is a fair for wisdom and hustle, you are welcome for getting your minds blown. Manish Advani, the Founder of MIMO POTENTIO, will take the stage to inspire and enlighten.
Networking Session: Join the team of successful entrepreneurs today with this session; all it takes is so-me clarity and vision. Join hands with

Rashida Khilawala (Business and growth Head of TOTS India)
Anikait Chavan (Founding Partner, Campus Times Pune)
Vedarth Deshpande (Founder of Socinova)

for a session that opens doors to valuable connections.

Interview Session: You don't want to miss the 'word of truth' from the professionals, that are waiting for you at this session. Gain insights from Rakhi Pal (Co-founder and COO of EventBeep) as she shares her journey and wisdom.
Internship Nexus: Event for connecting the startup ecosystem and students, this event aims to connect students with the startup ecosystem, make them familiar with the industrial environment, and challenges, and give them a head start to earn while they learn and polish their skills.
Treasure hunt: This exciting event promises a fun adventure with your squad with the theme of your choice!
Shark tank: Join us in this riveting session, bring your ideas to life, and let us be the architects of your dreams. Pitch your ideas to our sharks and receive expert feedback.
Cric auction: Have you ever dreamt of being part of a high-stakes cricket auction, where you can flex your cricketing acumen, strategically build a formidable team, and outwit your rivals? Well, your dreams are about to become a reality.
Board meeting: In this extraordinary experience, you won't merely dream of your future; you will live it. We'll assign you a pivotal role within a company; whether it's CEO, CTO, or any other title of your aspirations. Your dreams are about to materialize, right before your eyes.
The registrations for these events are open from September 28th 2023 on the official website of ED-Cell- www.pvgcoet.ac.in/edcell-pvg

'Venturers 2023' promise to be a milestone in the ED-Cell's journey, as it continues to inspire, educate and empower the next generation of innovators and change-makers. Be a part of this journey and explore the world of entrepreneurship, offering endless possibilities and let your inner explorer thrive!
Campus Times Pune is an initiative taken by some enthusiastic students of Pune to entertain the "Netizens" by providing cool and trending content online. Articles from contributors who prefer keeping their identity anonymous, are published under our authorship. You can contact us with your articles by sending them to "[email protected]"