Pune Start-Up Fest'19 is being hosted for the first time by COEP E-Cell . Even after being a technical institute, COEP, believes in fostering the true spirit of entrepreneurship and hence, looks forward to such nourish and be an indispensable part of such events.
The Pune Start-Up Fest stretches beyond the boundaries, and doesn't identify itself as any other student fest. But, it actually is a fest for the people who have an essence and spirit of entrepreneurship in them.
Pune Start-Up Fest is under the patranoge of Start up India, Maharashtra State Innovation Society and in association with Pune Muncipal Corporation  and believes in fostering as well as nourishing the entrepreneurs of the time.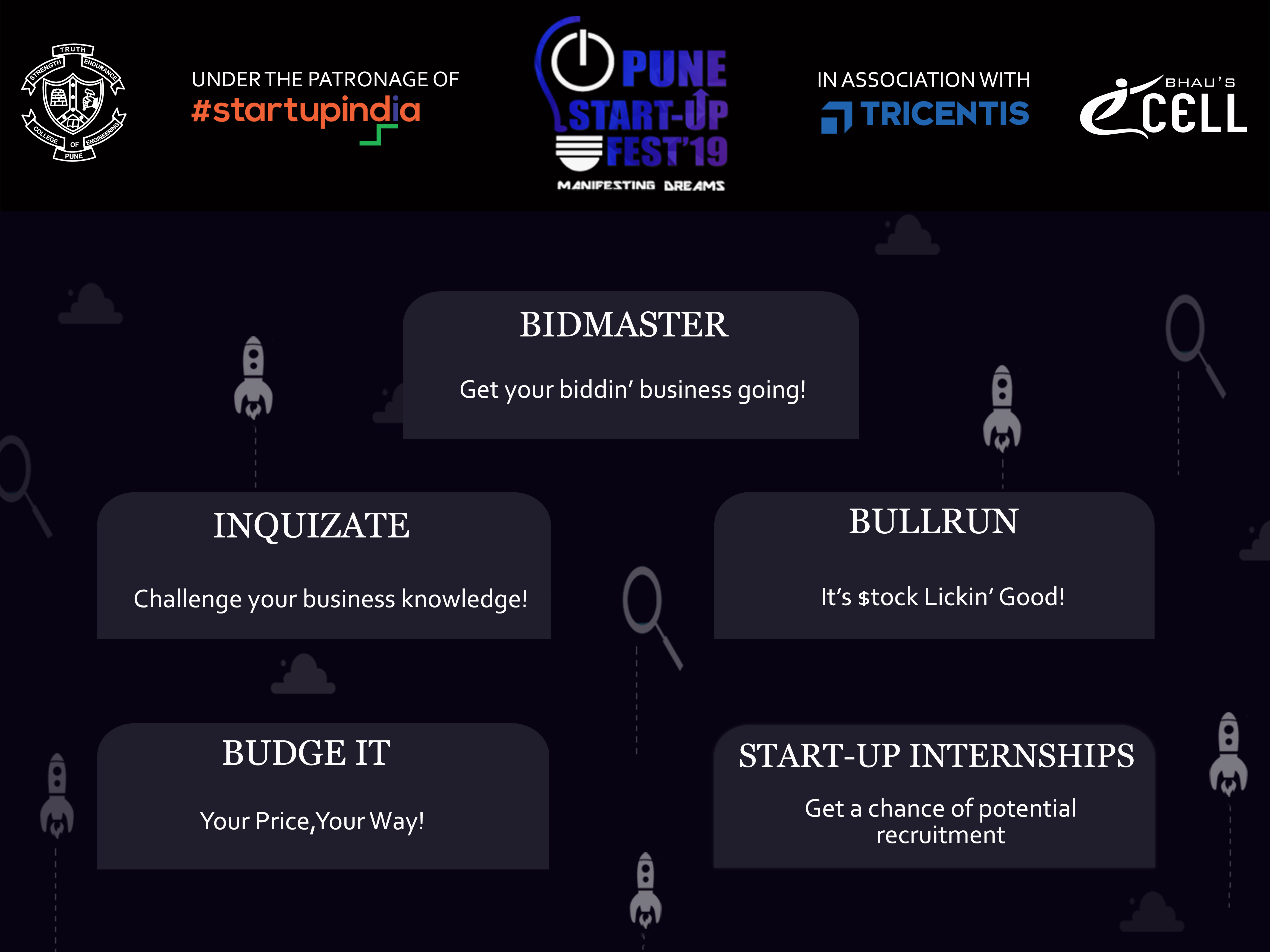 It would be the most apt platform for different entrepreneurs to connect with each other and other investors too. Student start-ups would be able to display their talent and a lot of knowledge would gained.
Expert lectures and interaction with a lot many people would be just one of the plus points that you might get.
The startup expo will have a host a variety of startups covering the fields of technology, social, agricultural and lifestyle. The Student Startup Internship is a great opportunity given at this fest for all students who wish to be a part of the journey of the rise of the startups and the leadership skills required to one day head a startup. The Investor zone,which is one of its own kind event, is a platform for any startup to pitch their company, their idea in front of investors in order to get funded.
There are many events for students to show their skills and win exciting prize, this include Bidmaster, a virtual auction of IPL players to make the most out of the money you have, Inquizate, a brain-teasing event which will check your current knowledge about the entrepreneurship world, Budge-it, a trial of your event management skills and lastly Bull Run, which will guarantee you with an experience of your lifetime regarding the risks in stock market.
Read Also : How To Reach COEP
Pune StartUp Fest has 7 major zones:
1. Technical Zone
Google's founders Larry Page & Sergey Brin transformed the way we look at the internet today. Companies develop new technologies that satisfy the demands of consumers and businesses, or integrate existing technologies creatively and innovatively. This zone is dedicated to such startups.
2. Social Zone
Social entrepreneurs combine commerce and social issues in a way that improves the lives of people connected to the cause. They don't measure their success in terms of profit alone – success to social entrepreneurs means that they have improved the world, however they define that.
3. Agriculture Zone
The Agriculture Industry employs about 40 percent of the world population. This sector is influencing many entrepreneurs and is creating a wave of Agri-Tech based startups.
4. Lifestyle Zone
Unconventional solutions to everyday problems. Innovation to sustain livehood. A quick fix or tweak that can ease lives of various individual. Everyone wants a healthy hassle free life, these startups will make it the perfect enabler.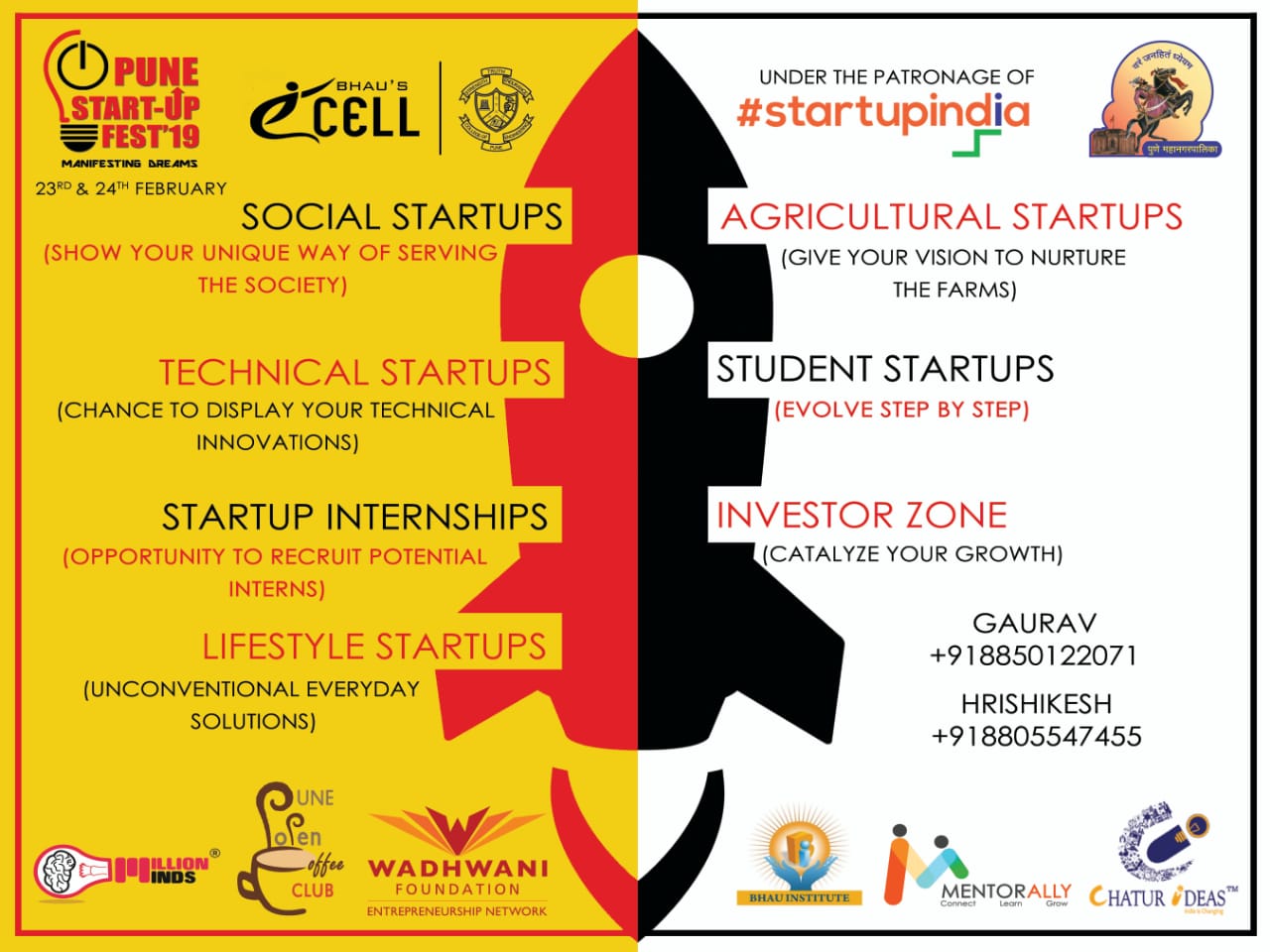 5. Student Startups
Bill Gates. Mark Zuckerberg. They're self made billionaires who made their fortunes in tech and they started their businesses while they were still students. There are no boundaries to being an entrepreneur, but they never stopped believing in themselves.
6. Startup Internship
Working for a Startup can be more valuable than a Fortune100 company. A student with little proficiency might end up bagging the Internship which will add value to their career at a very early stage. Interns bring in a lot of energy and are more competitive than a regular hire at times.
7. Investor Zone
Startups need a catalyst to accelerate their development. Seed investment, Angel Funding, Connections, Mentorship are much needed attributes from an Investor. They support as a backbone to the entrepreneur.
If you have an idea, this is the place that will make it happen.
Be there to witness an economic event that bridges the gap between dreams and reality.
Location: College of Engineering  Pune, Shivajinagar – 411 005
Date: 23rd and 24th February
For any queries, you can contact on the following numbers:
Gaurav +91 88501 22071
Hrishikesh +91 88055 47455
Gmail : [email protected]
Or you can check out their website:
Don't forget to share this upcoming event details with your network. Join Campus Times Pune on Facebook, Google+ & Twitter. Also do subscribe our YouTube Channel. Click on Push Notifications to get notified whenever we publish a post.