Pune Startup Fest is a yearly entrepreneurship fest structured by BHAU's Innovation and Entrepreneurship Cell and COEP Technological University. This festival is held annually, and this year's fifth edition will provide many aspiring entrepreneurs the chance to showcase their concepts in front of investors, mentors, students, and the general public.
Pune Startup Fest's fifth iteration has been planned for this year. The annual event, which is a success, will help many individuals achieve their goals this year as well.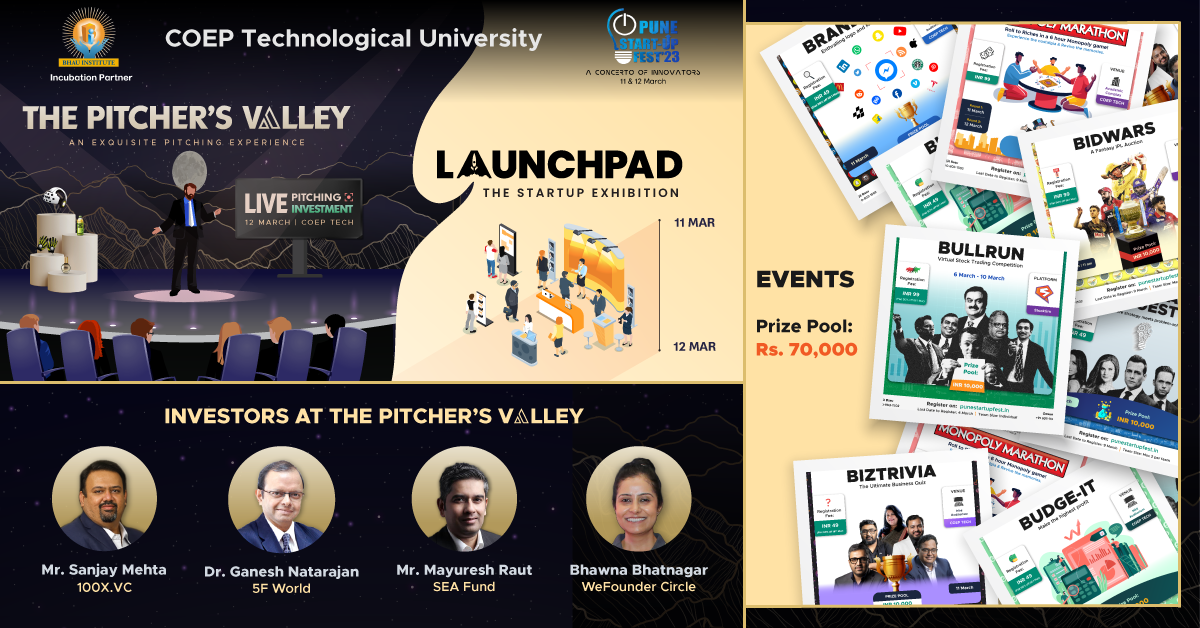 PSF'23, which will take place this year on March 11 and 12, will have the intriguing theme "A Concerto of Innovators."
At this occasion, several intriguing competitions are planned. Bullrun, Bidwars, Biztrivia, BrandScan, BudgeIt, Monopoly Marathon, Consultant's Quest, and others are a few of them. Many similar contests will support the development of young entrepreneurs' entrepreneurial talents.
Read About the previous editions of Pune Startup Fest
Yet this is the cornerstone of an independent India.
The numerous options provided by "PSF" will help young businesspeople become prosperous professionals.
During the startup expo this year, a variety of startups will be on display. These startups are categorized into several zones, including technical, student, educational, social, innovation and intellectual property rights, health and lifestyle, agricultural, green zone, etc.
Pitcher's Valley, one of the festival's main attractions, gives companies the chance to present their concepts to influential investors. Startups must register in advance to participate. From there, 50 startups will be chosen. Ten startups and two unique student startups will be given the chance to participate in the following phase after a thorough review.
Despite challenging circumstances brought on by the Corona pandemic last year, the fourth edition of PSF was an overwhelming success. Also, there has been a huge investment of many crores in the first four editions.
The youth favorites "Abhi and Niyu" and "Aman Dhattarwal," which were also featured in the festival last year, were indeed the main attractions.
The fifth edition will feature a number of junctures this year. There will be a chance to discover a lot of fresh ideas.
To take advantage of this fantastic chance and realize their aspirations, young businesspeople and students must participate in this event.
Want More Details About the Event? Click Here
Anurag is an inquisitive budding Engineer.
Being perfect at his job is his watchword. Persistent learner, Aesthete photographer. Football , memes & Game of thrones fanatic.