Pune Startup Fest is an annual entrepreneurship festival organized by Bhau's E-Cell, College of Engineering, Pune. Pune Startup Fest'21 strives to foster the entrepreneurship culture among students and epitomize the power of innovation.
The theme for the Pune Startup Fest'21 is Bolstering Innovation – a Blueprint for the Future
Pune StartUp Fest, a professionally organized student event, is organizing it's third edition. The Pune Startup Fest had an outstanding 2nd edition with 125+ new startups, nearly 85+ investors and mentors and witnessed a footfall of 18k. Other highlights of Pune StartUp Fest '20 include more than 500+ internship opportunities, keynote lectures from eminent personalities of the entrepreneurial world and a huge investment was promised.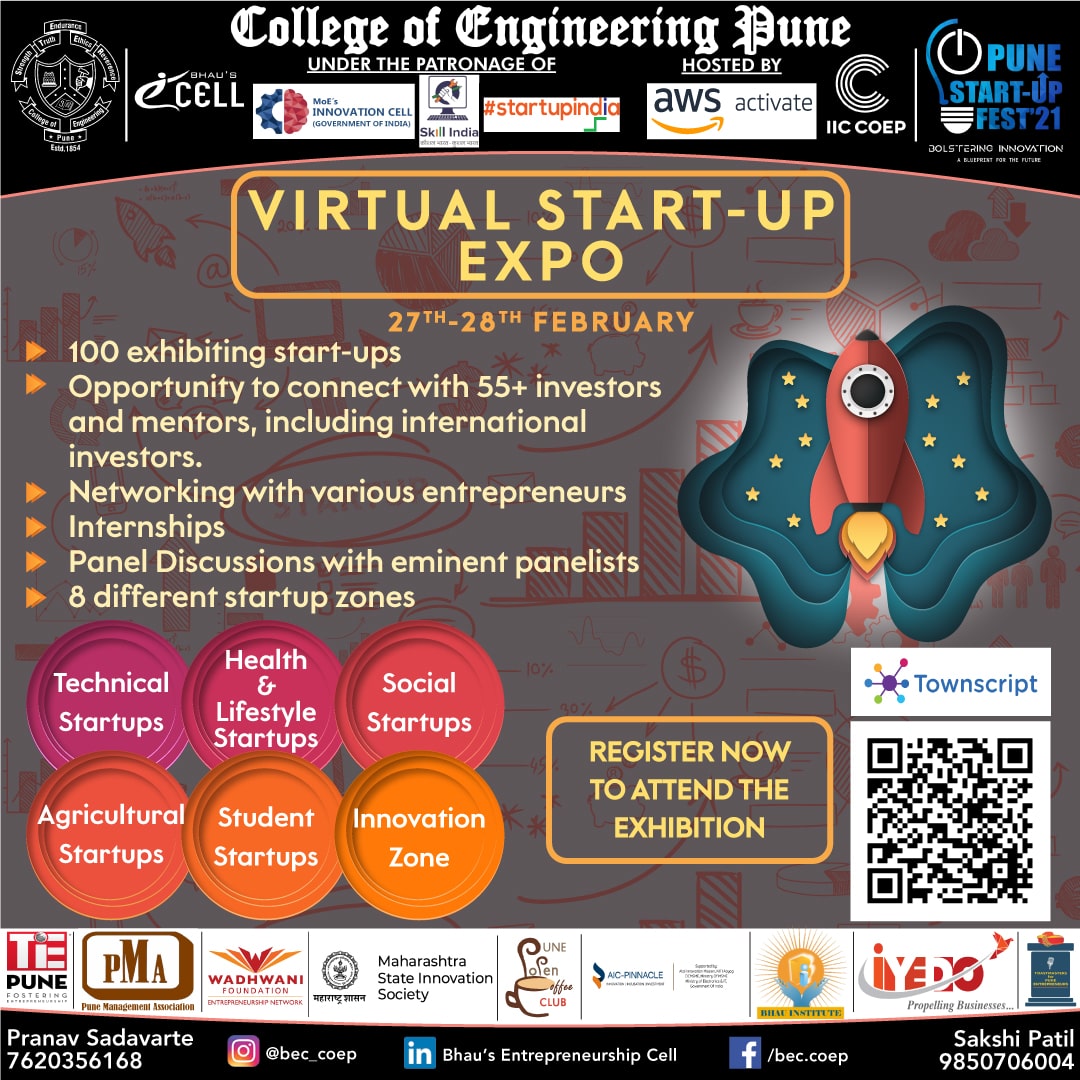 Pune Startup Fest'21 is scheduled on 27 and 28 February in a virtual manner after an impressive reaction to the 2nd edition. Under the patronage of Startup India, Skill India and The Ministry of Education's – Innovation Cell, Pune StartupFest'21 brings together more than 100 start ups, over 55+ investors and mentors, students and the people. The centre of attraction of  Pune StartUp Fest'21 is the Startup Expo, which is divided into seven zones namely the Technical , Social , Health and Lifestyle , Student , Agriculture , Innovation, and the special zone called Breaking the Pandemic. Every zone having specific zone startups along with a uniquely defined zone; Innovation Zone. Apart from startups, students are provided with internship opportunities. These interns are able to work with start-ups in various fields and upgrade their CV.
Along with the startup expo and internships,  various events are also organised for the students.  The events are as follows:
1)BidMaster :  Virtual Cricket Auction.
2)BullRun :  Virtual stock Market.
3)Budge-It : Create an event of your own in least money requirement.
4)BrandScan : Guess the brand by its logo, advertisement and taglines.
5)BizTrivia : Guess the company by its marketing and typical business skills.
Want an summer internships? Then Click Here
To Register For The Event Click Here
To visit the expo Click Here
Visit PSF'21's Social Media Handles
Anurag is an inquisitive budding Engineer.
Being perfect at his job is his watchword. Persistent learner, Aesthete photographer. Football , memes & Game of thrones fanatic.