After an exciting last lap duel, group "Kratos Racing" from Pimpri-Chinchwad College Engineering, secured the top stride of the platform at the fifth edition of the SUPRA SAEINDIA Formula Student title at the Budh International Circuit. "The Interceptors V2.0" from D.Y. Patil Institute of Technology finished 2nd while the team "Amrita Racing" of the Amrita School of Engineering ended up at the third place. It is an immense achievement from the students of the PCCoE College who have been toiling hard to since past couple to make this dream come true.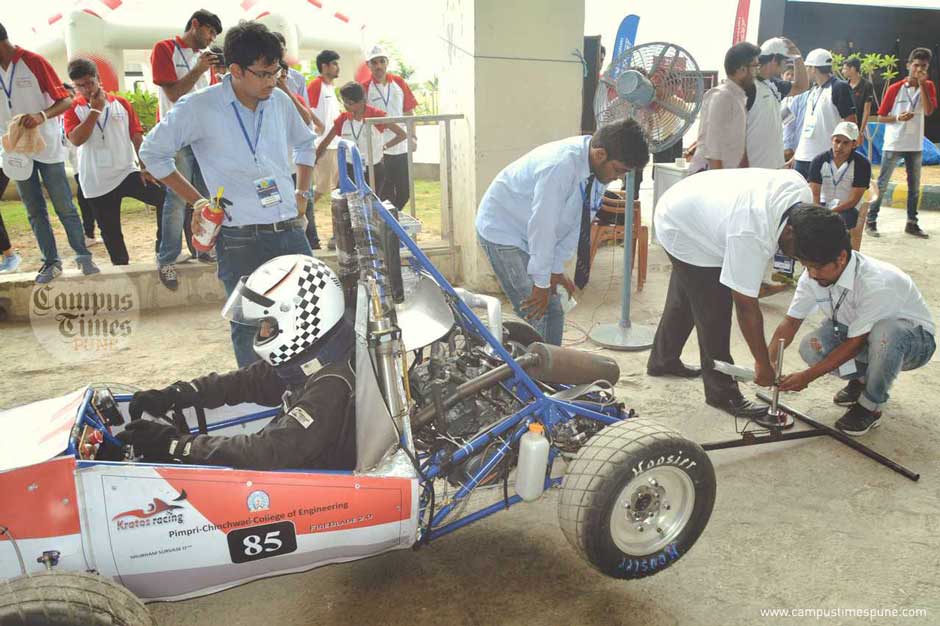 In Greek mythology, Kratos is the personification of strength and power and rightly so, the Team Kratos' car stood out when it mattered and made sure that they stood on the most significant step on the podium when the race ended.
Journey of Team Kratos Racing
Autocross – 1st position
Skidpad – 1st position
Fuel Economy – 1st position
Endurance – 1st position
Overall Winner – 1st position
Dronacharya Award
Organized annually, SUPRA SAEINDIA formula student provides a platform for the students to put their innovation and engineering skills to the ultimate test among the counter-parts from all across the nation. This year though, almost 3500 engineering students from 125 teams attended the event shattering all the existing records.
Also Read – Interesting Facts about PCCOE
The judging team comprised of  200 eminent experts from the automotive industry, including  Mr. Christoph Martin Beisswanger, Mr. Christian Thomas Amersbach, Mr. Benjamin Moeller from Germany and Ms. Anastasia Potrashkova from Russia. Narain Karthikeyan, the first Indian Formula 1 driver, also graced the event on July 8 the, penultimate day of the event,to share his relationship with the speedy cars.
Check out SUPRA SAEINDIA 2016 Overall Rankings here!
Campus Times Pune is an initiative taken by some enthusiastic students of Pune to entertain the "Netizens" by providing cool and trending content online. Articles from contributors who prefer keeping their identity anonymous, are published under our authorship. You can contact us with your articles by sending them to "[email protected]"