When we pick up a pack of sanitary napkins, if you look to check what it's made of, you'll find nothing. Scan the whole package for the familiar ingredients list that you find for most other products, and you just won't find it. You will find instructions on how to use the pads, how someone in your country or in any third world country is getting the facility of sanitary napkins for free because of you, and everything else except the ingredient list.
So you'd wonder why right? First, sanitary napkins come under the "medical devices" category like in other countries. So that's why, we don't have any need for disclosure of ingredients or even quality checks for that matter! Well it's unfair to say we don't have quality checks. We do, and for the aforementioned napkins, tests are as per standards formulated in 1980 (that are yet to be updated by the way).
Like mentioned earlier, sanitary napkins come under the category of "medical devices". But what are medical devices? Well in a nutshell, the FDA and the CDSCO, say anything that is intended to affect the body without chemical action within or on the body qualifies as a medical device. Anything classified as one, requires a bare minimum quality of basic ingredients used in its making, although regulations also state that the ingredients don't need to be disclosed.
Back to the topic. Sanitary napkins contain a lot more than just cotton. Today, they are made of an amalgamation of cellulose rayon fibers, sometimes SAP (super absorbent polymer – the blue tinted stuff in the middle of the pad), odour neutralizers and artificial fragrances, colors, adhesives. Anybody with a little common sense would realize that odour neutralizers and fragrances spell trouble because come on, they're chemicals after all.
Here's a comprehensive list of why pads and tampons are dangerous:
They cause cancer.
While they don't cause cancer immediately, exposure to the chemicals used in them over long periods of time can. Besides this, the super absorbent core, if made of cellulose gel, can end up causing cervical cancer.
They contain pesticides.
It's said that conventional pads are also full of pesticides since the cotton used is sprayed with the same before harvest. So this is what women's genitalia comes into contact with while on their period.
They contain dioxins.
As if all the artificial stuff used isn't enough, the cotton and fibers used in pads and tampons are bleached using chlorine (to give you the ultra-white, squeaky clean pads), which leaves a toxic by-product, dioxin, that's harmful at epic levels. A quick google search will list out the alarming side-effects of this "dioxin", one of which includes ovarian cancer.
They can cause infertility
Remember how I mentioned odour neutralizers and fragrances, colors, adhesives? Well, the scents and fragrances can end up causing complications in embryonic development while the rest sometimes include plasticisers
They may cause TSS
TSS stands for Toxic Shock Syndrome and prolonged usage of pads and tampons are liable to cause this due to the overgrowth of a bacteria called "staphylococcus aureus" responsible for TSS. The toxins released by this bacteria is speculated to cause a sudden drop in blood pressure which is dangerous.
It's your body and you need to take control of its needs and what you use for your own body. And for all the men reading this, we're glad you're educating yourself. Pass on the message to your lady friends.
Though pads and tampons can be dangerous, this information is not meant to scare you away from using these products and going back to the stone-age. Instead, there are some alternative menstrual options for smart women that you might be interested in trying.
These pads are all that commercial plastic-based pads are not. They are biodegradable, ultra-thin, designed for heavy flow, and more importantly, they do not contain the chemicals that commercial companies use! They make their pads from banana fibres and are priced at Rs.178.08 per box of 8, which is admittedly costlier than normal pads, but worth it in the long run as it won't result in cancer or illnesses. You can log onto their website for more info: https://saathipads.com/
A Mumbai-based company providing sanitary napkins that are made of organic cotton, although considerably pricier (starting at Rs.350 for box of 10). They are available on Flipkart, Amazon, Snapdeal, ShopClues and you can also order from their website: https://www.purganiclife.com
A Mumbai-based start-up that manufactures menstrual hygiene products for women.You can get a pack of bio-degradable pads at Rs.234 for a combo of 36 pads. For more info log onto: http://www.saraldesigns.in
These are mainly silicon-based cups that are meant to be inserted into the vaginal canal to collect menstrual blood and can be left there for around 8-10 hours or until full. They are re-usable and only need to be removed and washed with water before using it again. The risk of TSS is completely absent when using these. Admittedly, at around Rs. 2000-3000 a cup, they are expensive, however, they last for up to 10 years at a time, so the initial cost is like a one-time investment.
Re-usable cotton cloth pads
These are just like disposable pads, except they're made of cloth. There is no worry of leakage since they have waterproof linings to prevent just that. You can use these for up to a year until you have to throw them away. The only downside, is that you have to wash them after every use. You can get one of these for as less as Rs.145 on any online shopping site like Flipkart, Amazon, etc. or log onto http://www.hygieneandyou.com for more options.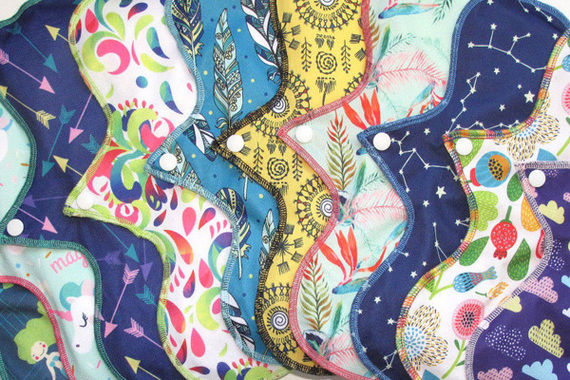 A relatively new product in the market, it's a panty designed specifically for use during menstruation. The speciality of these panties is that you need not wear pads, tampons or anything really, except the panties. They have in-built pads and leak proof lining that will prevent the oh-so-dreaded staining. However, they also come with additional inserts. You can buy one here: http://www.hygieneandyou.com/product/soch-reusable-period-panty/
Or look for brands that you find best suit you.
Hopefully this information came in handy for everyone out there, whether man or woman. After all, we all have a mother, maybe sisters, aunts, girlfriends and it's their right to be healthy.
Campus Times Pune is an initiative taken by some enthusiastic students of Pune to entertain the "Netizens" by providing cool and trending content online. Articles from contributors who prefer keeping their identity anonymous, are published under our authorship. You can contact us with your articles by sending them to "[email protected]"