IIIT Pune, having earned recognition from its past accomplishments, is currently brimming with enthusiasm as it heralds a new chapter. Originating humbly in 2018, IIIT Pune is now back with another remarkable installment of its flagship event, iConclave '23. This multi-day carnival, set between the 26th and 28th of October, is dedicated to creating a common ground for tech enthusiasts, creative thinkers, budding artists, and students from diverse backgrounds. It's a celebration of knowledge, collaboration, and unforgettable entertainment.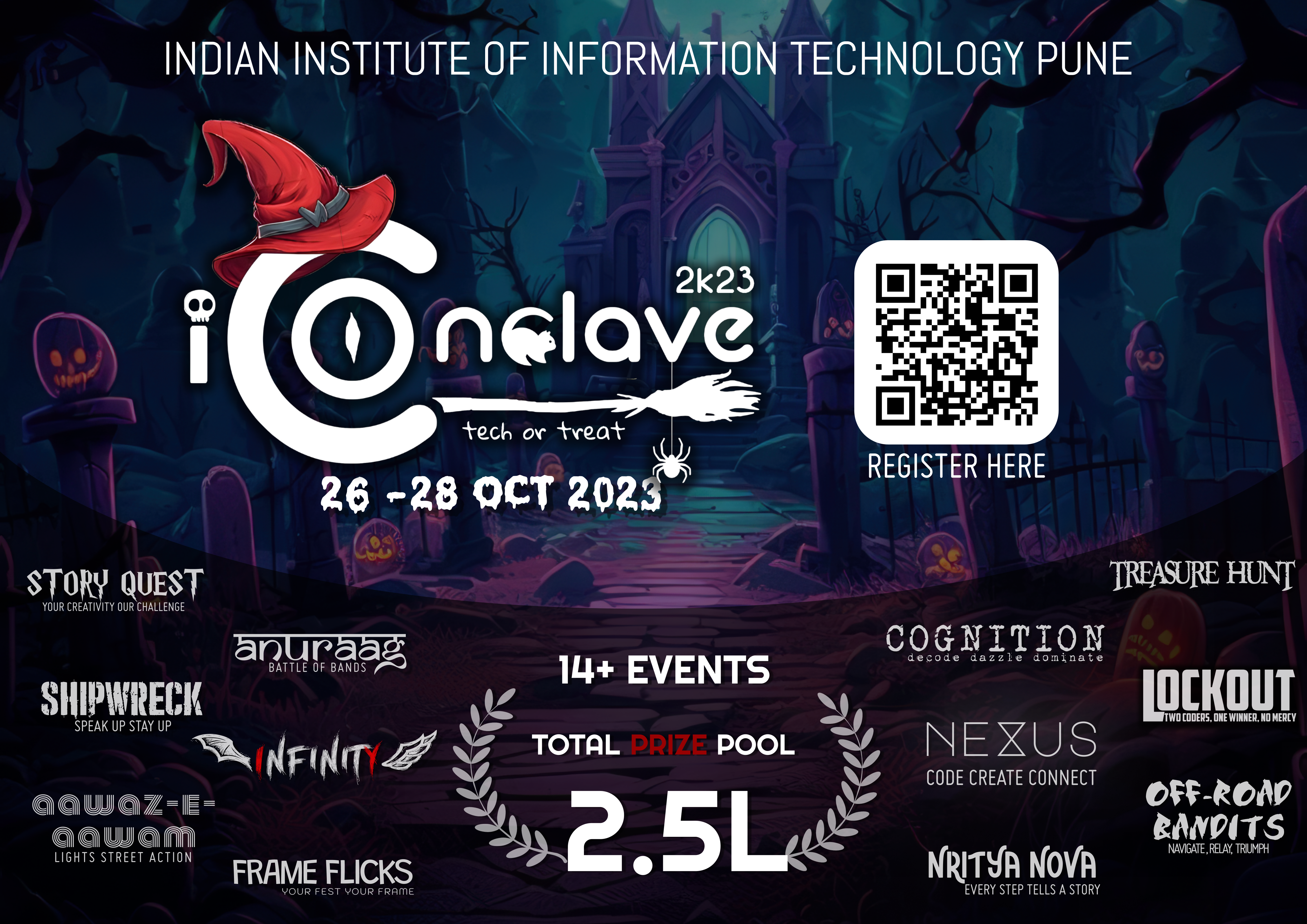 With pride, the Indian Institute of Information Technology, Pune, holds its prestigious status as an Institute of National Importance (INI) under the esteemed Ministry of Education, India. Since its inception in 2016, IIIT Pune has trodden a remarkable path, shining as a guiding light for numerous young and promising minds, steering them towards a bright future.
iConclave '23 stands as the pinnacle of an inter-college techno-cultural extravaganza, hosted with pride by IIIT Pune. Featuring 14 exhilarating events, technical showdowns, a dazzling cultural night, and an array of delightful side attractions, this year's iConclave promises to be an unmatched spectacle. Be ready to embark on an epic journey, with a stunning prize pool of 3 lakhs, raising the stakes higher than ever before! This grand event calls upon you to unleash your inner technophile, engage in enriching cross-cultural interactions, and culminate the experience with an unforgettable cultural soirée named 'Khwaab'.
Immerse yourself in an exciting lineup of techno-cultural events:
Nexus: A 36-hour offline hackathon challenging your skills in Healthtech, Edtech, Web 3.0, and AI-ML.
Off-Road Bandits: Robots racing through obstacles in a tech showdown.
Lockout: A coding battle where speed and skill prevail.
Infinity: A top-tier 2-hour coding contest on CodeChef, employing ACM-style scoring.
Nritya Nova: An intercollege group dance competition showcasing diverse dance forms.
Battle of Bands: An intercollege musical showdown celebrating talent and creativity.
Awaz-e-Awam: Translating social messages into captivating street performances.
Shipwreck: A persuasion challenge set on a sinking ship scenario.
Story Quest: An imaginative journey involving brainstorming and oratory.
Frame Flicks: A photography competition capturing the essence of the fest.
Cognition: A trivia extravaganza hosted by Quiz Club Q-riocity.
Ensure you don't miss out on the spine-tingling fun – register now using the provided registration link.
For more details, visit the iConclave '23 website.
The carnival-themed decorations, games, and delectable treats promise an evening of fun you won't soon forget!
IIIT Pune wholeheartedly invites you to be a part of this celebration, one that's bound to leave a lasting impression for days to come!
Campus Times Pune is an initiative taken by some enthusiastic students of Pune to entertain the "Netizens" by providing cool and trending content online. Articles from contributors who prefer keeping their identity anonymous, are published under our authorship. You can contact us with your articles by sending them to "[email protected]"