The Entrepreneurship Cell at the Indian Institute of Information Technology, Pune, has announced the second iteration of its annual flagship event, E-Summit'23:Bridging Businesses Beyond Borders. It will be one of the most moving entrepreneurial extravaganzas the community will ever see and will test all qualities the youth should possess as budding entrepreneurs and ultimately future tycoons. Looking forward, each aspect of this, soon to come true, reverie is challenging but allows learning and developing expertise. To foster Indian Innovations, the event is set at all its might!
The registrations for this event started on 27th March 2023 on the website- esummit23.ecelliiitp.org and will be closed on 14th April 2023. The event can be accessed using a variety of passes from standard to VIP, which are well structured to cover all expenses, keeping in mind the audience. Anyone enrolled in a UG/PG course globally is eligible to participate.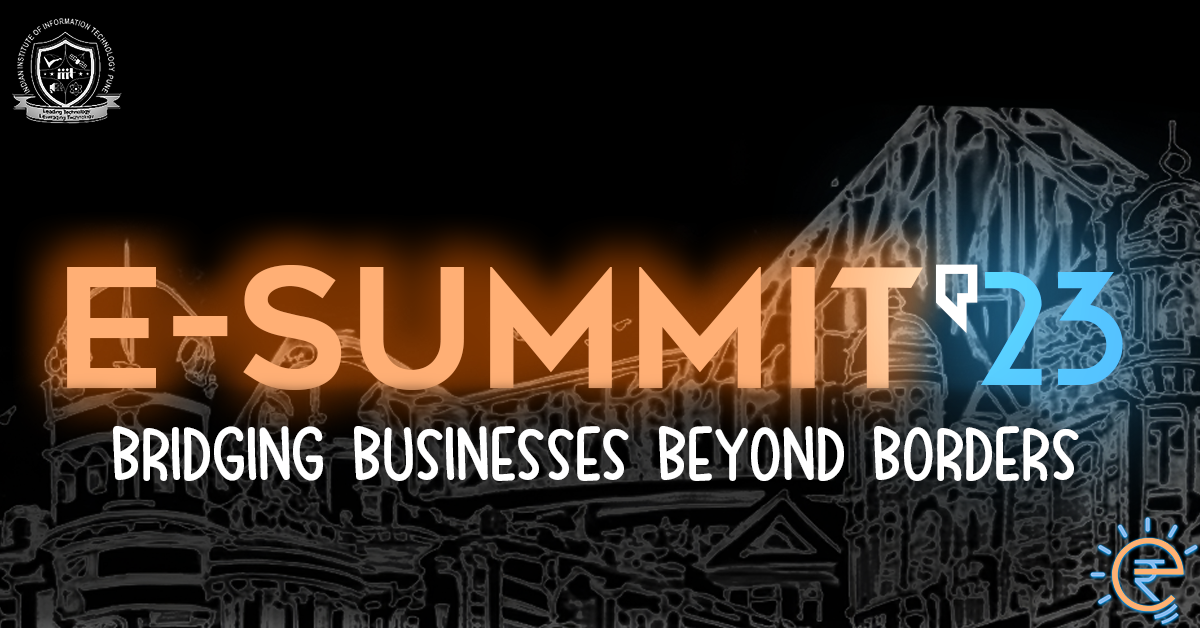 The event will unfold on the 11th of April 2023 with all eyes on the trading arena. Stocks might rise or tumble, but the investment is in the hands of the greatest minds. The next day would mark the commencement of the battle for the crown. The online treasure hunt will boggle even the sharpest ones out here.
The subsequent days shall witness a race to the finals of the 11 critically supervised, analytically curated multifarious competitions. The technical events- Lights Out and reverse coding would indeed oversee dramatic twists with the nail-biting questions. The entrepreneurial events-Bidcon and Deal no Deal are thrillers, judging risk-taking capability, and setting markets on fire. Formal events like Pitch Perfect, Top Talks, and Flawless provoke thought and ignite confidence among the participants. aQUIZition – the business quiz and Googol Flex are charmers: the Bermuda Triangle in your head is ready to experience a whirlpool, one of a kind!
E-Cell IIIT Pune proves to be a pioneer in the field of entrepreneurship with its first edition of E-Summit Jr. This is an excellent opportunity for the younger generation to soak in all that goes into a successful start-up. They can get a chance to interact with groundbreakers of the entrepreneurial community, and this is an indispensable resource for them. Besides the learning opportunity, E-Summit Jr presents cash prizes worth INR 25,000!! Anyone from classes 8-10 is eligible to take part in this.
The next phase is the first-ever offline presentation of Breaking Conventions, which began as a youtube based series and got an avid follower count. We have got a speaker lineup of expertise in every field required by an entrepreneur. The sessions under this third season are going to be extremely insightful and enormously gratifying. Renowned industry experts, Mr Arjun Malhotra(Co-Founder, HCL Technologies), Mr Aman Goel(Co-founder, Cogno AI), Mr Gaurav Dubey(Founder, Home of Marketing), Mr K. K. George(Head of Engineering, Yugabyte) will be gracing the show and will share their experience and views on current trends in the entrepreneurial world.
Read More About More Such Amazing Events From IIIT Pune!
E-Summit is a conclave to nurture budding entrepreneurs, and to accelerate this process we have a  very engaging 'Network Networth' session planned as well. This interactive evening gives participants exposure to talk to startup owners and alumni from IIITs across India thereby building a robust network of similarly motivated individuals.
The star of the events' last evening will be one of India's most prominent comedians Mr Rajat Chauhan. With his astounding crowd work and amusing jokes, we are sure he will leave the crowd roaring with laughter. This will be followed by a DJ night where we shall all sway to beats and groove to the music!
The event allows you to claim cash prizes worth INR 1,50,000 making it a chance to win and learn big parallelly. With rising players and determined organizers, E-Summit'23 is going to be a spectacle!
It was in December 2020 that E-Cell IIIT Pune embarked on a mission to motivate young minds, and the roaring success of Ideathon 2K21 and 2K22, The Silk Route Quiz, Hackathon 2K21, and E-Summit'22 are proofs that this journey will be one reminisced forever. E-Cell IIIT Pune has amassed an impressive victory over the last few years and fulfilled its commitment to pioneering opportunities to cultivate entrepreneurship.
With multitudinous registrations already made and a significant number in line, E-Summit'23 is set to make the impossible, real!
Anurag is an inquisitive budding Engineer.
Being perfect at his job is his watchword. Persistent learner, Aesthete photographer. Football , memes & Game of thrones fanatic.