One fine day in Akurdi, Pune, four friends made a Shortfilm titled 'Multiples Of Unknown' just for fun and self evaluation. But it was a huge breakthrough when it later got officially selected in Mumbai University International Shortfilm Festival 2015. On 25th August 2014 those 4 friends (Shubham Shevade, Yogesh Bhatt, Akshay Ghime, Akshay Yeluripaty) decided to name the team as FableCraft Productions. Now they've over 15 members in the team & also successfully completed 4 Short Films & 1 Music video under this banner.
About our latest Short film - Kaalayatram
Shubham Shevade says,
"Being a storyteller and a writer a thought came into my mind, what if  I can TIME TRAVEL into the future and steal the book which is the "best seller" and come back in my time and publish it with my name in it? Evil right? Yeah. "KAALAYATRAM" is my idea on time travel.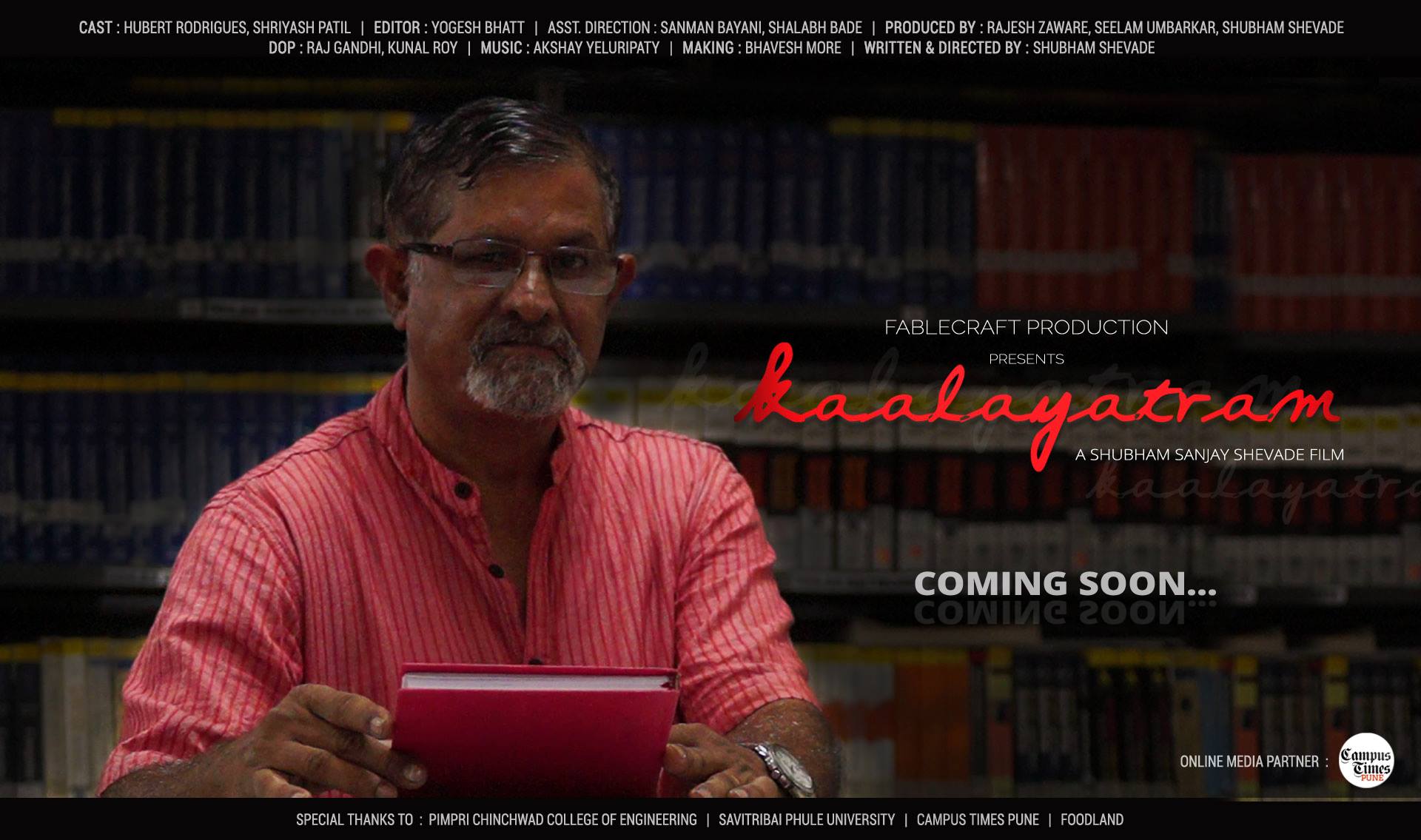 Time is changing. Drastically. Origin of the ideas are getting hampered with time. The eyes of the society is blindfolded with the adaptations of the original ideas and yes, people are appreciating the adaptations. Please let me prove this to you with an example.
Remember the Bollywood blockbuster film DON. Now many of you are confused which one? The one that was released in 2006 starring SRK or the one which was released in 1980…something (sorry I forgot the release year = see we are all have started forgetting the originals). Starring Amitabh Bacchan. The Adapted DON grossed more in Box Office than the Original DON. Oh! Society appreciated the adaptations again. Now my argument is, if we go on appreciating the adaptations the result will be like DON 2 which was a facepalm. My idea of "KAALAYATRAM"  is suddenly making a sense, isn't it?  Those who are still nodding, look at the "Man in the mirror" is that still you? or you with adapting intensions?  Remember, we all can see our reflections in the mirror (not in selfies though).
Above all my point is, we all have some unique expression of innovation which is original. Invest time in finding those expressions and try to change the things (not talking about selfies again girls). Just for the reference FableCraft Productions upcoming short film "Kaalayatram" is about to come on same concept. Let original ideas flourish and stop adapting, this will surely bring you to the path of Success. (T&C Apply).
(Terms & Conditions:- Remember after getting success, we still have to be original, cause innovation is a continuous process, check all your success & innovations carefully before adapting.)"
Check Out The Teaser for Kaalayatram
Cast

Shriyash Patil
Hubert Rodrigues

Asst. Directors

Sanman Bayani
Shalabh Bade
Producers

Rajesh Zaware
Seelam Umbarkar
Shubham Shevade
Campus Times Pune is an initiative taken by some enthusiastic students of Pune to entertain the "Netizens" by providing cool and trending content online. Articles from contributors who prefer keeping their identity anonymous, are published under our authorship. You can contact us with your articles by sending them to "[email protected]"