Blades Of Glory was founded by cricketer Rohan Pate, also referred to as "The Castle of Cricket," and was formally inaugurated by Sachin Tendulkar in September 2012. This Cricket Museum in Pune is the largest cricket museum in the world. With an amazing collection of souvenirs from cricket players all over the world, this incredible museum has become one of the best places to visit in Pune City. It is entirely dedicated to the game of cricket. The sound of cricket legends resonates throughout the museum room as one enters, also the game of cricket has that spirit that is connected nationwide.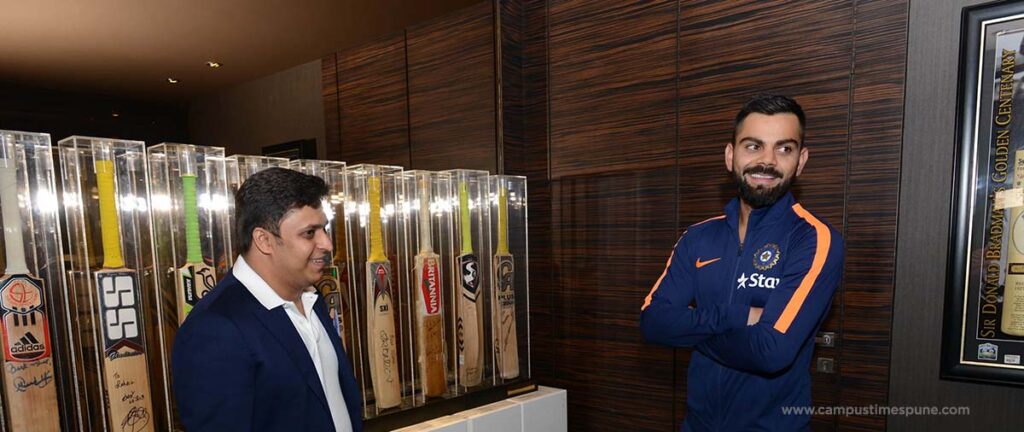 A glimpse into its vision
This museum has been opened with the vision of assembling a wide range of cricket artefacts and souvenirs under one roof, for fans to fully immerse them. The museum's main goal is to preserve and convey to the next generation the most significant moments in cricket history. In addition, it aims to help cricket enthusiasts who require access to chances or resources and to develop a community of cricket players.
READ ALSO – World Cup Trophy in Pune | Know which matches will be played in Pune Stadium
The start of Blades Of Glory provides an overview of the history of cricket bats and sets the gallery's ambience. There is a main room featuring cricket equipment that belonged to the Indian cricket team and banners, as well as four smaller rooms. Record-breaking cricketers have four modest rooms all to themselves. A wider space displays India's World Cup victories and has a variety of equipment. A room has been set aside for the memory of Virat Kohli and Sachin Tendulkar, and it holds a comprehensive record of their cricket careers, complete with accolades, uniforms, equipment, and more.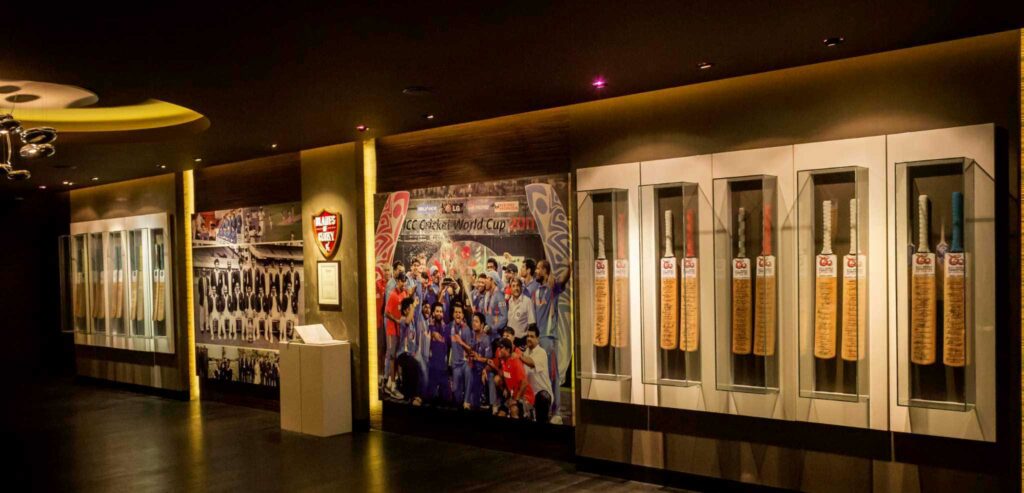 The Largest Collection of World Cup Collectibles
A highlight item is an autographed bat that features the signatures of every World Cup-winning captain from 1975 to 2019, including Clive Loyd, Kapil Dev, Alan Border, Imran Khan, Arjuna Ranatunga, Steve Waugh, Ricky Ponting, MS Dhoni, Michael Clarke & Eoin Morgan. The space for the 2023 World Cup-winning Captain has been kept empty. The visitor's excitement will be evident when they see the golden bat autographed by Australian icon Sir Don Bradman and the frame "Legends of Cricket."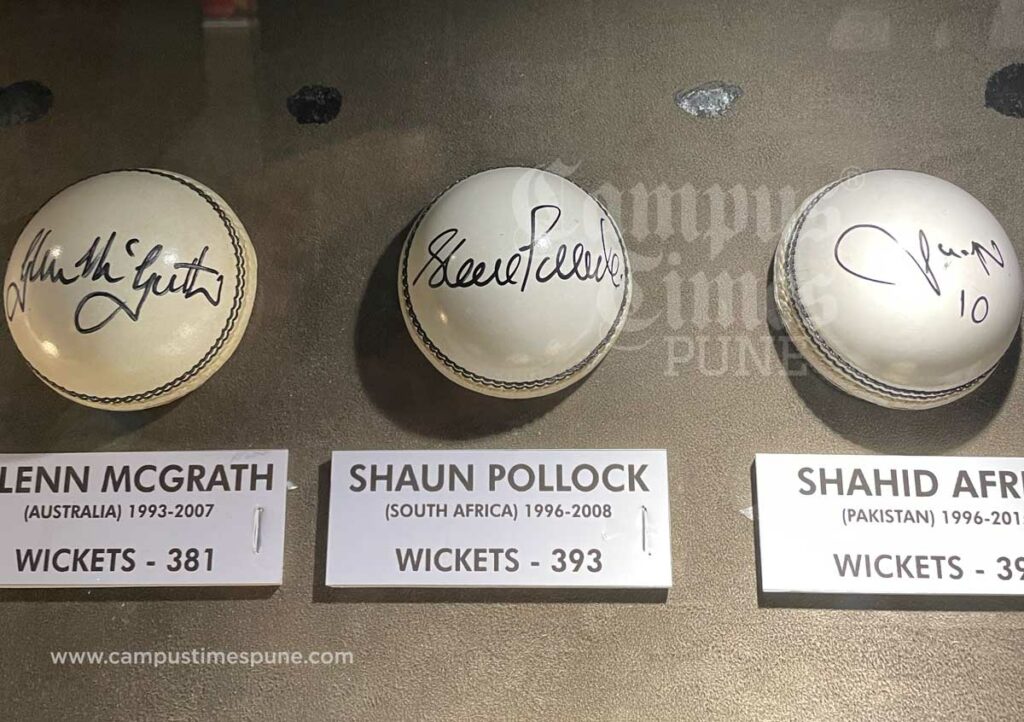 In honor of bowlers, the museum features souvenirs from legendary bowlers Shane Warne, Anil Kumble, Muttiah Muralitharan, Glenn McGrath, Shaun Pollock, Courtney Walsh, James Anderson, and others.
More highlights of the museum include bats signed by players such as Brian Lara, Sanath Jayasuriya, Virender Sehwag, and others from "The Triple Centurion" club. Hats worn by legendary players in significant Test matches; an autographed bat from former Australian cricketer Sir Neil Harvey; signed ODI jerseys from Indian women players; and cricket equipment signed by players such as Desmond Haynes, Gordon Greenidge, Sir Vivian Richards, Malcolm Marshall, Mark Waugh, Kevin Pietersen, Jacques Kallis, Brett Lee, Kapil Dev, Saurav Ganguly, Rahul Dravid, Yuvraj Singh, MS Dhoni, Virat Kohli, and many more.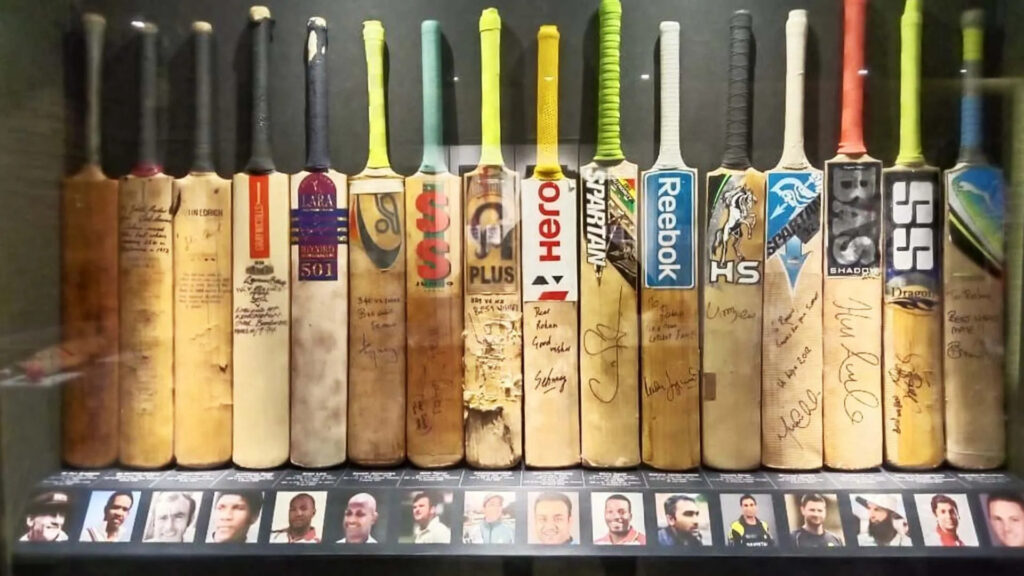 Separate Section to both Sachin Tendulkar & Virat Kohli
For all cricket enthusiasts, a unique exhibition honouring Sachin's career is a must-see. It has a wall with 100 tiny bats, each representing one of his 100 centuries, along with information on the opponent, the stadium, the number of runs scored, and the year the century was achieved. For cricket enthusiasts, there is a scoreboard with his career numbers and World Cup 2011 match jersey.
However, the Blades of Glory Cricket Museum in Pune is a destination for cricket enthusiasts rather than merely a holding place for cricket-related artefacts. A place where aspirations are fostered, the past and present collide, and the essence of the game is brought to life. To fully grasp the rich history of cricket in India, make sure to visit this amazing museum whenever you're in Pune. As you depart, one not only takes fond memories but also a deep comprehension of why cricket is more than simply a sport; it's a feeling that connects a country.
How to Reach Blades of Glory?
The museum is open 7 Days a week
Museum Timings: 10:00 AM to 7:00 PM
Entry Ticket Price: ₹200 per person
*Free entry for children under the age of 2 years
Ruchi, a utopian thinker, has a passion to write and express her thoughts through writing. Constantly seeking knowledge and embracing new experiences. She worked in multiple domains of writing and has a passion for capturing moments through the lens.