College of Engineering, Pune is one of the oldest and premier engineering institutions in the country and is consistently among the top 15 colleges. With a legacy dating back to 1854 COEP has had many eminent outstanding alumni. The institute has a rich history and dedication to the pursuit of excellence. It is not only a distinguished leader in technical education, but also popular for its co-curricular and cultural caliber. With a foundation just as strong as its legacy, COEP continues to foster an environment to support young minds in contemporary fields.
EFest is the numero uno NETWORKING PLATFORM for every budding entrepreneur. In its 5th edition, EFest focuses on:
Encouraging new entrepreneurial minds

Impa

r

ting ideals on real time decision making

Pitching an idea
Marketing
Biz world know-hows
Rapid and efficient idea generation
An opportunity to learn from the most eminent leaders of today and also interact with them personally!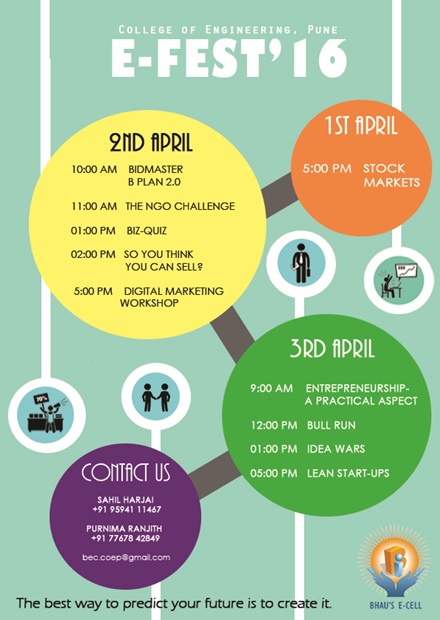 A Peek Into Efest History....
2) BIDMASTER – Experience the IPL Auction Thrill!
Turn your IPL fantasy team come to reality. Bid against other team owners using your virtual money and create potential champions. Every player has some assigned points and base price. In Round 1, one needs to form a team of 5 players and Round 2 demands a total of 11. The team with the maximum points are the champions!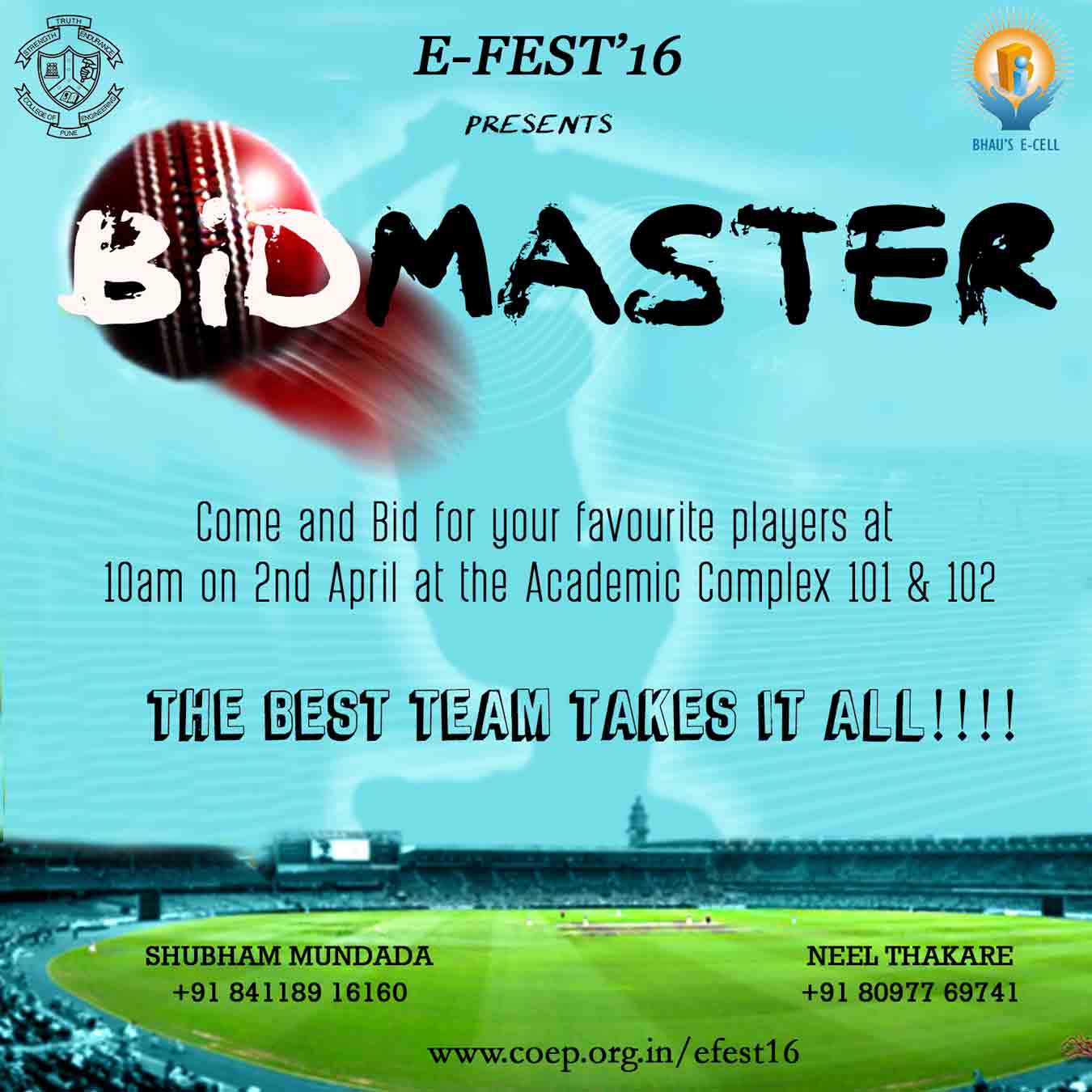 7) BPLAN 2.0 – You have an idea, we have an investor. 
If you are a start-up and need investors, you are at the right place. BPLAN 2.0 provides an opportunity to entrepreneurs to pitch their start-up ideas/prototypes to investors. Interested start-ups are required to submit their BPLANs to [email protected] These start-ups would then be screened and the top start-ups would be provided with the golden opportunity of pitching their ideas in front of potential investors on the day of the event.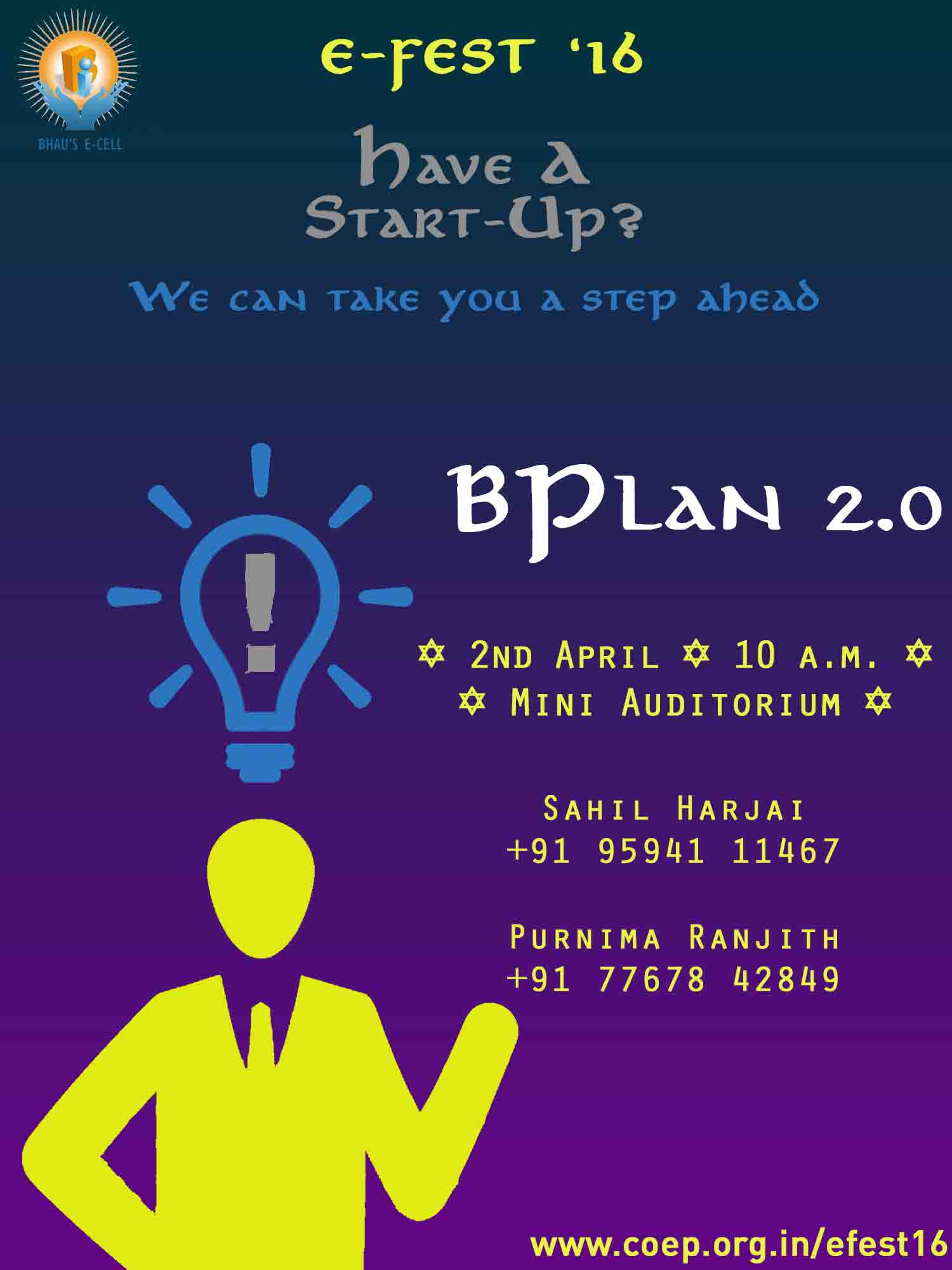 The following two tabs change content below.
Campus Times Pune is an initiative taken by some enthusiastic students of Pune to entertain the "Netizens" by providing cool and trending content online. Articles from contributors who prefer keeping their identity anonymous, are published under our authorship. You can contact us with your articles by sending them to "
[email protected]
"
Latest posts by Campus Times Team (see all)