Who doesn't know the famous TV soap "F.R.I.E.N.D.S."? If you don't I'm sorry to be rude but, could you be more boring? Within a span of 10 seasons lasting about a decade the daily soap has become much more than the life of 6 random people becoming the best of pals but moreover render to the physiological needs of especially teenagers or young adults in a humorous and sarcastic manner. This is one of the reason F.R.I.E.N.D.S. is the best TV show ever made but there's more than meet the eye.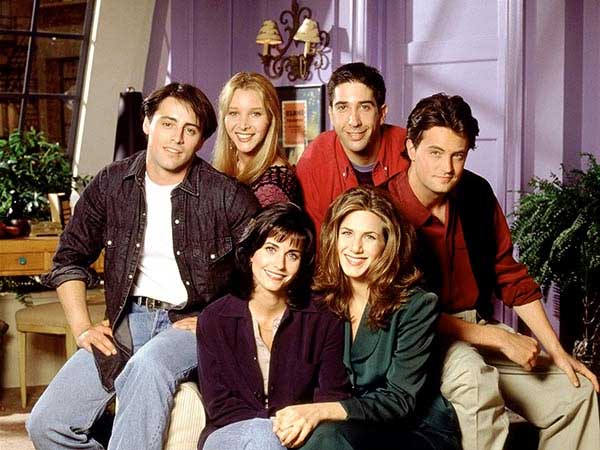 IT IS RELATABLE:
I am sure we all have seen what happens when you come across a person who has not watched Game of Thrones yet. Here's what happens when someone who hasn't watched it yet asks for it..
Whether you're a teenager or a 40 year old having mid life crisis, it's all in this show. The entire package! Let me explain how "its all relevant"  (got what I just did there 😛 ):
Struggling with obsessive compulsive disorder (a.k.a OCD) or trying to prove yourself to your parents? Seems next to impossible right! "I know!!" says Monica Geller. Be it trying to get over the worst break up possible to becoming one of the greatest Head chefs ever, she definitely put forward the basic lesson of life which is NOT TO GIVE UP! "It's for losers and pansies!" She says. Obviously there is more to life than making jam right? So don't wait till you're all out of jars 😛
Meet Ross Geller. The geeky nerd who's in love with something that died 100 million years ago and also the queen bee of High school since 9th grade. Failed marriage? Don't worry you can get a membership at the "Divorce Men's Club" started by him. Jk jk 😛 . One of the greatest lessons he teaches us though that it is so not cool to cheat in a relationship even if you are on a break and moreover follow your dreams be it career wise or being in love with a guy/girl out of your league. You never know when she/he'll get off the plane and come back to you.
Which brings us to that girl. The ever beautiful Rachael Green. Her journey from being the silly girl who ran away from her own wedding to the independent woman she becomes is in fact is one hell of a roller coaster ride just like ours , isn't that right? She's made her fair share of mistakes like getting an inside out cat or getting pregnant she always does manages to get closure! She'll always be that girl who got picked last but managed to win the game just by her charms 😉 Ahh! Salmon skin roll.
Hi ladies! How you doin? 😉 You guessed it! None other than Joey Tribbiani. The struggling actor doesn't leave a chance of entertaining the audience or pizza. People often laugh at how stupid he is but often falter to see his big heart and his huge appetite. If you think you're life a struggle take a look at him pal! I think you'll feel much better. Nevertheless he and Chandler are legit the definition of friendship goals just like the chick and the duck.
And then arrives Chandler Bing with his awkward face trying to make jokes as a defense mechanism to hide his fear of commitment. Could I be more right? His OH MY GOD! Episodes with Janice are nothing but hilarious. Well, after all he definitely proves he's not gay to the world when he manages to marry Monica and when he does ,one gets to the nice and chaste man he is behind his sarcastic comments.
Lastly Pheobe Buffey a total bad ass, strong confident woman with a struggling bad childhood doesn't let life get to her. She can indefinitely deal with anything thrown her way and completely be unpredictable at the same time. She has her own definitions in life may it be not believing in evolution or singing horror songs at the top of her voice. She is a woman who can be mature and immature at the same time and that's what makes her the most lovable character of the series.
Although these characters are the mains of the show but they are given justice by many guests like Bratt Pitt, Julia Robets, Reese Wittherspoon along with the other characters like the annoying Janice, hopeless Gunther, the handsome Richard, the Rich Pete etc.
WHY ONE GETS HOOKED:
The first episode was aired on 22nd September 1994, where Rachael walks into the later famously known as "Central Perk" in a wedding dress and that's how it all starts. All the 10 seasons revolve around these 6 FRIENDS. Unlike the other TV series there are no deaths of the main characters till the last episode of the series (phew!)
Also Read – 8 Things That Hindi Daily Soaps Teach Us
Over the course of 236 episodes the characters portray a number of rising issues of those times (2000's) with acceptance and a mild touch of humours and puns. Those rising issues being homosexuality, divorces, infertility, surrogacy, adoption, transgender etc. They support each other all through these phases and never let any problem come between their bond, it only grows stronger by the episode.
In conclusion the series is a remarkable piece of fiction and obviously speaking there will be nothing like it. If you haven't watched it yet? What are you waiting for? To attain Unagi?! 😛
Amateur writer. Professional skater. Engineering student. Music lover. Hollywood TV Soap fan. Believes in Karma. Occasionally foodie. Ciao.