Hindi serials have become a part and parcel of almost every Indian household. And in comparison to their Hollywood counterparts, which teach us something or the other in each and every episode that they air, Hindi serials have fallen apart in terms of logic.
How to make Indian Daily Soap:
We have seen series like Fringe, The Big Bang Theory, House M.D, Sherlock, House of Cards, Person of Interest, Suits, etc. that have taught us a lot from numerous domains like  Science of Deduction, Fringe Science, Corporate Laws, Dirty Politics, Physics, etc. And now we take the bold step of finding out what is it that Hindi serials teach us?
It doesn't matter whether its a funeral or some severely tense moment in a hospital, the GHAR KI BAHU ( bride of the house) will be wearing 24 carat thick gold necklaces and heavy saree with kantha embroidery. And you'll be like– Whaaaat??? The costume designers seriously need a rework on their logics.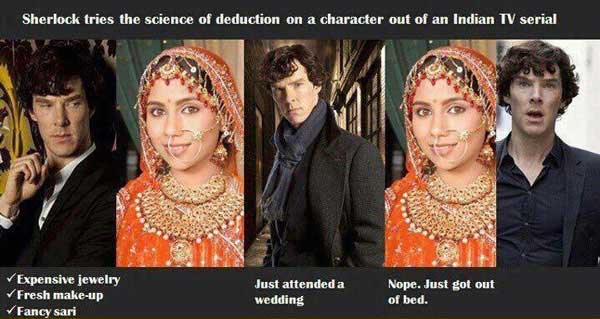 The college lover of your husband who had gone back to NYC 20 years ago, and had ditched your husband for unknown reasons, will come back 20 years later only to get her love back, and your marriage will be put to "agni pareeksha" with lots of tabla beats in the background. I mean… Seriously lot of tabla beats.
The Infidelity of Indian Men
Your husband will definitely have a secret love child,which will be revealed at a later stage in life when your kid and that love child will end up coincidentally being classmates. And then everything would be resolved after horrifying 1390 episodes.
You shouldn't worry if you lost your husband, in some days he will come back taking a "punar janam" (re-birth). And this time with louder tabla beats playing in the background.
And if you're an actor and you need a break? Well Simple! Just kill your character in some tailor-made scene and chillax. And we you're in the mood to work again then just take a re-birth! So easy, Ain't it?
That RNA Interference is Not Needed to Stop Aging
No matter how old your kids grow up, and how old their kids grow up, you will still look the same like you did when you first got married, only with 2 or 3 grey hair in the front of your head.
That if you want to be immortal, you have to compulsorily be the BAA of the family.
That You Can Check If Your Devraani Is Evil
The villain will always make faces and smirk like a bitch while thinking of an evil plan, so that you know she is a villain. But the irony is, you still wont know, cause you are too "adarsh"(ideal) to think of anything so evil about your "APNEY"(own).

Wtf! Is that Tanya Tate in her younger days?
Memory Loss Can Be Cured by True Love
If you love some one too much, in the right time he will lose his memory and wont give you a damn. But if you keep "VISHWAAS IN SACCHA PYAAR"(faith in true love), the whole universe will conspire, and his memory will return. But till then you would already be having another man in your life. More test of true love…
To Be Continued 😐
On a serious note though:
Hindi serials don't teach us anything. ZERO!
Instead try watching 'Satyameva Jayate' or 'Kaun Banega Crorepati' where you can actually learn something and still get entertained.
** The show- CID was not considered while writing this post.
I dare you.
I double dare you.
Nobody speaks bad about CID!
Sourced from Quora
Febin Benjamin is 'one -of-a-kind' type of guy who believes in enjoying life to the fullest. Loves to joke on everything that comes across his sight. He is an engineering graduate from Pimpri-Chinchwad College of Engineering. Besides that, he is a regular blogger/content writer, occasional poet and has also served as an editor for a recently published novel.