12 finalists from 100+ bands across 6 cities  
  One-of-its-kind Inter-city and Inter-college Band competition
  Platform for talented bands to showcase their talent

The two month long competition to hunt for the best music band across Maharashtra and Goa, Vodafone U – Battle of the Bands finally concluded on Sunday – September 18, 2016.
The glittering grand finale which was held in Pune saw some impressive performances by the 12 finalists from Pune, Nagpur, Nashik, Aurangabad, Kolhapur and Goa, who battled it out for ultimate glory.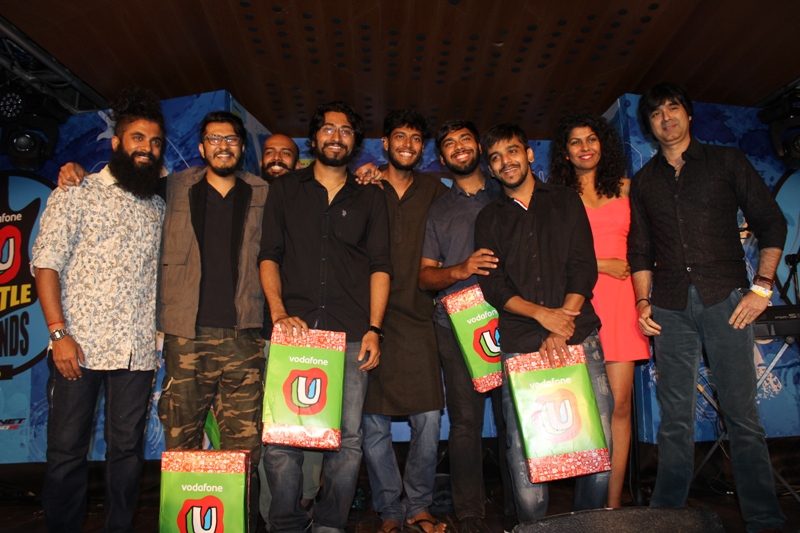 Wining band "Into Bracket" with the Judges.
Into Bracket from Pune was adjudged as the winner of Vodafone U – Battle of Bands. The high-octane competition was judged by eminent music personalities from the famous Indian folk/fusion band "Swarathma".
The winning band took home a cash prize of Rs. 1 lakh along with a host of exciting goodies.
Speaking on the occasion, Ashish Chandra, Business Head – Maharashtra and Goa, Vodafone India said,
"We at Vodafone always believe in providing a unique and differentiated experience to our customers. Through "Vodafone U – Battle of the Bands" we wanted to reach out to our young patrons and give them an opportunity to showcase their talent. The unprecedented response we received from across the colleges was mind-blowing. Even more thrilling was to see such great talent. We congratulate the winning team and would like to appreciate the efforts of each participant in making Vodafone U – Battle of the Bands a grand success."
'Vodafone U – Battle of the Bands' has been conceptualized under the Vodafone U umbrella, a unique lifestyle proposition engaging deeper with youngsters on topics and issues that matter to them most, such as music, fashion, health, entertainment among others.
The competition spread over two months was kicked off with the auditions across six cities – Pune, Nashik, Aurangabad, Nagpur, Kolhapur and Goa. This music led competition which reached out to more than 100 colleges in Maharashtra and Goa is a one-of-its-kind platform for youth bands showcase their talent.
Social Media Links of Vodafone U - Battle of the Bands 2016
Saumya is a reader, dreamer & occasionally a bathroom singer. You'll usually spot her with a glass of iced tea in hand. And when she is not dreaming she blogs at Introverted Extrovert.