An insight into VIT MUN 2021
Vishwakarma Institute of Technology Pune Model United Nations (VIT Pune MUN) is a
3-day Model United Nations conference held annually by the students of Vishwakarma Institute of Technology (VIT), Pune.
At VIT Pune MUN, students get a chance to experience the working of the United Nations and the dynamics in international relations firsthand by assuming the roles of world leaders and international policymakers in various committees. It provides a platform for students to come together to discuss and debate key international and national issues and draft innovative solutions for the same. Participants develop crucial skills throughout the conference, some of which include diplomacy, leadership, teamwork, public speaking, and negotiation.
The first edition of VIT Pune MUN was held in 2016, with the aim of encouraging an open dialogue on a number of issues among the youth and impacting young minds through the conference.
ALSO READ – Know all about 5th Edition of TEDxVITP | 2019
With over 700 fulfilled delegates and notable personalities like SK Jain (Renowned Lawyer), Pravin Kumar Mehta (Director General DRDO), Retd. Lt. Gen. B.T Pandit (War Veteran) as chief guest, VIT Pune MUN has proved time and again that it stands amongst some of the best conferences in India.
Being one of the first socially focused MUN conferences in the country with campaigns like MUN4Cause and Sanitary Napkin Donation Drive, VIT Pune MUN has
become synonymous with being a conference of change.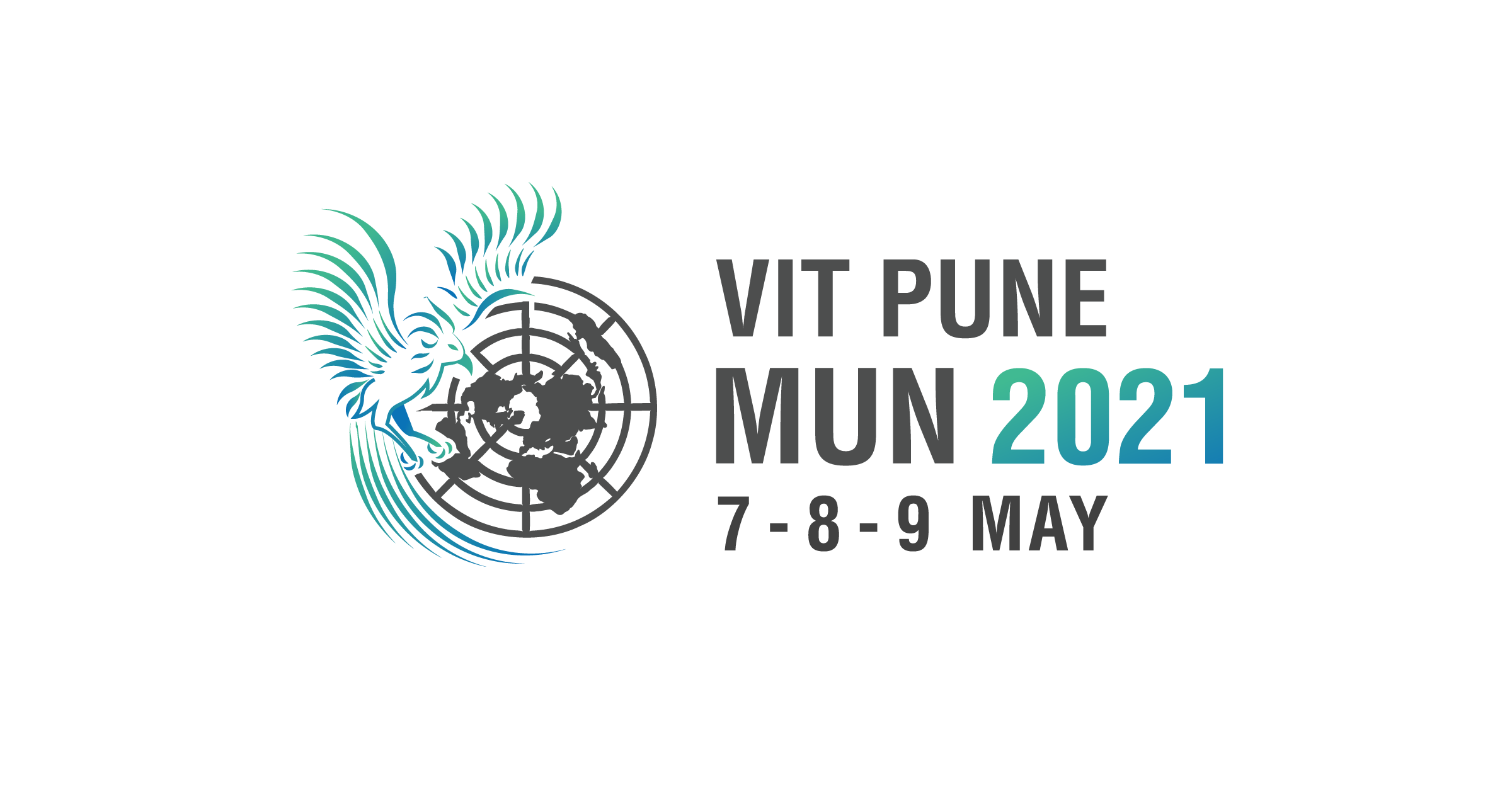 Committees and Agendas at VIT Pune MUN 2021
The 5th edition of VIT Pune MUN which will be held on the 7th, 8th, and 9th of May 2021 is all set to build upon the legacy of VIT Pune MUN. With over 280 delegates worldwide and an unparalleled Executive Board as expected participants, VIT Pune MUN 2021 promises to establish new standards of debate, Executive Board experience, and delegate hospitality.
In this year's conference, we will be simulating the following eight committees
United Nations Security Council (UNSC)
a) Countering the Insurgency in Cabo Delgado Province.
b) International Co-operation in Combating Terrorism: 20 Years after the Adoption of UNSC Resolution 1373.
Trilateral Commission (TC)
Evaluating the Threats and Opportunities for a New World Order.
Organization for Security and Co-operation in Europe (OSCE)
The Situation in Belarus.
United Nations Women (UNW)
Discussing Measures for Economic Empowerment of Women.
United Nations Commission on Crime Prevention and Criminal Justice (CCPCJ)
Discussing Effective Measures to Prevent and Counter Smuggling of Migrants.
All India Political Parties Meet (AIPPM)
a) Four years of Draft National Energy Policy, 2017: An assessment.
b) Twenty-Five Years of India at the WTO: Reforming trade forums and resolving trade disputes.
7.United Nations Framework Convention on Climate Change (UNFCCC)
Renewing Industrial Policies to achieve Global Sustainability amidst the COVID-19 Pandemic.
International Press (IP)
Worthy Rewards
VIT Pune MUN strongly believes that good debating skills must be encouraged as much as possible. To promote the same, VIT Pune MUN rewards the best delegates with the worthiest of prizes.
With the general committee prizes being the following respectively:
Best Delegate: ₹7000
High Commendation: ₹4500
III. Special Mention: ₹3000
Along with this, the Best Reporter shall win ₹7000, and the Best Delegation shall be winning a cash prize worth ₹15,000.
Distinguished Chief Guest

VIT Pune MUN is honoured to be hosting Ms. Arora Akanksha, candidate for the Secretary-General at the United Nations as the Chief Guest for our conference.
Arora Akanksha is a 34-year-old Indian-Canadian audit coordinator at the UN. She announced her candidacy to challenge incumbent UN Secretary-General António Guterres in the 2021 United Nations leadership election. She is the first woman and first millennial candidate for the position and the first known candidate to challenge an incumbent. If selected, Arora would be the youngest-ever and first female Secretary-General of the UN in its 76-year history.
Arora comes from a family of refugees. She was born in India, raised in India and Saudi Arabia, and settled in Canada. She was hired by the current Secretary-General António Guterres to serve on the UN's financial reforms in 2017. Before that, she was a manager at Price Waterhouse Coopers (PWC) Toronto and the youngest audit professor at the University of Toronto teaching audit at master's level. She wrote audit standards for Canada and internationally. She also wrote audit guides on campaign financing for Elections Canada.
Why are MUN conferences important?
VIT Pune MUN believes in the power of Model United Nations conferences to better the world; both by spreading a certain degree of awareness, and by acting upon the ideals of the United Nations.
We, therefore, invite you to experience this extraordinary power yourself at VIT Pune MUN 2021.
Click Here to Know More About VIT Pune MUN
Anurag is an inquisitive budding Engineer.
Being perfect at his job is his watchword. Persistent learner, Aesthete photographer. Football , memes & Game of thrones fanatic.