Pablo Picasso once said, "very long time to become young". The winters of old age are spent in the daydreams of youthful summer. When the rocking of a chair might possibly be our greatest adventure, the comfort of memories is enough to make a scorned man smile. In an effort to make these memories more colorful and to celebrate our youth, EPEC VIT Pune is here with Melange'21.
Melange is the annual intercollegiate fest organized by the Event Planning and Execution Committee of Vishwakarma Institute of Technology which acts as a platform for undergraduate students from premier colleges all over the country to participate and showcase their talent. It aims to develop important life skills among students such as team spirit, public speaking, presentation, organization, and many more in order to bring about an all-around development of students. All the events take place under four categories namely Technical, Extracurricular, and Sports, all of which are managed and organized by EPEC.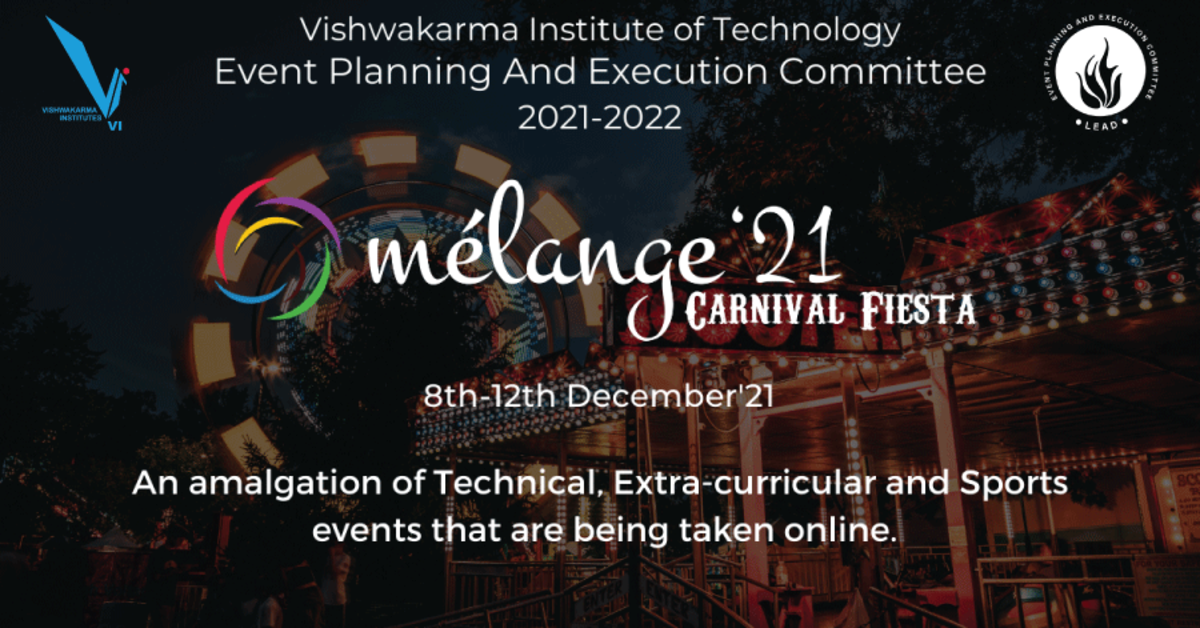 Melange'21 will take place digitally from 8th December to 12th December. With Carnival Fiesta as the theme for the year, EPEC aims to paint the town with vibrant colors of joy, glee, and playful competition. This carousel of exhilarating events promises to be an invigorating affair, leaving you with an envelope filled with memories to cherish for a lifetime. From sports to extracurricular events, EPEC VIT Pune has you covered. Adrenaline pumping events like Football Freestyle, Mr & Ms. Fit, and Rubik's Battle are sure to keep you biting your nails and holding your seats tight. Glamorous and breathtaking events like Voice of Melange, Footloose, Miss & Mr. Melange, Hard Talk, and IPL Auction leave you astounded.
Click Here To Read More About Events in VIT Pune
Revel in the magic of youth, be bold, and join in on the fun, a carnival of a lifetime from the 8th of December to the 12th of December.
Follow More More Update
Instagram | Facebook | Offical Website
Anurag is an inquisitive budding Engineer.
Being perfect at his job is his watchword. Persistent learner, Aesthete photographer. Football , memes & Game of thrones fanatic.