Today we live in a world where the technologies that we read about in sci-fi are no longer just filaments of someone's imagination. The world of technology is moving at pace like never before and keeping up is in all of our best interests.
Two of the hottest trends – Augmented Reality (AR) and Virtual Reality (VR) – are all the rage right now. We saw glimpses of the application of this technology in Oculus Rift and Pokémon Go, and that was just the beginning.
MindSpark 2016, is giving you a chance to experience these technologies like virtual reality in Pune first hand! Yes, you heard that right!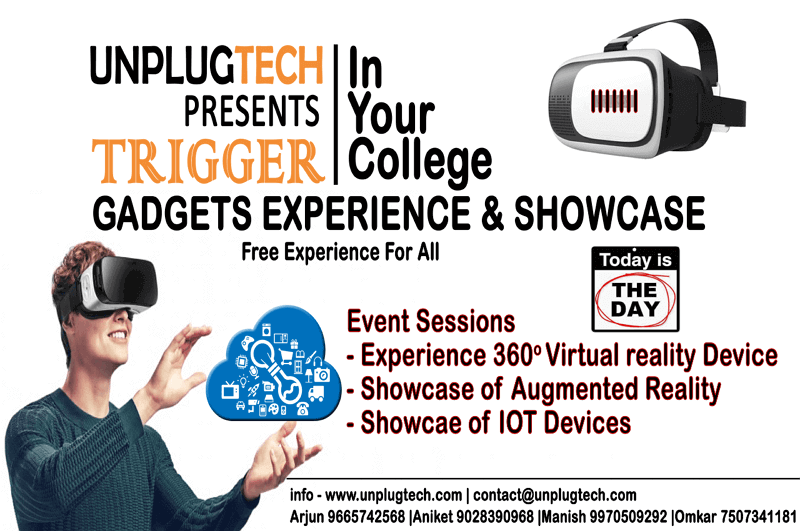 DON'T MISS – Know it all about MindSpark 2016
What is this Trigger Event?
According to a research report, the AR and VR market is expected to be worth $117.40 bn worldwide by 2022. Closer home in India, this market will grow by 55% by 2021. This is an indicator of the opportunities India has to explore and innovate in this field. This is precisely why the 'Trigger Event' was created. To let young minds get a hands-on experience of these technologies, which will inspire them to explore and innovate in this field.
They will also be conducting a VR gaming competition, where the winner takes away a VR box worth ₹ 1000 and a remote controller. The charges for the game are ₹ 30 per entry. They have already served 950+ students from 4 colleges. And according to the feedback received, 99.99% students liked the event and 85% wanted to develop their own app on these amazing technologies.
Omkar from UnplugTech said,
"More workshops are to be organized in the future, which will include complete hands-on on the development of an app on VR and AR as well."
Here is a glimpse of what they have already done in different institutes across Pune city.
Visit the Trigger booth at COEP's Mindspark 2016 from 23rd to 25th September between 9 am and 4 pm. The booth is located below the bridge. You can register for the workshop by leaving your phone number or email ID at contact(at)unplugtech(dot)com or 7507 341 181.
Anikait is the Co-founder of Campus Times. An undercover nerd. Helps several businesses & startups amplify their online presence & reach. Beer, Puns & Game of Thrones aficionado.