Brihan Maharashtra College of Commerce is scheduled to host the 11th edition of its annual inter-collegiate fest TROIKA. In its 10th edition in 2020, Troika had a participation of over 2500 participants and a footfall of over 6500. Due to the pandemic, the event will go completely online this year.
This year, the event will be held on 15th, 16th, and 17th July 2021. The event will host over 30 events and over 15 competitions in this 11th edition. The fest has organized a range of free workshops and webinars from pen sketching and mobile photography to yoga and public speaking. Coming to competitions, there are a range of challenging contests under five categories – literary, entertainment, fine arts, performing arts, and business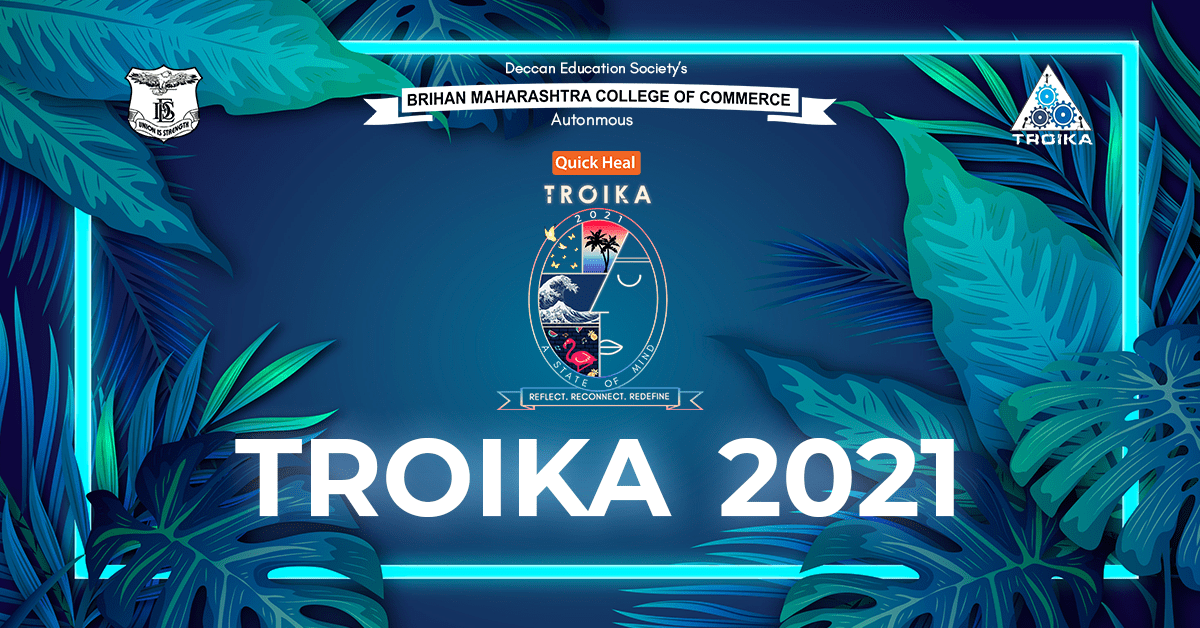 To join the webinars/workshops and participate in competitions please check out this link.- linktr.ee/troika2021.
TROIKA has been associating with a theme each year, this theme resonates with organizers and participants alike. This year, the fest showcases 'A State of Mind – Reflect Reconnect Redefine'. This is an attempt to motivate, to spark, and to rekindle the spirit dampened by the catastrophe.
Also, Read– 13 Things About BMCC's Troika You Definitely Need To Know About!
Since its inception, TROIKA believes in giving back. For this purpose, all organizers of TROIKA indulge in various social activities. This year, the organizers of TROIKA conducted a stray feeding drive in three cities – Pune, Jalgaon and Nanded. This drive was conducted in association with PashuPapa- Animal Protection Association, an organization based out of Jalgaon. Apart from this, the entire core team of TROIKA 2021 has taken up mentoring underprivileged students with weCHANGE, a Mumbai-based organization working for the education and upliftment of underprivileged children.
This year, TROIKA welcomes participants from far and wide. Welcome to TROIKA a melting pot of talent!
Click Here To Follow For More updates
Anurag is an inquisitive budding Engineer.
Being perfect at his job is his watchword. Persistent learner, Aesthete photographer. Football , memes & Game of thrones fanatic.