The annual management and cultural fest, Transcend, hosted by Symbiosis Institute of Business Management (SIBM) in Pune, is one of the largest B-school fests in India. Transcend attracts those looking for a one-of-a-kind extravaganza. Transcend '23 will be held on the 16th, 17th, and 18th of January 2023 at SIBM Pune's beautiful Lavale hilltop campus. Over the last three decades, it has evolved into a melting pot of intellect and culture from prominent institutions across the country. Last Man Standing, Strategia, Marketshastra, Chrysalis, Waste to Wise, The Great Bull, Opscon, Mindcraft, and The Company's Act are among the nine top-tier national management events featured in this year's Transcend.
Last Man Standing is the flagship event of Transcend 2023, and is one of India's most significant B-School events where students have to sustain through 3 days of physically and mentally grueling tasks that take them beyond their potential with an opportunity to go head-to-head with the best in the country and persevere for the coveted title of the Last Man Standing. Transcend's Flagship event, Last Man Standing has the highest prize money offered across any B-school competition, worth INR 1.5 lacs. Strategia is the second flagship event of Transcend 2023 and is a unique business strategy challenge. Strategia is designed to push the mind, knowledge, and skill sets to the limits to show students' mettle against the finest talent of the country.
Marketshastra is a marketing competition that provides students an opportunity to don the hat of a marketing leader while unleashing their creativity and knowledge. cHRysalis is an HR oriented event that shall put HR knowledge and skills to the test and give the opportunity to broaden the horizon of the subject by coming up with innovative ideas and solutions. OpsCon is a Logistics Simulation Game to test analytical and business aptitudes in operations.
MindCraft is an event to unwind the true potential that will test the leadership skills, ability to make decisions, and knowledge in all domains of business-like Marketing, Finance, Supply Chain, Human Resources, Analytics, Consulting, and the business world. The Company's Act is a national-level interactive situational case competition to test their communication skills and business acumen to deal with changing environments when given choices in a dynamic and rapid-paced environment. The Great Bull is a finance event to analyze market movements and bet on stocks based on your theories and instincts. Waste-to-Wise is an event where students are required to gear up for a thrilling stock market ride and get a chance to rule the markets or get ruled by them.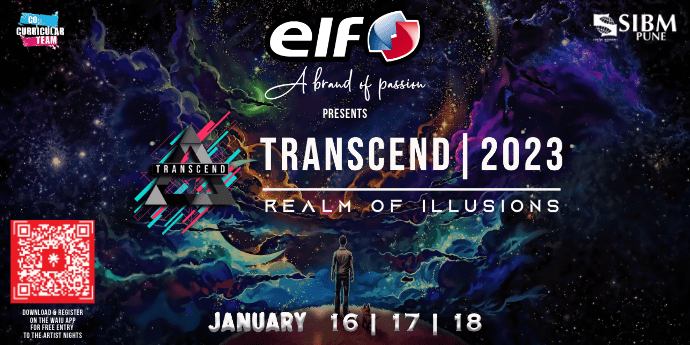 Transcend also provides a platform for six amazing cultural competitions like Battle of Chords, Dance-Ma-Tazz, The Fourth Wall, Meraki, Grandeur Spectra, and Mr. and Ms. Transcend.
This year Transcend is the first-ever edition of SIBM Pune's capturing stage play event, 'The Fourth Wall', The Theatre Play. The Fourth Wall is an imaginary wall between the actors and their audience and is a space where actors create their magic in the hearts of their audience and other works of fiction. Meraki is the Solo-Singing competition that encompasses the idea of finding oneself through music. At Transcend 2023, students are invited to present music that comes straight from the soul, a song, a cover, or an original to captivate the music enthusiasts of the nation with the magic of their voice. Battle of Chords is the event where bands from prestigious colleges across India come to be a part of a musical extravaganza. Grandeur Spectra – The Fashion Show event is an opportunity for students to entice the world and express the astounding language of fashion by being a part of the most awaited show of Transcend 2023. Mr. & Ms. Transcend is an event to find the most dazzling personality in the room with the ambition to rule people's hearts. Dance-Ma-Tazz, the Group Dance Competition is an event for students to put their best foot forward, liberate the dancer in them and rekindle their passion, for the stage is ready to be lit!
Click Here To Read More About Symbiosis Institutes 
ELF – A Brand of Passion, that offers an advanced range of bike engine oils is the title sponsor for Transcend '23. Transcend '23 is brought to you by State Bank of India, powered by Bank of Maharashtra, Continental This, Unilife, EaseMyTrip, Ather, Citroen, Waiu, in association with Healthy Binge, BRB Popped Chips, TooYumm, Storia, Finlatics, InstaX, Bank of India, TribeStays, SavvyArts, Zenzi, Coolberg, Zenwood, AbhiBus, Budhani Bros, PlayStation, ToBeHonest, PHY, Chaika, Smart Champs, HDFC Credila, Landmark Music, Gatsby, Cerigo, InsideIIM, AltUni, CollegeDunia, GrooveNexus, Campus Times Pune, Café Ricoco, Yolkshire, Chaika, Momo Bae, Noodle Plus and 95 Big FM among others.
Transcend '23 is expected to be bigger and better this year, with a stellar lineup of artists including stand-up comedians for the festival's comedy segment titled Punchline 3.0, as well as a slew of other artist night performances that will set the stage on fire.
Transcend '23 will undoubtedly provide its visitors with an ecstatic experience that will reshape their perception of reality and shape their belief in the power of dreams and illusion. With this, SIBM Pune invites everyone to be a part of this three-day extravaganza, where you will have the opportunity to outdo yourself, outshine others, and finally Transcend to even greater heights!
Follow SIBM Transcend To Know More
Website | Instagram | LinkedIn | Facebook 
Anurag is an inquisitive budding Engineer.
Being perfect at his job is his watchword. Persistent learner, Aesthete photographer. Football , memes & Game of thrones fanatic.