The Samapathik Trust was founded in 2002 by gay activist Bindumadhav Khire. The trust aims at providing legal, social empowerment to the LGBTQA community. The pride walk this year was organized by this trust and it focused on spreading awareness about the issues faced by the LGBTQA community. It took place on 11th June, 10:30 am. People started walking from JM road to Garware Bridge followed by Fergusson College and then back to JM Road.
READ MORE – Posts about Breaking Stereotypes on Campus Times Pune
The walk was led by more than 200 people who either belonged to the LGBTQA community or were strong supporters of them. They used slogans such as
"Hay, hay, ho, ho Homophobia has to go"
"I am gay; that's okay" and more.
It also aimed at demanding for the section 377 (which criminalizes homosexual activities) to be terminated. People were holding up rainbow flags, posters, and even umbrellas! Here are some moments that were seen during The Pride Walk Pune 2017:
The rainbow flag is a representation of diversity the LGBTQA community brings to our society.
Highlights of The Pride Walk Pune 2017
Amongst the 200 and above people that walked, it was astounding to see not only youngsters but also elderly people in big amounts! These people are a promise that someday, even generation gap won't matter and everyone will embrace the community for who they are.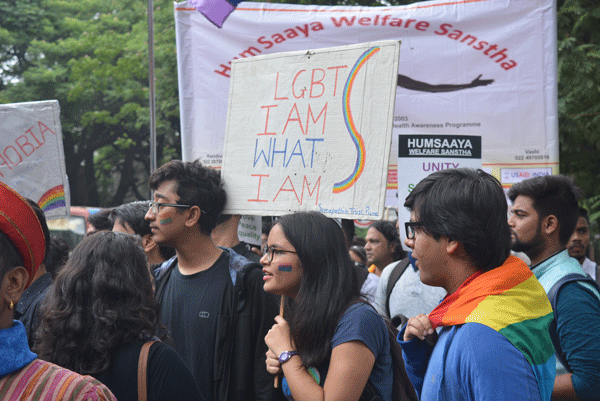 It was a privilege and honor to have been there to show our support by walking with them. There's still a LONG way to go before the society accepts the community. But, until then, we just wanted you to know that we support you.
#ProudAlly #LGBTQA
Shweta Mustare. A girl living in Pune, India, waiting for life to give the big break. Blogger, Thinker, sometimes funny, always a weirdo.