TEDxSIULavale stepped into its Decade with diverse and thought-provoking ideas centered around the theme Tenacity – A legacy of timeless ideas, building on its strong legacy of celebrating and sharing ideas worth spreading. The event, which took place on February 26th, 2022, began with a welcome address from the curator, which perfectly captured the spirit of the occasion. It demonstrated the perseverance required to overcome any obstacle and come up with original, winning ideas each time. Dr. CA. Abhijit Chirputkar, Director of the host institute, SIDTM, also welcomed the audience to the tenth-anniversary celebration and emphasized the vital role that passion and ideas play in shaping a student's persona beyond academics. The event witnessed an amazing set of speakers who blew the audience away with their innovative talks on six engaging tracks. Amoghavarsha JS explored his journey into the world of wildlife photography. Mae Mariyam Thomas shared her suggestions to those that tell you to change (don't). Shubhi Jain boldly stood up and showed us what it means to truly live your dreams. Krishnan Sunderarajan made our minds wander with the new and exciting possibilities of the metaverse. Pratyush Pillai put us face to face with a creative problem statement and put forth three key ingredients on just how to frame it. Harsh Parikh challenged us on instant gratification and suggested we strike a balance in adopting healthy habits that bring short-term gratification and long-term benefits.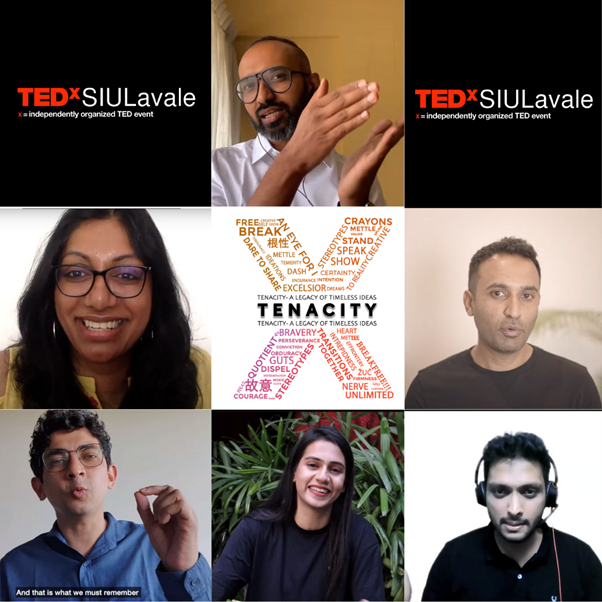 Click Here To Read More about the TED event!
The event also featured past TEDxSIULavale speakers conveying their greetings from the decade. The excitement that these luminaries displayed signified the importance of ideas and the impact that they have on the lives of not just those who grasp them but also those who stand on the red pedestal and share them. TEDxSIULavale has been successfully spreading cheers for a decade, and we hope they continue to do so for eons to come!
That is a wrap for 2022. We look forward to next year with another unique set of inspiring ideas.
Anurag is an inquisitive budding Engineer.
Being perfect at his job is his watchword. Persistent learner, Aesthete photographer. Football , memes & Game of thrones fanatic.