The third edition of TEDxSCAC is finally here!
TEDxSCAC is an independently organized TED event under a license from TED. The conference features prestigious and prominent personalities from different walks of life who've all come together on one platform, to do one thing : Share their ideas.
To keep our community diverse, the speakers all represent different fields, from activism to athletics and from wellness to wildlife conservation. Together, not only do they captivate the audience with their experiences, but they each bring with them their own unique perspectives, their very own stories. We wish to provide the perfect space to innovate and inspire.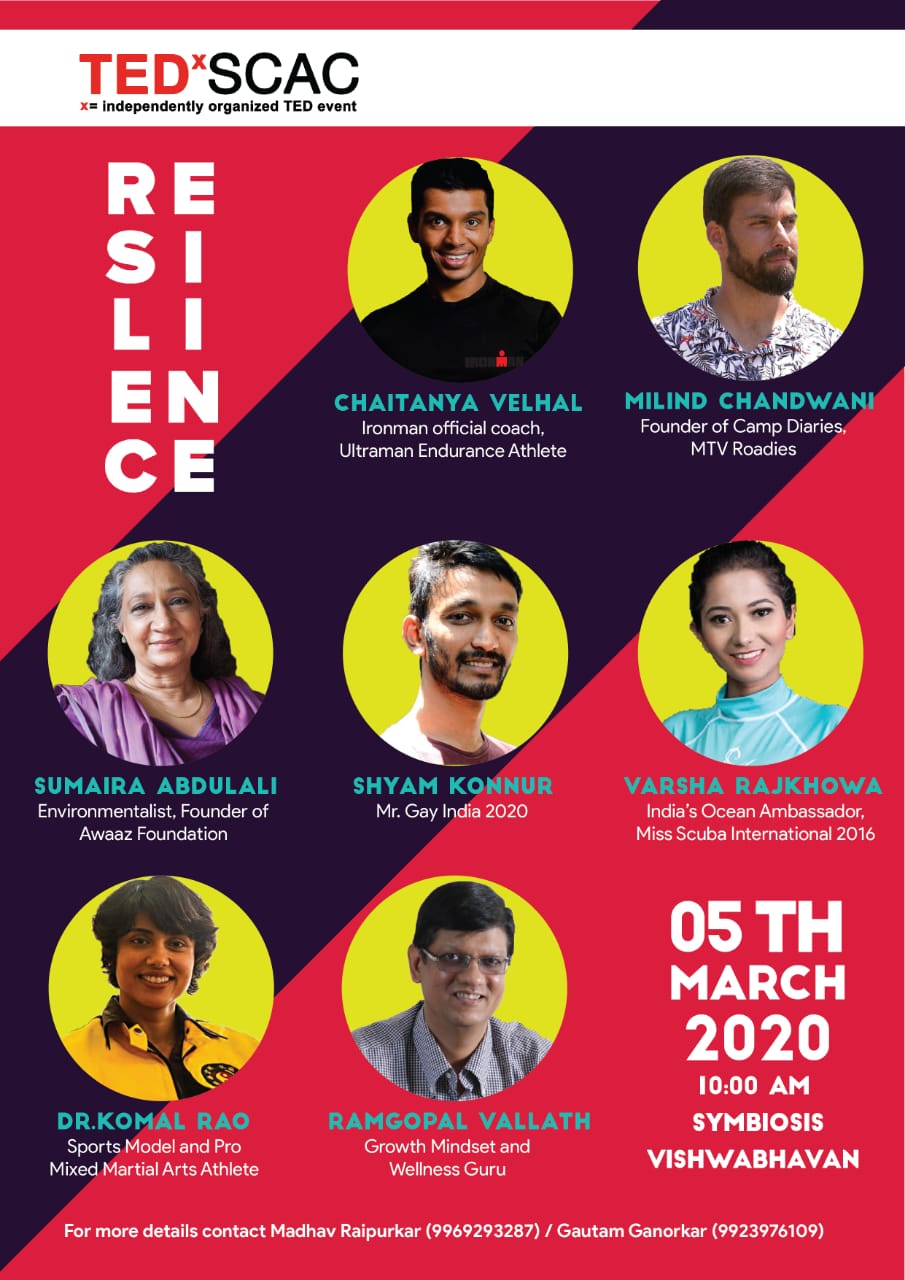 The theme for TEDxSCAC 2020 is – 'Resilience'.
Trials and tribulations work as stimuli to strengthen our inner self. Only cowards rebel and surrender to their trials. Tests are meant, not to destroy, but to release the fountain of spiritual strength that lies within. For the adaptable and pliable suffering imparts positive lessons helping to bounce back with renewed fervor and vigor. Through heartache, experience and sacrifice we can become resilient; take deeper roots; continue our growth and the beautiful cycle of life.
We wish to capture the spirit of the quote,
"The oak fought the wind and was broken, the willow bent when it must and survived."
TEDxSCAC also wishes to provide a platform to local budding artists and lets them take the stage to entertain and awe the audience.
To captivate our attendees even more, we now present our prestigious speakers.
With us this year we have the brilliant Mrs. Sumaira Abdulali, an environmentalist from Mumbai, the founder of the NGO "awaaz foundation" and the convener of MITRA (Movement Against Intimidation, Threat and Revenge against Activists)
Mr. Chaitanya Velhal, our second speaker is a well known Ultra Endurance Cyclist, Triathlete, a certified Iron Man coach, a three time Ironman and four time RAAM qualified.
Mr. Shyam Konnur, our next speaker is the founder of MIST, an LGBTQIA+ collective and also the winner of Mr. Gay India 2020.
We then move on to Ms. Varsha Rajkhowa who is India's ocean ambassador and the winner of Miss. Scuba International 2016.
Coming in next as our fifth speaker, we have Dr. Komal Rao, a Pro Mixed Martial Arts athlete and a prominent sports model. She is also a full instructor in Jeet Kune Do.
Our sixth speaker for the day is Mr. Millind Chandwani who is the founder of Camp diaries, an NGO for holistic learning of underprivileged children.
Our last speaker is Mr. Ramgopal Vallath, a wellness guru and a motivational speaker. He is also a bestselling author of the book – 'From Ouch to Oops'.
We hope to have an interesting exchange of ideas, thoughts and experiences through this unique and inclusive line up.
The event is organised by Symbiosis College of Arts and Commerce and is scheduled to happen on the 5th of March, 2020 on a Thursday from 10:00 am to 4:00 pm at Symbiosis Vishwabhawan, S.B road.
We will have succeeded in hosting this event if the stories we bring to you help you learn, grow and achieve, through not only the good but even hard times.
Follow us on:
Instagram – @tedxscac
LinkedIn – TEDxSCAC 3.0
Website – https://symbiosiscollege.edu.in/tedxscac
Anikait is the Co-founder of Campus Times. An undercover nerd. Helps several businesses & startups amplify their online presence & reach. Beer, Puns & Game of Thrones aficionado.