Hey, peeps! Are you ready to unleash your inner techie? Because Team MESA is set to host the most epic event of the year – TECHNOPHILIA! Buckle up and get ready to have a blast on the 8th and 9th of April at PCCoE Pune.
TECHNOPHILIA 2023 is gonna be lit! This two-day event is a perfect blend of fun and learning. TECHNOPHILIA 2023 is going to be bigger, better, and bolder than ever before, and you wouldn't want to miss this opportunity to showcase your skills and talent.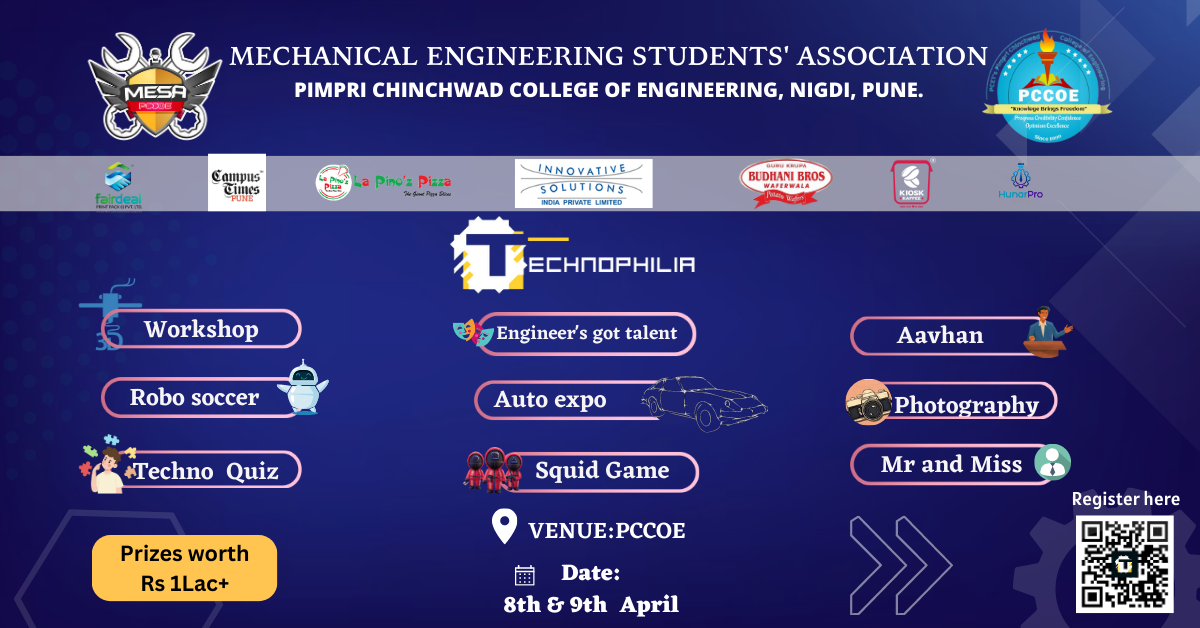 You can learn how to 3D print cool stuff, just register for the workshop. Check out amazing cars at the Auto Expo, join the student parliament 'AAVHAN', and experience some of the fiercest debates. Don't forget to take part and be thrilled in the Squid Game.
The 'Mr and Miss' competition, with an Aptitude round, a stage for a Ramp walk, and other exciting challenges, is guaranteed to leave you at the edge of your seat. Not to forget the exciting Robo Soccer, an event full of sparks and wars. 'Engineer's Got Talent' promises to showcase your skills to the biggest crowd and leave you amazed and spellbound by other performances.
CLICK HERE TO READ MORE ABOUT SUCH EVENTS FROM PCCOE
TECHNOPHILIA is not just another event, it's going to be a huge platform where you get a chance to interact with the brightest minds and learn about current trends out there. You'll get the opportunity to meet like-minded individuals from different colleges and showcase your talent. So, whether you're a tech geek, a gamer, or an aspiring engineer, TECHNOPHILIA has something in store for everyone.
So, mark your calendars, grab your friends, and head over to PCCoE Pune for TECHNOPHILIA 2023, an event that promises to be an electrifying experience. Don't miss this opportunity to explore new horizons and expand your knowledge. Register now to secure your spot and become a part of this epic extravaganza!
Log on to https://technophilia2023.com/events.html to register and learn more about the event.
Anurag is an inquisitive budding Engineer.
Being perfect at his job is his watchword. Persistent learner, Aesthete photographer. Football , memes & Game of thrones fanatic.