Amplified Emotions is a cultural foundation working for arts and entertainment since 2014. They have many entertainment events including Theatre-plays (Open and Competitions), Music Festivals, Films and Entertainment carnivals and many more. Amplified Emotions is a team striving to give platform for artists holding various art forms to showcase their talents to the audience by arranging events and associating themselves to it. Since many years they have been working for under privileged artists to get recognition for their art and talents. They also produce or organize theatre plays or films often based on social causes in intent to spread awareness in public. Amplified Emotions is a Social Trust affiliated by Charity Commissioner Maharashtra State.
This year, Amplified Emotions are back with the second edition of the Skylight Film Festival, Pune.
About Skylight Film Festival, Pune 2019
Amplified Emotions bring a joyful treat for every short film fan this year, with an innovative and unconventional series of short films in the SKYLIGHT FILM FESTIVAL, PUNE 19. In SFFP, the films on various topics in society and talents from all over Maharashtra and beyond are promoted. They strongly believe in this saying, "Sky is the limit." The Skylight Pune Film Festival is organizing an open genre film festival this year, and will accept films with all subjects.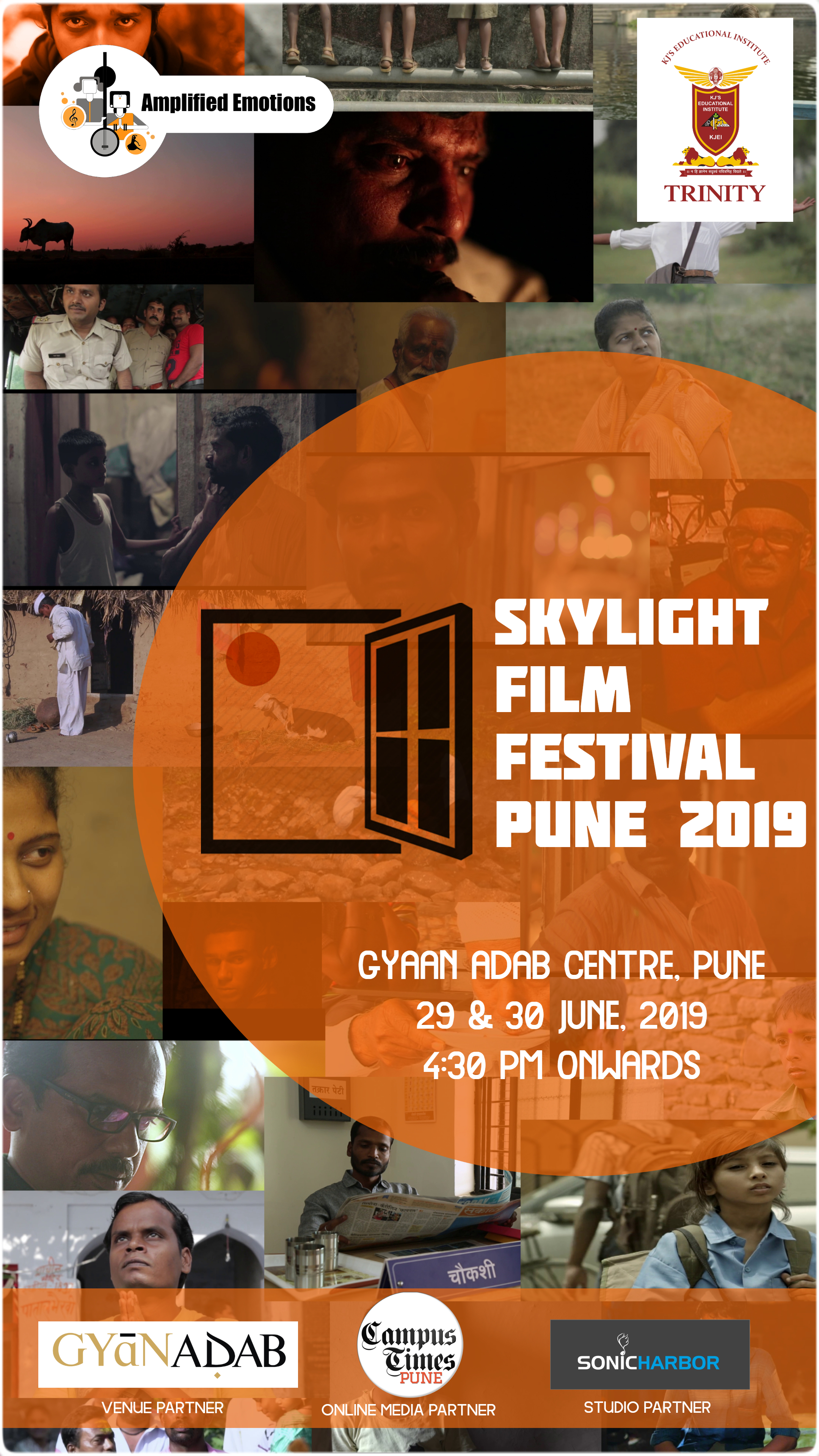 -30 seconds to 30 minutes films
-Open Genre
-1st Prize 20,000 2nd Prize 15,000 and 3rd Prize 10,000
-18 Individual Prizes
-Certificate for each official selection
– Date and Time: 29th June to 30th June 2019
04:30 PM onward.
– Venue: Gyaan Adab Centre, Kalyani Nagar, Pune
– Entry Fee: 200 INR for 2 days (inclusive of all taxes)
– For tickets, contact : Vaibhav Mane – 80875880206
(Tickets also available at the venue)
Don't forget to share this upcoming event details with your network. Join Campus Times Pune on Facebook, Google+ & Twitter. Also do subscribe our YouTube Channel. Click on Push Notifications to get notified whenever we publish a post.
Campus Times Pune is an initiative taken by some enthusiastic students of Pune to entertain the "Netizens" by providing cool and trending content online. Articles from contributors who prefer keeping their identity anonymous, are published under our authorship. You can contact us with your articles by sending them to "[email protected]"