Did you miss the Epic Goal from Van Persie during the revenge match between Spain and Netherlands? Watch this sensational diving header that made the world go mad with the word "THE FLYING DUTCHMAN". Iker Casillas could do nothing but be a mere spectator in defence.
The funniest Pun about #ESPvsNED Match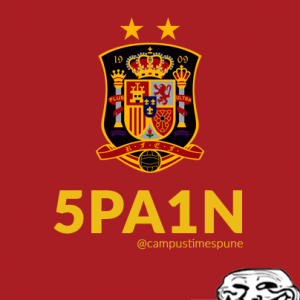 Equalizing the game with 1-1 in the first half, Holland thrashed the WC 2010 champions with a 5-1 ending. This caused the internet to flood with funny posts about the National Team. We have collected some examples here.
On the other hand, Spain fans all around the world were in a terrible shock with the unexpected result. The memories of World Cup 2010 were still alive when Spain beat Netherlands in the final match and became the World Champions.
Also Read:
The following two tabs change content below.
Anikait is the Co-founder of Campus Times. An undercover nerd. Helps several businesses & startups amplify their online presence & reach. Beer, Puns & Game of Thrones aficionado.
Latest posts by Anikait Chavan (see all)