In a celebration of entrepreneurial zeal and innovation, Magnate 2023 is set to unfold as a beacon of opportunity for both aspiring and established entrepreneurs. This annual flagship event, scheduled for the 19th to the 21st of October at the Pune Institute of Computer Technology, is poised to be a catalyst for nurturing entrepreneurship, igniting creativity, and fostering collaboration within the entrepreneurial community. The mantra of Magnate is simple yet profound: "Where innovation meets opportunity." It encapsulates the essence of what this event aims to achieve – providing a platform where innovative ideas meet the resources and mentorship needed to turn them into thriving enterprises.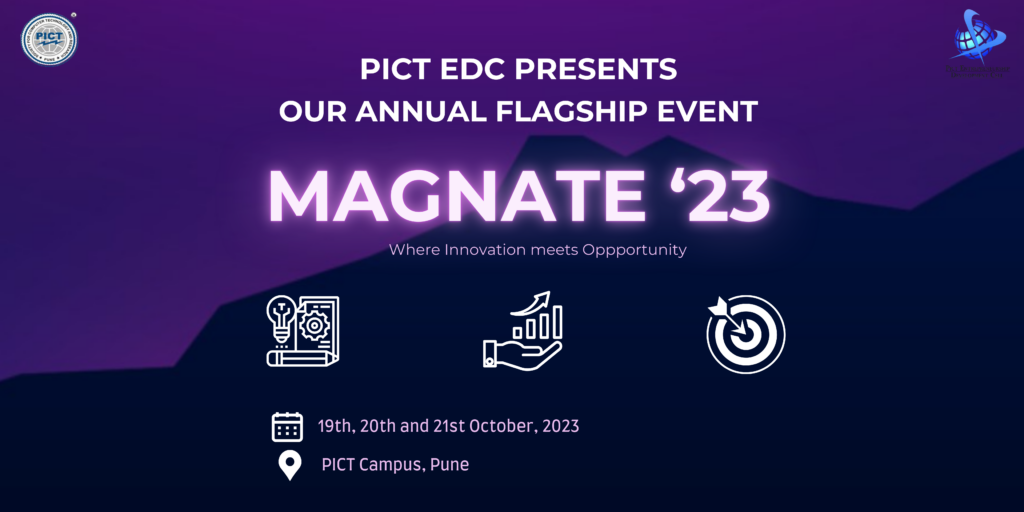 From the vibrant Startup Expo to the intense Ideathon, and the insightful Outcome-Based Workshop to engaging sessions, participants are in for a whirlwind of activity. But it's not all business at Magnate; the event promises a touch of fun with a lively Fun Fair, offering a well-rounded experience for all attendees.
Magnate understands that entrepreneurship is not just about ideas, but also about equipping individuals with the right knowledge and resources. Through a series of mentorship sessions and outcome-based workshops participants gain valuable insights and tools to navigate the complexities of the business world. It's a journey that sets them on the path towards success.
Magnate is more than an event; it's a community of like-minded individuals who share a passion for innovation and a drive for success. It's a space where networking is not just encouraged, but woven into the fabric of the event.
As the dates draw nearer, anticipation for Magnate 2023 continues to build. For those seeking to embark on an entrepreneurial journey or looking to take their ventures to new heights, this event is not to be missed. It's where innovation meets opportunity, and where dreams take flight.
Campus Times Pune is an initiative taken by some enthusiastic students of Pune to entertain the "Netizens" by providing cool and trending content online. Articles from contributors who prefer keeping their identity anonymous, are published under our authorship. You can contact us with your articles by sending them to "[email protected]"