Pune's largest technical spectacle MINDSPARK'17 is here to educate, excite and empower Maharashtra! MindSpark- presented by College of Engineering, Pune (COEP)- is back with its 11th edition under prestigious patronages like UNESCO, Make In India, and Digital India, new and exciting events, a 24 hour Hackathon,a social initiative- Paakhi, a first ever technical exhibition, numerous workshops, keynotes you will WANT to attend, and much more!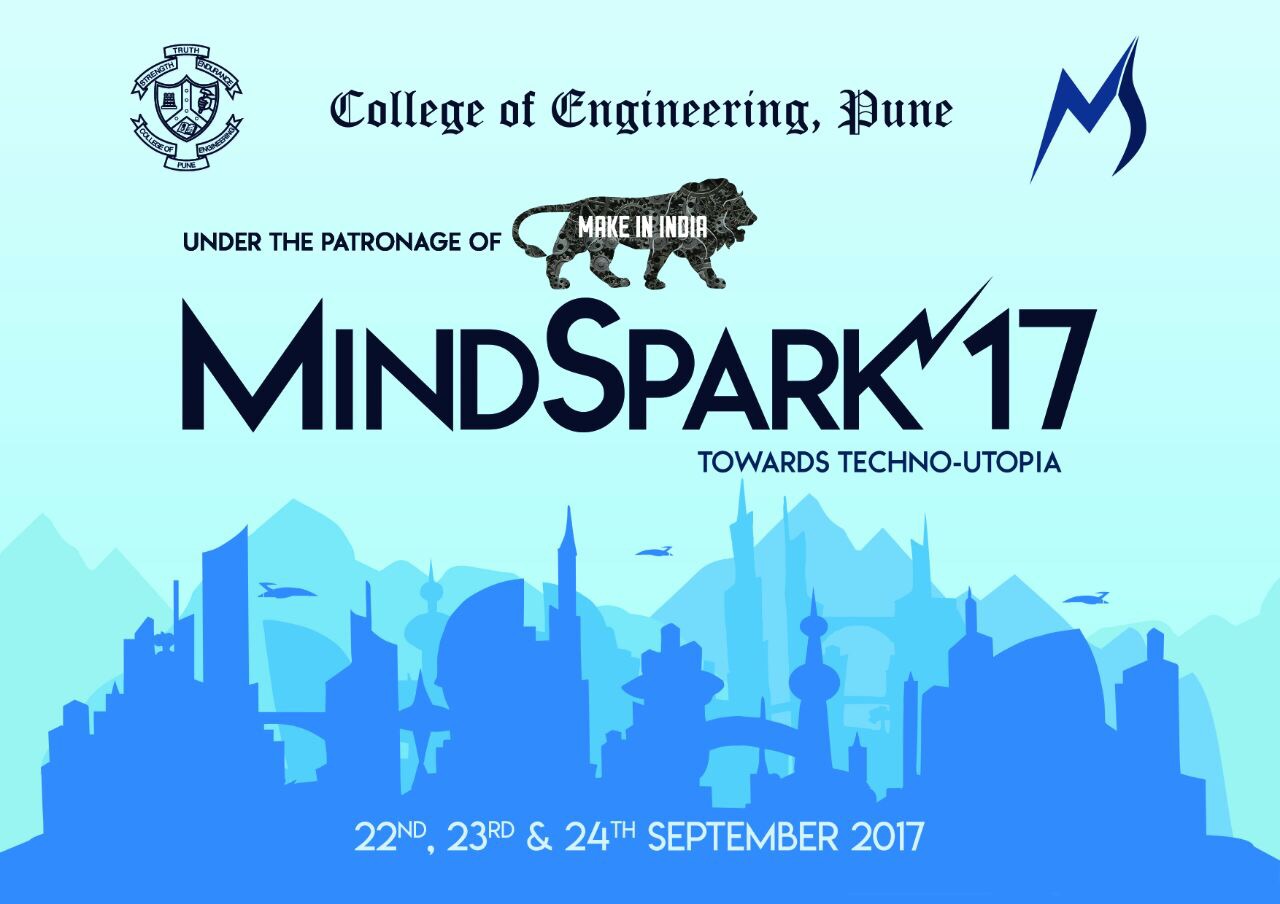 MindSpark'17- Towards Techno-Utopia celebrates the advancements in technology that takes us a few steps closer to the ideal world and living in a utopia! Seeing as to how technology can aid the causes of world peace, conservation, health, poverty, education, city planning and management today, in the future there will be no sphere that can escape the benefits and optimization technology provides. MindSpark'17 promotes the vision for an ideal future, one with no problems that we (or technology) cannot solve.
READ ALSO – Know it all about the Workshops conducted in MindSpark 2016
The highlight to any technical festival are its competitions, calling out the scientist, engineer or quizzer in everybody! MindSpark'17 has, in amongst its 52 events, something for you with exciting prizes for each! Events for every branch of engineering and even non technical events under 12 modules, quizzing events, photography events,soduk, Pune's largest student organised 24 hour hackathon, virtual cricket and football auctioning, a citywide scavenger hunt and more!
Boasting of a stellar line-up of the likes of P. Chidambaram, Dr. Mathieu Weiss, Diwakar Vaish, Dr. K. Radhakrishnan, Prithviraj Chavan in the previous editions, we can't wait to watch this year's keynote lectures. Held on each day of the fest, don't miss these!
Social Initiative: PAAKHI
MindSpark'17 creates opportunities for everybody to participate and grow with it in the process. Taking cognizance of its social responsibility, MindSpark 2017 is conducting a 2 day workshop named PAAKHI to help women born in adverse circumstances and poverty bridge the gap and live sustainably, support their families with the skills they will be taught.
COEP Mindspark 2017 Important Links
Campus Times Pune is an initiative taken by some enthusiastic students of Pune to entertain the "Netizens" by providing cool and trending content online. Articles from contributors who prefer keeping their identity anonymous, are published under our authorship. You can contact us with your articles by sending them to "[email protected]"