Since time immemorial, Indians have been hooked onto a really addictive and dangerous drug called 'Series'. Our moms seem to be the real 'junkies', but we all remember the 'so-shitty-that-its-good' Saas-Bahu series on TV that we've all watched at some point of our life. Then there were the true gems that brought us some fantastic humour with a good amount of reality checks. Sadly, now the shows on TV are divided into just two categories – Fantasy (Yes, Sasural Simar Ka, you guessed it right) and Reality (who but Roadies? Shout out to Bigg Boss, too) and maybe some weird comedy (I'm looking at your Taarak Mehta, with my Ulta Chashma)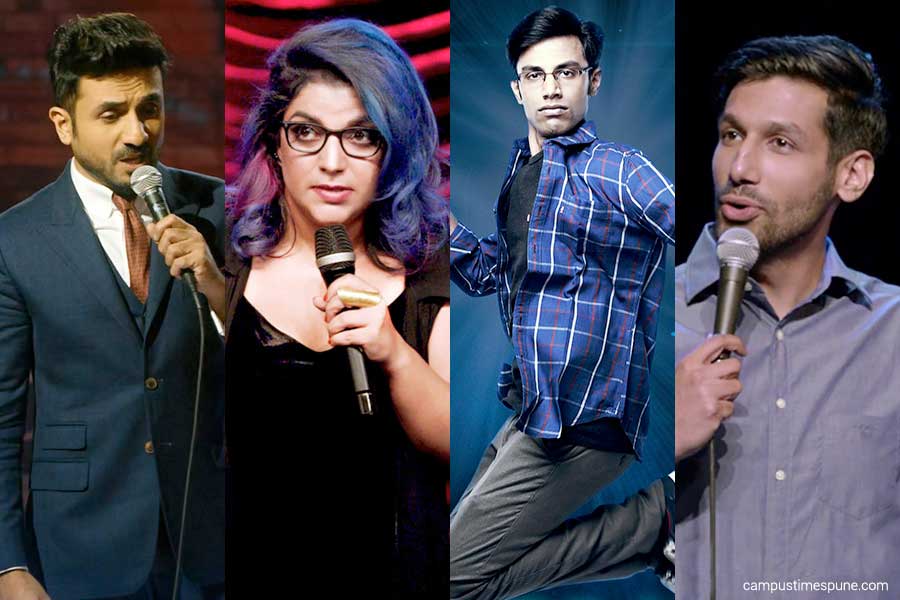 But as every dealer must step aside and let the younger dealer take up the mantle, TV has stepped aside for the internet to provide us with some fresh content. Our beloved comedians aren't only making us laugh but have taken the job to the series.
Here are some Indian web series made by our stand-up comedians that we recommend you watch:
Going Viral Pvt. Ltd. - Anuvab Pal
Going Viral Pvt. Ltd is a company where hopeful Indians come with their dreams and money – to do the one thing everyone aspires to – become famous by going viral. Can this firm win over social media? Or will it all end in disaster?
Cast – Kunal Roy Kapoor, Kubra Sait, Prabal Punjabi, Aneesha Shah
Whenever I hear the word mockumentary, my mind goes to 'The Office'. That show has set huge milestone for any show that wants to follow the trend. Going Viral Pvt. Ltd. tries to do justice and successes to a certain level. Kunal Roy Kapoor has done a wonderful job but Prabal Punjabi's character takes the cake. Do watch this 8 episode long series on Amazon Prime.
Shaitaan Haveli - Varun Thakur
B-Grade filmmaker Hariman shows up to shoot his horror film at an old haveli. Freak occurrences make the crew realize that they're not just shooting a horror film but are soon going to be living one.
Cast – Varun Thakur, Bhupesh Singh, Hemant Kumar, Kanchan Pagare, Neha Chauhan, Anand Vikas Potdukhe, Pippa Hughes, Shweta Singh, Mukesh, Surender Thakur, Monica Gupta, Adi Irani, Hemant Koumar.
Fans of Scary Movies give me a cheer! Extremely popular film series making fun of the usual tropes in scary movies has a large fan base all over the world. Surprisingly, India hasn't seen a lot of parodies in the horror genre, maybe it's because what we make as serious horror turns into a parody in itself. Varun Thakur tries to do exactly that with Shaitaan Haveli. A very meta series that takes digs at the way horror genre is treated in India. (mainly by the famous Ramsay Brothers) Get spooked by this 8 episode long series on Amazon Prime.
Pushpavalli - Sumukhi Suresh
Pushpavalli's life had been all planned out. She was going to finish her Food Science degree in Bhopal and marry a decent Brahmin man that her overbearing mother approved of; after her Shani Ashtami came to an end of course. All that changed once she met a suave, charming Okra exporter named Nikhil Rao at a food conference. After their brief rendezvous, Pushpavalli takes the only logical step in her mind; moving to Bangalore to pursue the 'okra selling' object of her affection. Grappling with the trials of moving to a new city, Pushpavalli manages to get a job at a children's library run by her short-tempered childhood 'friend' Pankaj and finds accommodation at a girl's PG run by a greedy and unstable landlady named Vasu. She continues her obsessive pursuit of Nikhil, all the while constantly screwing up at work and having barely enough money to cover her rent. But as Pushpavalli's stalking and manipulation begins to escalate, she constantly teeters on the point of no return.
Cast – Sumukhi Suresh, Harminder Singh Alag, Manish Anand, Ashok Pathak, Naveen Richards, Urooj Ashfaq, Sumaira Shaikh, Sharaddha, Niharika Dutt
Pushpavalli, literally meaning a creeper, is a well thought out series that takes the audience on a ride with increasingly gripping episodes. What starts as a fun light hearted comedy turns into a dramatic take on stalking. Sumukhi Suresh is just marvelous as an actor and the creator. This series is also available on Amazon Prime.
Lakhon Mein Ek - Biswa Kalyan Rath
Aakash is planning to study commerce in Raipur. His father has different plans for him. He sends Aakash to an IIT Coaching institute far away from Raipur. Aakash reaches there to discover it's a whole different world and he is a misfit.
Cast – Ritvik Sahore, Dharmesh Patel, Alam Khan, Jay Thakkar, Raju Akki, Biswa Kalyan Rath, Kuldeep Patil, Mayank Parekh, Mukund Pal, Saurav Mehta, Harish Kapoor, Natraj Khurram, Manav Soneji, Shiv Kumar Subramanium, Kumar Varun, Gaurav Kamble, Benjamin Yangal, Ajita Kulkarni, Mrunal Raju Yedellu
The 'Mast Aadmi' Biswa has made a gritty dark story about the world of IIT. Enthralling tale of a boy trapped in an institution that churns the life out of a student and the show manages to show the exact darkness of the situation. Relatable, Enjoyable and fun is what this series is. Go and live the life Aakash and so many among us are living. You know the formula, 8 episodes, Amazon Prime, Go!
Humourously Yours - TVF (Vipul Goyal)
It follows the life of Vipul Goyal, a Stand Up comedian. As the tagline suggests, it is "The drama behind the comedy."
Cast – Vipul Goyal, Abhishek Banerjee, Rasika Dugal
This series portrays a very Desi take on a life of a stand-up comedian. This show follows the life of a stand-up comedian, Vipul (Vipul Goyal) and his struggles with his personal and professional life at the same time. It reminds me of the Jerry Seinfeld show, 'Seinfeld'. It is a mixture of fiction and reality giving out a great story that'll keep you wanting more and more.  Available on Youtube and TVFPlay.
Better Life Foundation - Them Boxer Shorts (Naveen Richards)
A documentary crew follows a group of five passionate NGO workers and a reluctant volunteer, trying to make the world a better place.
Cast – Naveen Richards, Sumukhi Suresh, Utsav Chakraborty, Kumar Varun, Sindhu Sree Murthy, Kanan Gill
Another take on the 'Mockumentary' genre. If you read the cast names, you'd know what dysfunctional group that is. All of them running an NGO is nothing but hysteria. Watching their every plan foil because of some quirkiness of the members is hilarious, but like in every story, everything falls into place at the end. Watch this 5 episodes long series on YouTube.
And here is an added bonus:
Die Trying is a series in work by the heartthrob, Kenny Sebastian. It is about the struggle two musicians go through in the city of Mumbai.
Ministry, created by Gursimran 'Absent-from-AIB-videos' Khamba and starring Irrfan has gone on floor this year and hopefully by the end of the year we'll get to watch the satirical take on the way Government functions.
Vedant has been a storyteller since his friend got slapped after he asked a girl out. To make a living out of that, Vedant had to wait for 10 more years. Till then he read extensively about mythology, science, history and conspiracy theories. He also enjoys writing about himself in third person.