YouthSpeak Forum powered by AIESEC is a premiere event that brings together both young and senior leaders from different walks of life to have inspiring conversations about relevant issues. The aim of this event is to make the youth of Pune more socially aware and understand their contribution and steps of action to achieve the Global Goals laid by the United Nations.
The speakers for the event include –
1. Abhinav Mahajan – Fitness YouTuber
He is among the most followed Indian fitness YouTubers.
Watch him speak about how fitness changed his life.
2. Rohan Albal – CEO, Powerdrift
Rohan Albal is the founder of one of the most popular automobile channels in
India – Powerdrift. Listen to his entrepreneurial journey to make Powerdift where it is today
3. Daniel Mendonca – LGBTIQ+ Activist
Daniel is credited to building the first ever third gender toilet in India. Daniel
represented India in United Nations. Hear Daniel break all stereotypes and emphasize on gender equality for all.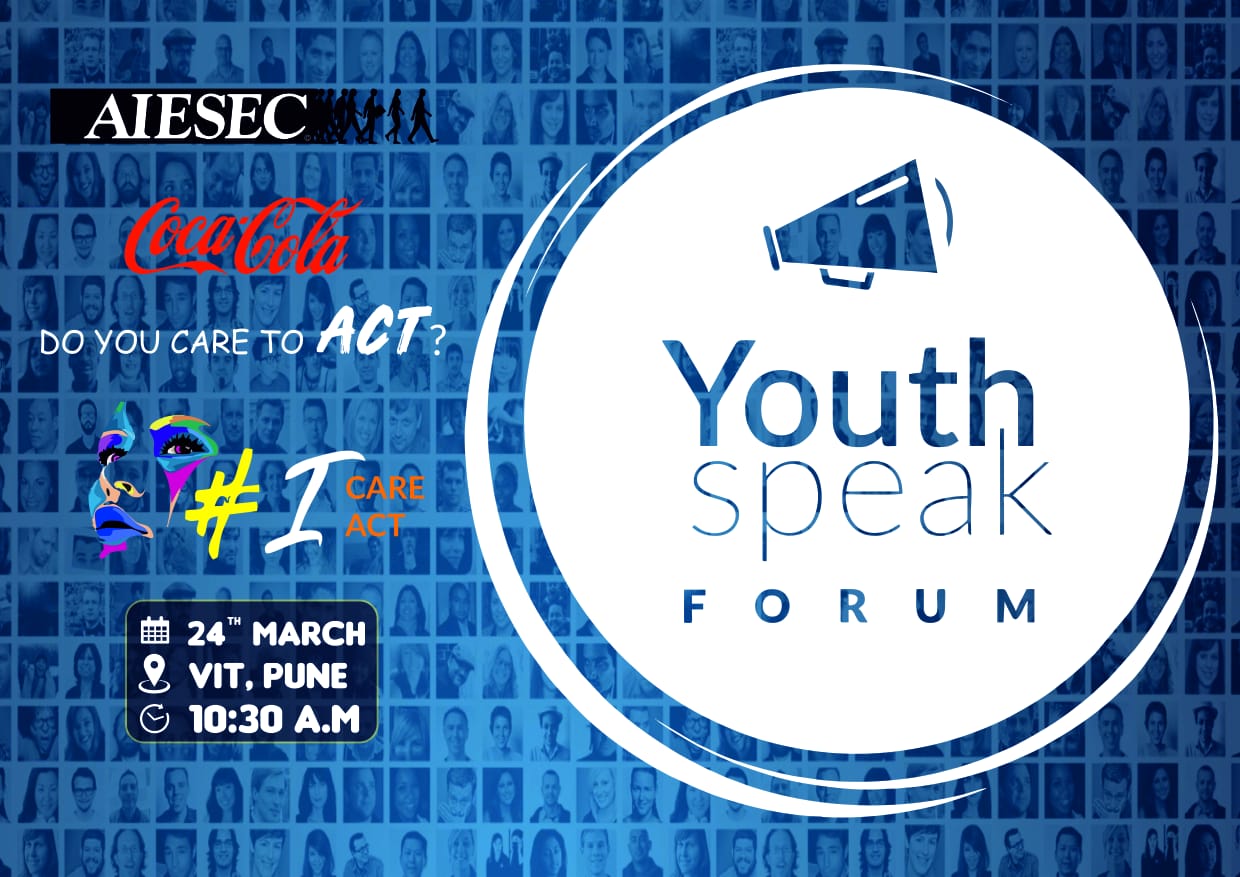 4. Anita Iyer – CEO,Ekansh Foundation
A recepient of the Inorbit Women Achiever award, Anita Iyer has brought up RTE at Pune Schools. Catch her speak on reducing inequalities.
5. Sandeep Rai – Chief of City Operations, Teach for India
Sandeep Rai has brought to light hundreds of inspiring and emotional journeys. Hear him speak about the importance of education among the underprivileged. At YSF you will get the chance to interact with people who share the same passion and drive as you to make a change in society.
YSF aims to unite the youth of Pune and place them at the forefront of change. The output of the event is a more empowered youth of Pune who know what they want and how to get there together. The speakers will be addressing the youth about pressing issues which NEED to be
discussed.
The panel will talk about the Sustainable Development Goals laid by the United Nations with topics ranging from Entrepreneurship to LGBTQ
This forum will be held in VIT Auditorium, Bibwevadi on the 24th of March, 10:30 a.m
onwards.
Don't forget to share this upcoming event details with your network. Join Campus Times Pune on Facebook, Google+ & Twitter. Also do subscribe our YouTube Channel. Click on Push Notifications to get notified whenever we publish a post.