The long-awaited moment has arrived! Udghosh, the annual sports festival of IIT Kanpur, is making its triumphant return with the 19th Edition of sporting excitement. Udghosh 2023 is scheduled to take place from October 6th to 8th, featuring the captivating theme, 'The Colosseum Conquest.' The stage is all set for Asia's largest inter-college sports festival UDGHOSH 2023.
Brace yourselves for the intensity and passion that will unfold within the Colosseum Arena, as over 2500 participants from more than 450 colleges come together to compete in a staggering 75 sporting events across 20 different sports, including Cricket, Football, Badminton, Chess, E-Sports, and many more!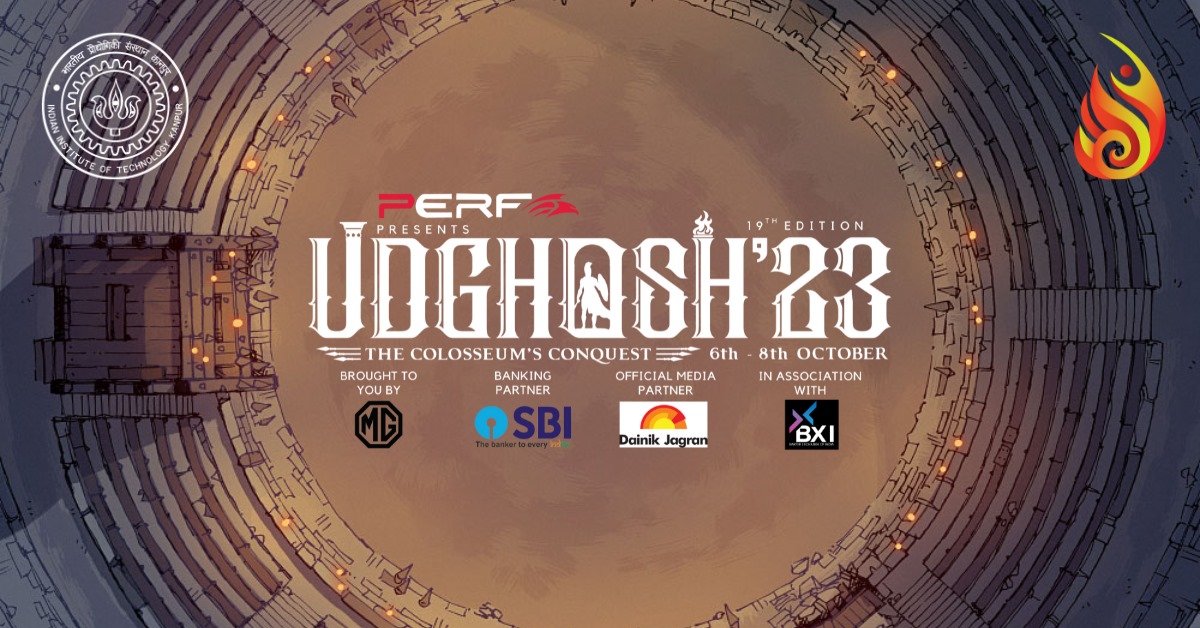 Beyond the sporting events, Udghosh offers a plethora of other activities to keep the spirit of camaraderie, inspiration, and fun alive. This year's pre-fest events have been nothing short of exceptional. The Udghosh National Open School Quiz (UNOSQ) saw enthusiastic participation from school students, while Udghosh also hosted interactive CAT & UPSC guidance sessions in collaboration with Fundamakers and IQRA. Furthermore, seminars were conducted with renowned sports personalities, shedding light on various aspects of a player's life and motivating the audience to embrace a healthier lifestyle.
Udghosh 2023 promises to be bigger and better than ever, with a wide array of engaging events. Expect a sensational
Rap Performance by the acclaimed band Thugs from Overseas,
a laughter-filled Comedy Night featuring Yash Rathi,
along with breathtaking Stunt Show,
invigorating Zumba sessions,
and the mesmerizing art of Malkhamb.
But that's not all; the Bollywood Night, headlined by Gajendra Verma,
is sure to lift your spirits.
As we approach the closing ceremony, get ready to be enthralled by Mr. Ankit Baiyanpuria, known for the famous 75 hard challenge.
Exciting informal activities, including a Silent Disco, Magic Show, Fireshow, Singing performances, and numerous other entertaining events, are in store for you.
As Udghosh 2023 approaches, the level of excitement in all is increasing tremendously. So come join the Udghosh team in this breathtaking campus of IIT Kanpur to experience the confluence of sportsmanship and unmatchable enjoyment from 6th to 8th October.
Campus Times Pune is an initiative taken by some enthusiastic students of Pune to entertain the "Netizens" by providing cool and trending content online. Articles from contributors who prefer keeping their identity anonymous, are published under our authorship. You can contact us with your articles by sending them to "[email protected]"